UFC 249 postponed after Dana White told to 'stand down' from hosting event
Last updated on .From the section Mixed Martial Arts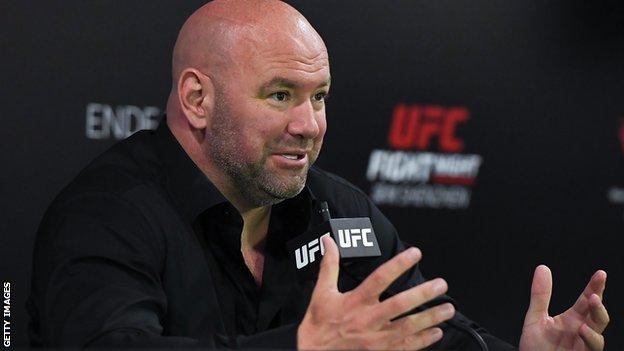 UFC president Dana White says he was told to "stand down" from holding UFC 249 on 18 April, with the event now postponed.
White says the "powers that be" at pay-per-view broadcast partner ESPN and parent company Disney intervened.
"This whole thing has been a battle since day one," White told ESPN.
"Today we got a call from the highest level you can go at Disney and the highest level at ESPN.
"The powers that be there asked me to stand down and not do this event next Saturday."
In a statement, the UFC said: "While the organisation was fully prepared to proceed with UFC 249, ESPN has requested the postponement of the event and subsequent bouts until further notice in light of the Covid-19 pandemic."
The announcement came hours after former UFC strawweight champion Rose Namajunas' withdrew from the co-main event at UFC 249 after two family deaths related to coronavirus.
'Fight island's going to happen'
UFC 249 was originally due to take place in Brooklyn with a long-awaited fight between Russia's Khabib Nurmagomedov and American Tony Ferguson as the main event, but the venue was ruled out before lightweight champion Nurmagomedov withdrew because of travel restrictions.
White replaced him with the USA's Justin Gaethje and arranged for a behind-closed-doors event to take place at the Tachi Palace casino, on tribal land in California, allowing him to bypass the guidelines for staging events which applied to the rest of the state.
"Tachi Palace in California, the Indian reservation, has had our back this whole time, has stood their ground and was willing to do this fight. And let me tell you this: when the world gets back to normal, California, that [fight] will be at Tachi Palace," added White.
White also said he was close to securing a private island to host international fights during the pandemic and insisted those plans remain in place, despite cancelling UFC 249.
"Fight island's going to happen," he said. "All the infrastructure is being built right now and getting put in place. As we get closer to that, then I'll start figuring out booking fights and getting guys ready.
"Plus, I can ship guys over earlier and they can start training on the island. You're looking at a month. It's all coming together."