McKee and McColgan target Cage Warriors success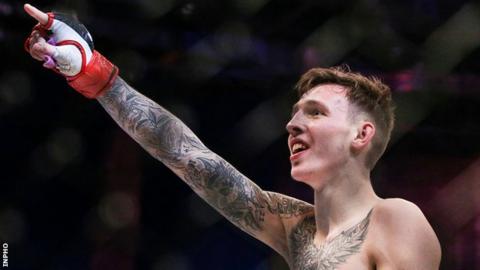 Northern Ireland lightweights Rhys McKee and Joe McColgan hope victories on Saturday night's Cage Warriors 100 card in Cardiff can be a springboard to the UFC.
Ballymena fighter McKee will make his Cage Warriors debut, taking on England's Jefferson George.
McColgan goes up against Jai Herbert, one of McKee's former opponents.
Cage Warriors are preparing to put on a flagship event with their 100th card in their 16-year history.
The promotion has been home to several UFC champions including Conor McGregor, Michael Bisping and Joanna Jedrzejczyk.
This pathway to the UFC was the main attraction for McKee.
The tall, rangy former BAMMA champion returns after a loss to Terry Brazier. However, he feels that will have no bearing on his performance against George.
"It's no secret they've put more than 80 fighters straight into the UFC," he said. "That was very much in my mind when I was picking a new promotion.
"Hand on heart I wouldn't be standing here if I didn't think it was possible. I feel I am three to five fights away from that UFC shot and once I get there I am there to stay.
"This is the biggest card they've had to date and I feel this is the biggest debut they'll have to date. I am going out there to put on an absolute clinic."
"I have a fresh head and a level mindset. I am just ready to go out and perform again. This is a new start with a new promotion and I feel like what happened before doesn't really matter, I am not taking anything like that into the fight, I am going to get that win.
"Expect to see me coming hot and heavy handed. I'm coming straight for Jefferson's chin and I am going to find it, no doubt in my mind. I am not cocky, I have prepared well. I am confident in my own abilities - there is nothing I have left undone. I am as ready as I'll ever be."
With two world titles on the line, McColgan is honoured to showcase his talents on "the biggest card Cage Warriors have ever produced", and the 32-year-old is just as excited as the fans.
McColgan, from Belfast, made the MMA world take notice thanks to an impressive and unexpected win over Peter Queally, a team-mate of McGregor, in 2016.
After a split decision loss to Arnold Quero, McColgan got back to winning ways and was even calling for a Cage Warriors title shot after his last victory over Sean Carter in September 2017, but he then took a break to travel and live in New Zealand with his girlfriend.
Despite knowing the implications of being inactive as a competitive prizefighter, McColgan has no doubts he made the right decision.
"There's more to life than mixed martial arts. I love this game and I dedicate everything to it, however, this was just an opportunity we couldn't turn down so I don't regret it for one second," he said.
"In this game you're only as good as your last fight. The way I see it, I come back, I put on an excellent performance on the biggest show Cage Warriors have ever put on. That puts me right back into the spotlight.
"Every single fight on the main card could be a main event, every fight is exciting. It is the biggest card there has been outside of the UFC in Europe this year.
"I didn't get into this sport to fight on Bellator. I didn't get in it to fight on Cage Warriors. I got in it to fight in the UFC.
"It's what I am aiming for. My absolute goal and absolute dream is to fight on the UFC and I believe it's possible."
Both fighters are renowned for their clinical striking but McColgan feels if he can control the gameplan, he will win the fight on the feet.
"I've fought strikers before and they've all tried to take me down. I expect it to start out striking and Jai to try and take me down," he added.
Helping hand
While most people could be forgiven for thinking two elite fighters in the same weight class and in the same promotion would have a bitter rivalry, that is far from the case when it comes to McKee and McColgan.
The are friends who have trained together for many years and have helped each other prepare for their upcoming bouts as sparring partners.
McColgan said: "It's a great opportunity to see where you are at. We've really helped each other and pushed on to the next level. The problem with that is it's a hard spar."
The Belfast man laughs when he compares it to what another Northern Irish fighter might experience. "It's a bit like Carl Frampton sparing (Leo) Santa Cruz week in, week out. He's not going to do too many of those."
McKee agrees. He feels the sparring was at such a high level that both men were "thinking about next time selling tickets for the spar".
With all eyes on Saturday's big event, we might just witness a chapter in a story that ends with Northern Ireland's first ever UFC champion.