Marc Goddard: Life in the octagon with one of UFC's most respected referees
Last updated on .From the section Mixed Martial Arts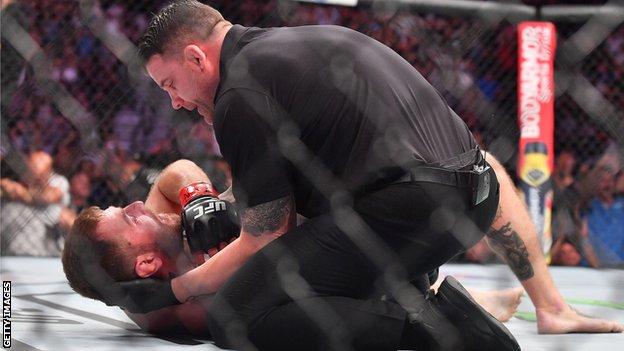 A fighter to your right, their opponent on your left. Inside that cage they'll do anything to win - render the other unconscious, force them to submit. Your job is to keep it within the rules, and save them from serious injury.
"This is fighting," explains Marc Goddard, one of the most well-respected referees in the Ultimate Fighting Championship and across the mixed martial arts scene.
"You are turning up to have a pre-arranged legal fist-fight with someone. The ethos is 'I have to stop my opponent by any means necessary'... within the confines of the rules."
It is the "within the rules" part that sticks with Goddard, a former professional himself, who says his rise to the top of the officiating pool began "by complete accident".
The Englishman has seen it all in a 14-year career in the middle - world title fights in front of 60,000 people, high-profile bouts across the world, a run-in with the most-recognisable name in the sport, Conor McGregor.
"I don't care who you are, I don't care where we are, I don't care what's at stake," Goddard tells BBC Sport. "When I am doing my job, all I want the fighters to know is they're going to get a fair crack at the whip."
Here, he talks BBC Sport through life in MMA, the pressures of being a referee, that fallout with McGregor and what comes next for UFC.
How does refereeing compare with fighting?
Goddard's involvement in MMA began before the turn of the millennium "in rings, on tatamis and open mats", and he never predicted how popular the sport would become - let alone his own role in it.
An injury picked up at an event in 2004 paved the way for Goddard's future in the middle, stepping in to help out a promoter who had been let down by a referee.
While admitting the buzz from officiating is "not even close" to the adrenaline rush lining up for a fight brings, Goddard says he was "always a referee trapped in a fighter's body".
"Fighting, unless you have done it, it is hard to explain the feeling you have and the stresses, strains and how long they live with you for," he adds.
"You sign a contract to fight somebody three, four, five months in advance, you are going to bed with that person every night, you are waking up with that person every morning.
"As a referee, we don't share the same type of feeling but, especially at the top, when you are stood in Las Vegas about to referee a world championship fight, yeah, you best believe you get a sense of occasion and you know where you are."
Vetting people's gods in Brazil
Goddard's hectic schedule takes him all over the globe.
He has just returned from Brave17 in Lahore, the first big MMA event to be held in Pakistan, another unique atmosphere to add to the likes of Poland, Japan and Cambodia - though he says nothing compares to Brazil.
"British crowds are intense," he says. "But Brazilians are fiercely intense, it's almost like a football crowd in Brazil - passion, almost primal. If I am refereeing Jose Aldo or Anderson Silva, these people are gods.
"When you are stood there in Brazil, vetting the people's gods, you don't want to make an error or a mistake."
Intimidating, surely?
"Intimidation leads to panicked, wrong choices," adds Goddard, from Birmingham. "There are some intimidating characters out there, but as a referee you are paid to not be intimidated.
"You will get criticised, make no bones about that, regardless of the sport - the man in black is the one everyone wants to shout at. That doesn't bother me, I am not a shrinking violet, it goes with the territory.
"My decisions are made on fairness and the appropriate action at the time. I thrive on procedures, that's why the role of referee suits me - we have a rule book, we know what's good and what's bad and we stick to it."
Clashing with McGregor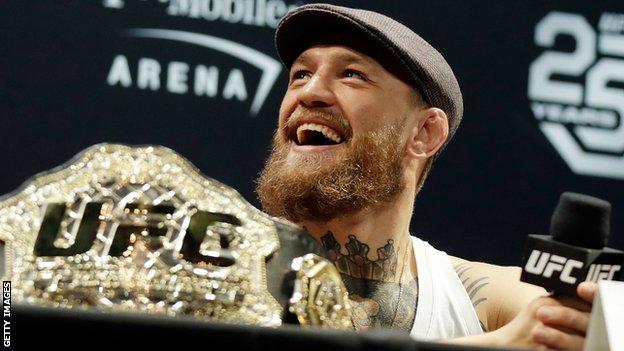 A high-profile clash with McGregor came at Bellator 187 in Dublin last year when the Irishman jumped into the cage, after team-mate Charlie Ward defeated John Redmond, and confronted Goddard.
McGregor later apologised, saying he "overreacted" as he thought the referee was trying to pick an unconscious Redmond off the floor.
"I knew it was him," says Goddard about McGregor's sudden arrival in the cage. "I have known Conor since he was a young, fresh-faced boy making his debut in MMA. I have known his coach, John Kavanagh, for close on 10 years, he grew up in the same environment and competition, same events.
"I said my piece when it happened. I don't care who you are, where it is - I have got a job to do and nothing or nobody on earth, from an integrity standpoint alone, is going to get in the way of that."
It is not the first nor will it be the last time Goddard has encountered similar situations, recalling stories from Russia and Cambodia, but generally the referee finds fighters to be respectful.
"The thing with Conor, it first started when I told him to go and sit back down," he added, referring to the Irishman's outbursts outside the cage at UFC Gdansk a few weeks earlier.
"The idiots out there say I was only doing it because it's Conor. But everyone that knows me and knows what I am about, knows it harps back to fairness. It doesn't matter who you are, it's about the two guys that are in the ring."
So what makes a top MMA referee?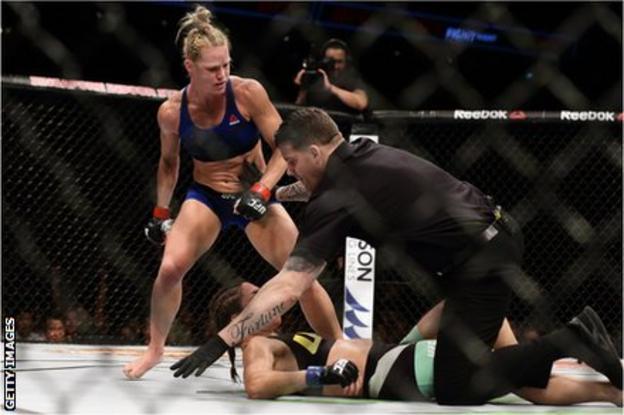 "You have to know your sport inside and out," says Goddard. "Not always from being a competitor, because that doesn't translate - there are 1,001 fighters out there who I know would make horrendous referees.
"The qualities needed to be a ref are different. You need a finite attention to detail, integrity. For want of a better description, I don't take any abuse.
"I am very pragmatic - it's left or right, black or white, I don't like grey areas. Being a referee, decisiveness is a definite quality you need.
"Once you decide on something, or make a call, you can't waiver or falter, you have to command respect from people and you have to do that the right way, because respect and reputation take years to build and years to gain."
Instinct also plays a huge part in Goddard's role - think Holly Holm's knockout of Bethe Correia in 2017, when the Englishman reacted quickly to block a follow-up punch from Holm with Correia already unconscious.
"I don't watch fights as they unfold," explains Goddard. "Referees who come unstuck get caught watching fights and can't react quickly enough.
"I am always very conscious of the fact I am not there to watch the fight. I am reading the fight and have to read what's happening in real time, what's happened before that, is the fighter taking damage? Do I need to get close? Do I need to give space? Get ready to move?
"All of these things go round in your head and you've got to stay in the moment. A referee has to have that clarity of mind - one second too late and you're the dog's dinner, one second too early... you're also the dog's dinner."
What next for UFC and MMA?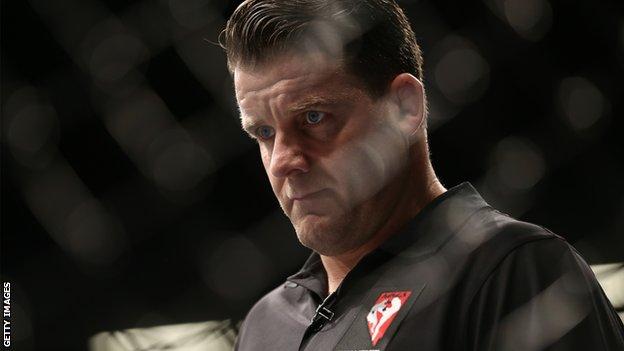 Fights like McGregor and Khabib Nurmagomedov's lightweight title bout in Las Vegas last month attract an audience beyond the MMA world, but with that comes scrutiny from outsiders - especially with UFC 229 ending in a mass brawl between the camps.
Goddard says the sport does not need to give its detractors any more ammunition and maintains MMA is a positive experience, traditionally built on "a core value of respect and etiquette".
"Fighters, promoters, camps, referees, officials, everyone involved, we all have a collective responsibility to portray the sport in the correct way," explains Goddard. "It's the fight business, it's the game. Certain things sell tickets and pay-per-views.
"They are all big boys and girls, and it's down to them how they conduct themselves. We can't tell them what to do. It's a sport, but there is entertainment involved, too. Sometimes a little bit of needle and razzmatazz is going to generate what the promoters and what the business side of it is looking for.
"It's not exclusive to MMA. Footballers, boxers, cricketers - you pick up the paper and there is a misdemeanour going on somewhere. But because it is a fighting art and we are battling a lot of misconceptions, something happens in our sport and it's always amplified. That's the way it'll be for a considerable time.
"If the UFC ever going to be on prime time TV, BBC One or ITV on a Saturday night? No, so let's not kid ourselves. By the same token, what is mainstream? Three, four, five years ago they wouldn't touch MMA, now look what's happened in the last few years.
"As a sport we have to take a good hard look at ourselves and make sure we move forward as one."
As for Goddard's involvement in the future of MMA, he's a long way from finished yet.
"I am human, I am not perfect, nowhere near it, I don't believe in perfection," he adds.
"Something I try to impress on would-be officials and guys I train is by wanting to be perfect you are setting yourself up with a disadvantage - perfection is not a destination, it is a journey.
"Every time I ref I am trying to be perfect, because that's what keeps me on my toes, but I never turn around and go 'yeah, that's perfect', because it's not.
"The day I get to perfection is hopefully the day I retire after a 25-year as an official - that's the aim, anyway."