MMA: Ross Houston eyes title win as 'golden ticket' to UFC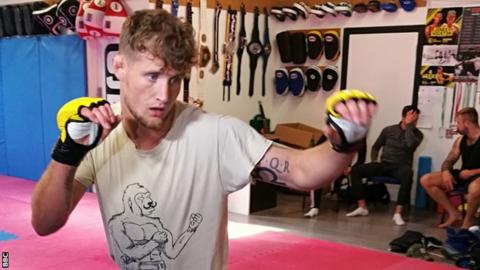 Scottish MMA fighter Ross Houston is determined to grasp the "golden ticket" to the UFC by winning the Cage Warriors world welterweight belt this month.
The undefeated 28-year-old from Inverness meets Stefano Paterno in Birmingham on 20 October.
And Houston says there is no way the Italian champion will come between him and his MMA dreams.
"This is eight years of hard work, it is massive and I'm not going to let it slip through my fingers," he said.
"When I first started, I wanted to be a UFC fighter, it was like when you were younger and you wanted to be a Manchester United footballer.
"As the years have gone on it has become more achievable, and I am now in the position where winning this Cage Warriors title would have a very good chance of putting me in the UFC, which is like the Champions League of the sport."
Houston, who boasts a professional record of seven wins from seven bouts, gave up a lucrative job offshore three years ago to concentrate fully on his mixed martial art dream.
He opened his own MMA club in the Highlands, which allowed him to train more, and enabled him to move into the professional ranks.
"I was sitting offshore, working 84 hours a week, away from home and away from my family," he recalls. "The money was good, but it wasn't where my passion lies.
"I said I would give it two years, if things were going a bit wayward I would maybe pack it in, but things have gone well and here I am, ready to take that Cage Warriors title.
"The dream of getting to the big league is what keeps me going. It is what I think about 24 hours a day, seven days a week. It is what I get up for in the morning."