Conor McGregor beaten by Khabib Nurmagomedov: Dana White says UFC 229 chaos damaged brand
Last updated on .From the section Mixed Martial Arts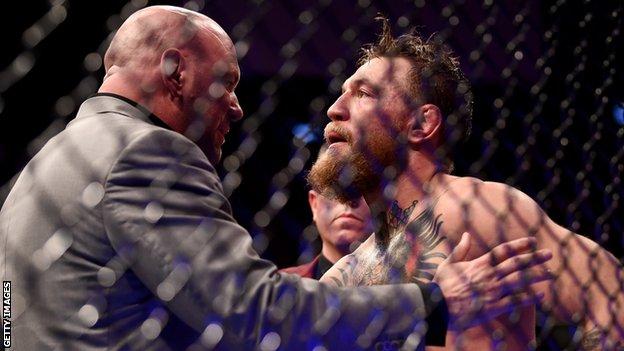 Violent scenes after Khabib Nurmagomedov's win over Conor McGregor have damaged the UFC brand, says the organisation's president Dana White.
Seconds after his victory, lightweight champion Nurmagomedov vaulted the cage towards the Irishman's team, while McGregor was involved in a bust-up in the octagon with members of his opponent's entourage.
White said three of the Russian's party were arrested and later released.
"I'm so disappointed," said White.
"I'm one of the guys who has worked 18 years to get this sport where it is today.
"The thing was trending to be number one or two of all time on pay-per-view and this is how it ends?
"It's bad for the brand, it's bad for the sport, it's bad for both fight camps. I don't know how anyone can come out looking good from this."
White said the Nevada State Athletic Commission, which sanctioned the contest, has withheld 30-year-old Nurmagomedov's fight payment pending an investigation and it would be up to them to decide if there would be sanctions.
The American said the scenes at Las Vegas' T-Mobile Arena made him feel "sick" and insisted the organisation had taken adequate security precautions - though several scuffles among rival fans continued to break out inside and outside the arena.
White claims he told Nurmagomedov he would be "lucky" not to be arrested in the octagon, and he refused to to give the Russian his lightweight belt because he feared it would incite crowd violence.
White added: "Police officers were getting punched, security guys were getting punched. I actually think police and security did an incredible job. Khabib jumped over the cage like one of those Parkour guys. What are you expected to do?
"What he should have done was walk over, pick Conor up and say some great things to one of other. Whatever you think of Conor, at least respect the guy.
"I don't like it and don't want to ever be in that position again. It's a great sport with great athletes and this is not how we conduct ourselves."
White praised 30-year-old McGregor for not reacting to the ugly scenes, during which American heavyweight and light-heavyweight champion Daniel Cormier was in the octagon trying to calm the situation.
In the months leading up to the fight, McGregor - who had not competed in the UFC for almost two years - was given five days of community service after attacking a bus carrying Nurmagomedov.
How the chaos unfolded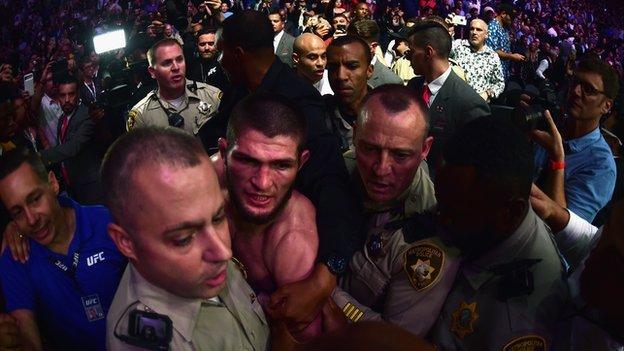 Nurmagomedov largely dominated proceedings before administering a rear-naked choke, prompting McGregor to tap out with one minute and 57 seconds of round four remaining.

The champion instantly shouted at the beaten man and then pointed at McGregor's team before exiting the ring and attacking Dillon Danis, a fighter who trains with McGregor.

While the brawl took place, McGregor was involved in a bust-up in the octagon with one of Nurmagomedov's training partners.

Nurmagomedov left the arena with fans throwing objects towards him, while White said he felt "sick" over the scenes.