Darren Till: What next for Briton after UFC world welterweight title defeat?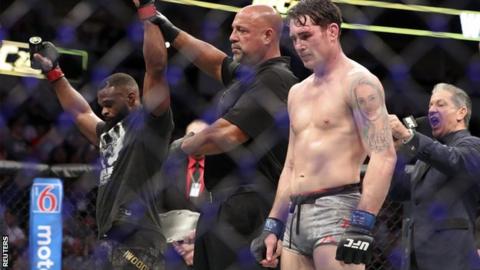 Darren Till's best years will come as a middleweight after his UFC world welterweight title defeat on Saturday, says former title challenger Dan Hardy.
Till hoped to become only Britain's second UFC world champion in Texas, but was beaten by American Tyron Woodley.
It was the 25-year-old's first loss in seven UFC contests.
"A lot of people were expecting Till to do something very special and I still think he has the capability of doing it," Hardy told the BBC MMA Show.
"I still think we'll see the best of him at middleweight. I think the best years of his career are going to be at a weight class above.
"He may want to stay at welterweight for a little longer. It would be nice to be a welterweight champion, but I think that time has passed now.
"Had he won the belt at the weekend, he could have made weight one more time to defend it and then moved to middleweight, but he's 26 soon and there's no point of continuously pushing his weight down into a class where it's going to start affecting his performance."
What are Till's options?
Hardy says the Liverpudlian, who moved to Brazil in 2012, could face the winner of Santiago Ponzinibbio and Neil Magny's November bout, if he remains at welterweight.
"With his South American connections you could see him co-headlining on a Brazil card or something like that," added Englishman Hardy.
Fight journalist Nick Peet says Till's future could depend on the weight at which Woodley decides to take his next contest.
"It didn't work out for him on the night, but everybody knows Darren Till has the ability to bounce back," said Peet. "Whether at welterweight or middleweight, we wait to find out.
"[A rematch] depends on Tyrone Woodley. He was saying backstage he would fancy a move up to 185lbs to see if he can add to his own legacy. He has defined himself as the best welterweight champion of the last couple of years.
"A move up to 185 would define Woodley's legacy and that would obviously leave the belt vacant.
"If Darren Till can bounce back with a win at 170lbs, few people would argue against him getting a shot at a vacant belt."