UFC: Joanne Calderwood on Las Vegas, depression & fighting
By Amy MacBeath
BBC Sport Scotland
Last updated on .From the section Mixed Martial Arts
"People just see the best parts, they don't see the ups and downs for fighters - and a lot of it is downs."
The reality of mixed martial arts (MMA) is far from riches, celebrity and wild parties for Scottish UFC fighter Joanne Calderwood.
"We promote all this winning and people getting cars, getting houses, everything they've ever dreamed of," says the fighter. "But we don't see the other side of getting there."
The 31-year-old from Irvine is preparing for her first contest in 13 months. On the back of consecutive defeats, it is a fight that could sustain her career or effectively end it.
Calderwood takes on Brazilian Kalindra Faria on Saturday night in Lincoln, Nebraska.
Here she tells BBC Scotland about the sacrifices she has made to get there, her battle with depression, life in Sin City and how every fight could be her last.
'Most people in this sport fail'
The Scot made the move to Las Vegas in March but, behind the decadent hotels, the thrill of the city's colourful casinos and the scenic Nevada desert backdrop, there is a hard and harsh reality.
"Most people have failed," explains Calderwood, who has proven herself a survivor losing just three of her 11 fights to date.
"Opponents see me as this softly-spoken girl that doesn't look or sound like a fighter - it's always been my secret weapon."
But it comes at a price and this sport has taken its toll on "JoJo", who has opened up about dealing with depression and issues with alcohol.
Being far from home and her loved ones is a part of the job Calderwood admits she has always struggled with.
She split with her partner - who was also her coach - and left Scotland to train at the renowned Tristar Gym in Montreal, before moving to Vegas.
"Most of my fans will know when I'm down and when I'm not, and that's important," she adds. "I have a really strong fan base, and it's through being honest and showing the other part of the sport.
"We've only got one or two fights a year to show what we've got. Sometimes that can be hard and it's great to know the support is still there when you feel you've not performed."
'I've changed a lot of things in my lifestyle'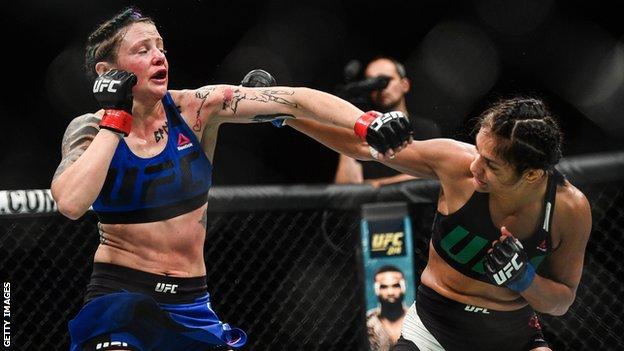 Calderwood last fought - and lost - in front of a rowdy, sell-out UFC Fight Night 113 crowd at Glasgow's Hydro Arena last July.
Strawweight fighter Cynthia Calvillo - who has since been handed a six-month ban after testing positive for marijuana - proved too much for the Scot on her homecoming.
That blow came on the back of losing to the weight's second-highest ranked fighter, Jessica Andrade, in 2016.
Calderwood moves back up to her more comfortable flyweight division this weekend - a difference of 10lbs (4.5kg) - and admits there is a lot at stake.
"We're both in same boat," says Calderwood of Saturday's opponent, who has been unsuccessful in her two UFC contests so far. "So we're both going to go in with a vengeance.
"I've taken some time off and changed a lot of things with my lifestyle. It was well needed but now I'm ready to get back in there.
"Every fighter always goes in with that pressure, our days are numbered and that's part of the mind-set you deal with in the sport.
"All that's in my mind is that I'm going to win, and I want to win so I can fight again before the end of the year."
'I'm eating into my savings'
Calderwood now works with Syndicate MMA, where she trains at the state of the art UFC Performance Institute, used by the likes of Conor McGregor.
She has a new coach, a positive new approach and she also believes her MMA game is "completely different" since her last fight.
But Calderwood acknowledges her dream is in jeopardy every time she steps into the octagon, and that all she has sacrificed to make a name in UFC is at risk.
"You can make a mistake for a split second, lose a fight and everything you've worked for can be taken away in a second," she says.
"I use that to push me harder. Yeah, I'm eating into my savings but I feel like it's going to be worth it in the end. I've not given up yet so what's the point in ever giving up?
"You're always thinking about your next fight but there's always in the back of your mind, what's next?"