Andy Young gave up his job to live the dream of being an MMA fighter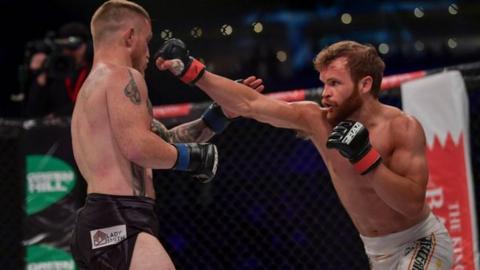 "I have given up everything for this - but I know it could all end tomorrow."
Andy Young is living proof of the sacrifices fighters make to realise their dreams in Mixed Martial Arts.
Young, from Newtownards in County Down, gave up his day job as a successful personal trainer to go full-time in 2017, having just won a British title in MMA.
"I had to give this all I had," says the 28-year-old.
"People don't realise that it's a short-term thing, so you have to put everything into it.
"You could get injured tomorrow and that's it, done."
Turning pro in this game can be a gamble. With no unions, support systems or financial security, the life of a full-time mixed martial artist certainly has its risks.
"I gave up a secure job and a secure income," adds Young, beaten by Brian Creighton at Brave 13 in Belfast on 9 June.
"It is tough because MMA is not like boxing. The money isn't as good as our sport is still gaining recognition.
"A lot of fighters primarily just rely on sponsorship."
Mixed martial arts is entering the mainstream, with fighters becoming better known, thanks to the exploits of Dublin-born trailblazer Conor McGregor who enjoys a massive following.
"Having that artistic expression is something I enjoy," he says.
"I will always train martial arts, even when my fight career is over. The characteristics that it builds are so important to life, especially the discipline and focus. It is cathartic as well, because you are getting rid of aggression."
Young is a past competitor in Clan Wars, and Belfast's Ulster Hall is to stage a bill featuring this MMA version on 24 June.
Head coach of International Fighting Systems (IFS) MMA gym and founder of Clan Wars, Paul McLaughlin, wants to create opportunities for fighters here to push on and make a career out of mixed martial arts.
"We have been running Clan Wars for a long time, showcasing the fighters' skills and providing a platform for them to develop," he says.
"Many past Clan Wars fighters have gone on to fight in the world's largest shows, such as UFC and Bellator."
Highlights of the Clan Wars MMA from Belfast will be on the BBC iPlayer from Monday, 25 June.