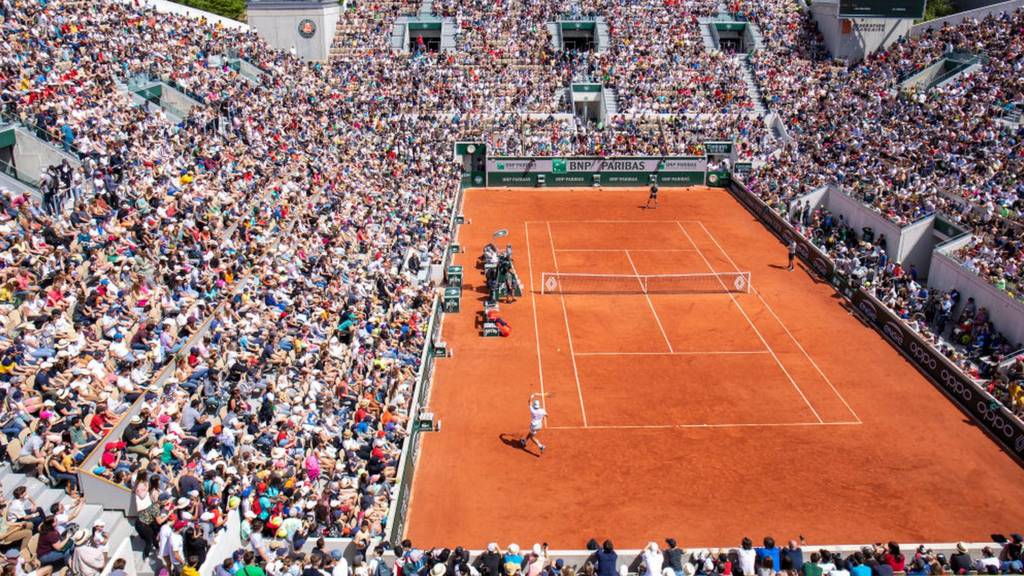 French Open: Medvedev beats Kecmanovic in straight sets - radio & text
That's it from us for now, but there's plenty of action still ongoing at Roland Garros.

You can follow the scores here.

Post update

Kecmanovic 2-6 4-6 2-6 Medvedev

An English interview is not on the cards, but thankfully my colleague Ros does speak some French. Here's a flavour of what Daniil Medvedev had to say:

"It's great to move through to the next round.

"I think last year, because I kept losing in the first round and was quite stressed by it, my coach just wanted me to win the first round, and once I did I had to keep going.

"I need to improve a lot in my French and my tennis and I hope if I improve my French I will even get better in my tennis."

Post update

Kecmanovic 2-6 4-6 2-6 Medvedev

"Your French is unbelievable", Daniil Medvedev is told in his post-match interview.

Better than mine. I'm hoping he does some of it in English as I haven't spoken any French since my year nine GCSE.

Game, set and match Medvedev

Kecmanovic 2-6 4-6 2-6 Medvedev

Medvedev kicks off what he hopes will be the final game with a double fault, and after levelling things up, sends a return too far.

He claws back to 30-30, and then brings up match point with a lovely cross-court forehand after a clipped net cord draws Kecmanovic into the middle.

The Serb is able to take the game to deuce but Medvedev gets the advantage, and completes the win with another lovely forehand.

Daniil Medvedev moves into the second week at Roland Garros.

'Ruthless'

Kecmanovic 2-6 4-6 2-5 Medvedev *

Naomi Cavaday

BBC Sport tennis commentator

Daniil Medvedev has just been ruthless in this match, and the belief for Kecmanovic is just not there.

Medvedev breaks again

Kecmanovic 2-6 4-6 2-5 Medvedev*

Kecmanovic goes 30-0 up his serve but allows Medvedev back into it with two overhit returns. He then slams a forehand into the net and it's another break point for Medvedev.

He converts it and will serve for a place in the fourth round.

Post update

*Kecmanovic 2-6 4-6 2-4 Medvedev

Kecmanovic isn't happy with one of the chair umpire's rulings as Medvedev goes 30-0 up.

Another ace follows before Medvedev wraps up the easiest of love-holds.

Medvedev breaks

Kecmanovic 2-6 4-6 2-3 Medvedev*

Some of Medvedev's shots have been utterly magical today. The sweetest drop shot winner - his fourth of the day - levels Kecmanovic's service game at 15-15.

Kecmanovic works his angles though to take the next point before Medvedev dominates the net play again.

Medevedev can't convert a break point after a deft Kecmanovic drop shot, but he gets a second chance as the Serb fires long again, but Medvedev then replicates it himself.

Third time's a charm though.

'Medvedev is a compelling watch'

* Kecmanovic 2-6 4-6 2-2 Medvedev

David Law

Commentator on BBC Radio 5 Live Sports Extra

This set feels different. In the first two sets Kecmanovic hasn't been able to get near Medvedev, until this set.

But I find Medvedev a compelling watch - he is so unconventional.

Post update

*Kecmanovic 2-6 4-6 2-2 Medvedev

Another hold for Daniil Medvedev - 100% from him today - but not without some fine points from Kecmanovic. He's showing signs of being able to get back in this one but he needs to pick his head up.

Post update

Kecmanovic 2-6 4-6 2-1 Medvedev*

Kecmanovic's head is down as he goes 30-15 down on his serve. Try as he might, he's struggling to match Medvedev's excellence. There are glimmers of his own talent though, a forehand into the corner just beats the outstretched Russian, but an error gifts Medvedev break point.

He thinks he's got the break but the chair umpire rules it out, bringing up deuce.

Kecmanovic then sends a forehand into the net on his advantage, but gets another one courtesy of a drifting Medvedev error. He gets the important hold, but that was a toughie for the Serb.

British representation in doubles quarter-finals

Lloyd Glasspool and his Finnish partner Haari Heliovaara are into the quarter-finals.

They beat Hugo Nys and Jan Zielinski in straight sets.

Top seeds Rajeev Ram and Joe Salisbury also steam into the next round - they beat Maxime Cressy and Feliciano Lopez 7-5 6-4.

Post update

*Kecmanovic 2-6 4-6 1-1 Medvedev

A few wayward shots from Medvedev allows Kecmanovic to draw level at 40-40 on the Russian's serve, but Medvedev responds with another ace.

He can't capitalise on the advantage, and Kecmanovic responds with a sublime backhand. but Medvedev saves the break point.

Another backhand from Kecmanovic is less than sublime, met with a shake of the head as Medvedev gets another chance to wrap up his service game. This one he takes.

Post update

Kecmanovic 2-6 4-6 1-0 Medvedev*

A cracker of an opening game in this third set.

At deuce, Kecmanovic takes the first advantage with a touch of help from the net cord, before he comes into the middle to touch a forehand down for the hold.

He couldn't afford to go down an early break so there's relief etched on his face.

Fair to say there is a fair bit of sport going on today!

Tweet us with your memories of best sporting days and don't forget to use the #bbctennis hashtag.

Game and second set Medvedev

*Kecmanovic 2-6 4-6 Medvedev

Some ferocious hitting from both men as Kecmanovic goes 15-0 up. He'll have wanted that start, but Medvedev pulls it back.

The Serb looks forlorn as he just overhits a backhand, before messing up a forehand return.

Medvedev wraps up the second set with a forehand into the corner. Kecmanovic with it all to do.

Post update

Kecmanovic 2-6 4-5 Medvedev*

It's not to be another love-hold for Kecmanovic, but it's a hold nonetheless.

Medvedev pulls a point back at 40-0 down but skews a backhand wide as he slides towards the net.

He'll serve for the second set but will Kecmanovic have anything to say about that?

Post update

* Kecmanovic 2-6 3-5 Medvedev

Naomi Broady

British player on BBC Radio 5 Live Sports Extra

Medvedev's technique on his volleys is not one you want to teach - but it is effective.

No-one's touched it though - you don't need to change it if it looks good.

Post update

*Kecmanovic 2-6 3-5 Medvedev

Medvedev wins the opening point but it's then scuffed off the board as Kecmanovic complains that the Russian's serve had gone long.

Not that it matters. Medvedev then canters into a 40-0 lead and holds as Kecmanovic pings a forehand return over the line.

Post update

Kecmanovic 2-6 3-4 Medvedev*

Miomir Kecmanovic is starting to come into the net more in this second set - that was something he seemed very reluctant to do at first.

His movement to the middle allows him to crash home the opening point and he ticks over for a third love-hold in a row.. He's doing much better to stay with Medvedev but needs that all-important break back.