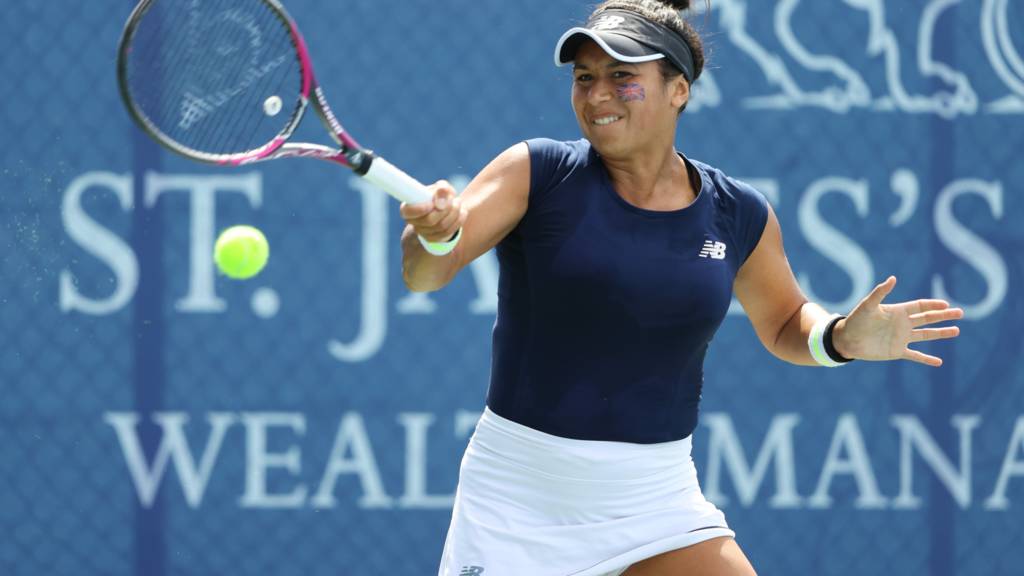 Catch-up: Battle of the Brits - Murray brothers, Evans & Watson in action on final day
Sunday's order of play

All times are BST and subject to late changes

Union Jacks: 56-63 British Bulldogs

(Matches show Union Jacks players first)

Centre Court

Anton Matusevich 6-3 6-2 Alastair Gray (2pts)

Naomi Broady 3-6 3-6 Emma Raducanu (2pts)

Jan Choinski 2-6 1-6 Kyle Edmund (3pts)

Jodie Burrage 4-6 6-7 Harriet Dart (3pts)

Andy Murray/Naomi Broady 6-3 7-6 Kyle Edmund/Emma Raducanu (4pts)

Jamie Murray/Heather Watson 4-6 2-6 Joe Salisbury/Harriet Dart (5pts)

Court One

Alicia Barnett 3-6 3-6 Maia Lumsden (3pts)

Ryan Peniston 6-7 6-3 10-12 Liam Broady (2pts)

Heather Watson 6-0 6-2 Beth Grey (2pts)

Dan Evans 7-5 6-2 Aidan McHugh (3pts)

Family dynamics in the Battle of the Brits

Murray brothers Andy and Jamie and mum Judy tell BBC Breakfast's Sally Nugent about playing on opposite sides in the Battle of the Brits team tennis event.

Want to know more about this uniquely British tournament, and why Andy Murray will only be playing doubles?

Read the full preview and report of Friday's play here.

Andy Murray is the star attraction, although the three-time Grand Slam singles champion is only playing doubles.

The 33-year-old Scot does not want to take any risks with his fitness as hecontinues to prepare for next month's US Open.

World number 14 Johanna Konta is also playing, as are Dan Evans, Kyle Edmund, Heather Watson and Jamie Murray.

The players are split into two teams: Union Jacks and British Bulldogs...

Copyright: Battle of the Brits

Image caption: Jamie Murray has put his tournament director hat on, gathering Britain's best women's and men's players to take part in the competition

Hasn't there already been a Battle of the Brits event organised by Jamie Murray? Yes.

So what's different about this one? Well, this one is a team event, not individual, and the best female British players are taking part alongside the men.

Here's Jamie to explain:

"The format for the week: 60 matches across seven days. It is a race to 60 points.

"Individual matches, across singles, doubles and mixed doubles, will be worth one to three points, gradually increasing through the week until Super Sunday where there will be a lot more points on offer.

"We want to bring the best British players together, men and women, in one event, competing against each other, to showcase the best of British talent on a great platform.

"It brings live and competitive tennis to the fans in the absence of major events at this time of the year."

How can I watch the Battle of the Brits?

BBC Sport will have live coverage of the Battle of the Brits tournament starting on Tuesday, 14 July through to Saturday 18 July in addition to the final leg of the British Tour later in the month.

Coverage will be available live on the Red Button, BBC iPlayer and the BBC Sport website and app and to catch up for 30 days.

Full coverage details

Sunday 2 August

Afternoon Session, Centre Court - 09:50-15:30 & Court One - 10:00-19:00

Evening Session - 16:30-20:00

How do I start?

Whether you're starting out, have been competing for years, or simply looking to try something new - there's a type of tennis to suit everyone. There are more than 20,000 tennis courts across the United Kingdom. Thousands of clubs and park courts provide racquets and balls if you don't have your own.

Alternatively, find a Local Tennis League near you. There are more than 150 leagues and more than 15,000 players of all levels and abilities across the UK.

Tennis for Kids is a fun starter course for kids aged 4-11, giving parents the chance to join in too. The course includes six sessions with an accredited coach, a racquet, ball and personalised t-shirt.

Check out further information on the LTA website regarding restrictions around playing tennis during the Coronavirus pandemic here.