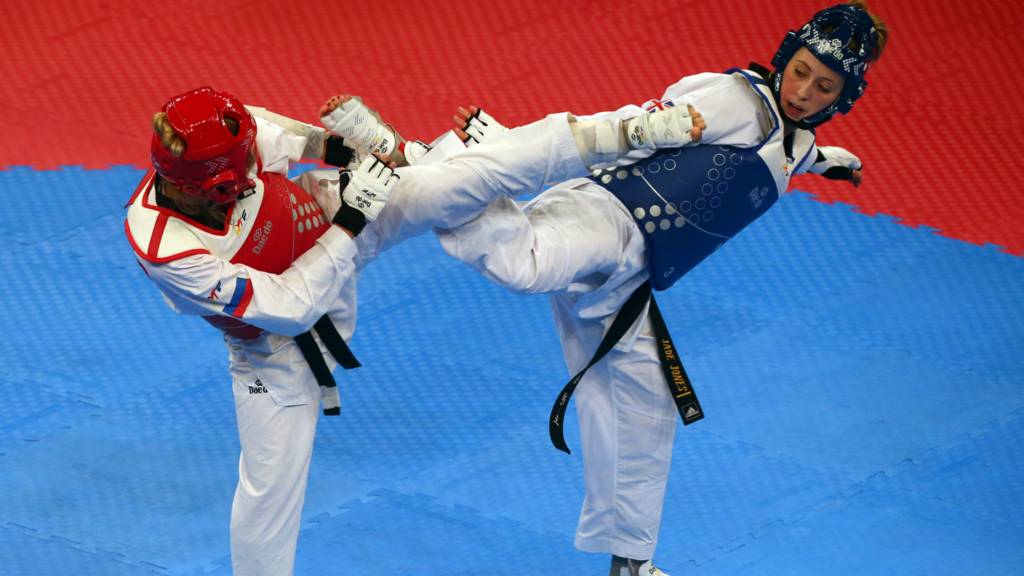 Watch: Taekwondo World Championships - GB's Jade Jones wins first world title
Summary
Women's -57kg final: GB's Jade Jones wins first World Championships gold medal
Women's -53kg semi-finals: 16-year-old Aaliyah Powell wins bronze for GB after defeat to Tatiana Kudashova
Women's -49kg: Panipak Wongpattanakit of Thailand wins second world gold
Men's -74kg: Italy's Simone Alessio wins title
How to watch the 2019 Taekwondo World Championships

You can watch action from Taekwondo World Championships on the Red Button, iPlayer, Connected TV and online, as well as highlights on BBC Two on Monday, 20 May at 14:45 BST.

Saturday, 18 May

18:30-21:30 (19:30-21:30 on Red Button) - Semi-finals W-53kg, W-67kg, M-63kg, M-80kg and Finals W-49kg, W-57kg, M-74kg

Sunday, 19 May

15:30-17:00 & 17:30-20:00 - Finals W-53kg, W-67kg, M-63kg, M-80kg, W-62kg, M-87kg & M+87kg

Muhammad chases destiny in Manchester

Rio 2016 silver medalist Lutalo Muhammad comes to Manchester seeking a world championship title that has so far eluded him in 10 years in the sport.

Muhammad's career has had its share of controversy. His bronze medal in 2012 in his home Olympics came after he had been selected ahead of Aaron Cook, whom many rated as a gold medal prospect.

In Rio, his last-second defeat to Cheick Sallah Cisse of the Ivory Coast in the 80kg category brought him sympathy and incredulity in equal measure from the public.

Muhammad, 27, now fights in the 87kg category, meaning he has to challenge friend and team-mate Mahama Cho for a place in Tokyo. Muhammad is unconcerned, pointing to boxers like Sugar Ray Robinson who moved up a weight to great effect.

"If you truly believe you're the best fighter in the world, like I do, weight divisions are not a restriction. The last three Olympic champions have been middleweights who moved up to heavyweight," he said.

Muhammad, born in London, now lives in Manchester – his second home as he calls it. "My mum was born here and I've lived here for seven years," he said. "It feels like destiny in a way."

IOC boss Bach to visit Manchester

Image caption: The ninth president of the IOC, Thomas Bach will complete six years in the post in September

International Olympic Committee (IOC) President Thomas Bach will be among the visitors to Manchester for Taekwondo's World Championship as Britain hosts the tournament for the first time in its 46-year history.

Bach, who also attended the 2017 Taekwondo Worlds in Muju, South Korea, will be in Manchester on 18 May, the penultimate day of the tournament, with other IOC members and International Federations present.

Bouts will take place on seven mats and a 4D camera rig has been set up around the main court to record matches, including the semi-finals and finals.

The camera, developed through the Grand Slam Champions series in the last two years, is also set to be deployed at next year's Tokyo Olympics.

Manchester will host 975 athletes from 150 countries competing in the 16 weight categories. One team of refugees will compete under the flag of World Taekwondo.

Korea-inspired taekwondo requires patience, self-discipline, dedicated training - and seriously flexible legs!

The second Olympic discipline, taekwondo requires effective self-defence, strength development and cardiovascular fitness, all developed through a combination of mental and physical training.

Information about where you can locate your nearest club can be found on theBritish Taekwondo,British Taekwondo Council,Taekwondo Association of Northern Ireland,Taekwondo Scotland and Taekwondo Cymru websites.