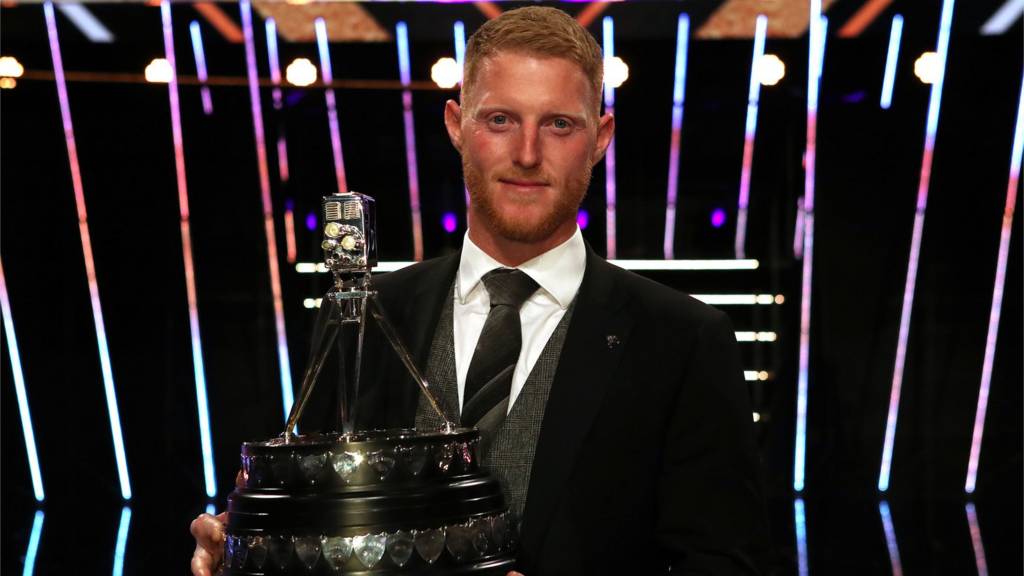 Ben Stokes wins Sports Personality of the Year 2019 - how the show unfolded
Your 2019 Sports Personality of the Year, Ben Stokes.

That's all from me tonight. Thanks for following and being a part of SPOTY 2019!

Here are all the award winners. Head over to the BBC Sports Personality of the Year page to read all about it each winner and how the night played out.

The After Show is still taking place on the BBC Red Button too.

And last but by no means least...

If you missed it earlier, here is the video remembering the sportsmen and women we have lost this year.

A worthy winner in Ben Stokes then. But what a great achievement for Lewis Hamilton, finishing runner-up for the second successive year.

And Dina Asher-Smith, on the podium for the first time.

vtothegee: Yesss @benstokes38 totally deserved

Nicola: Ben Stokes absolute worthy winner of #SPOTY 2019. I never thought cricket would get me so excited, but this summer it absolutely did!

And here's the moment Ben Stokes and his teammates picked up the Team of the Year award. They also came away with Greatest Sporting Moment of the Year too!

Not a bad trophy haul.

Ben Stokes' team celebrating in the England cricket hotel.

Matthew Henry

BBC Sport at the P&J Live Arena

A very popular winner.

The After Show is available to watch on the BBC Red Button, BBC Scotland or online via the icon at the top of this page.

Ben Stokes is chatting away now.

Here's his crowning moment.

Jack: Dina Asher-Smith looking her usual happy self chatting to Princess Anne is my favourite thing

Sam: Well done Ben Stokes, what a good lad he is, and a special cricketer! Well deserved.

Michael: Congratulations, Lewis on 2nd place in #SPOTY @Team_LH will come back even stronger next year and claim the top place! Enjoy your family Christmas party!

More from 2019 SPOTY winner Ben Stokes: "My parents, they live on the other side of the world, they don't get to share moments like this, the World Cup and be there with me but the time you dedicated to me growing up, the selflessness to get me to training camps and around the country, this is for you. I love you so much, thank you.

"To my amazing wife, Clare. Family to me is more important than what I do for a living. It puts perspective on everything, after the good and bad days they are there for me no matter what. My two kids too, they are awesone I love you so much.

"Back to Clare, you're a rock. You always have been. You always will be. I wish you could come here and share it with me, you deserve it just as much. I love you so much and I'm so proud to call you my wife.

"I'm guessing I should leave it there."

'It was a tough time in my life'

2019 Sports Personality of the Year Ben Stokes speaking to BBC One: "First of all, I think congratulations to all the nominees. What you've managed to achieve as individuals and do for your sport is simply sensational so well done to you too.

"There's so many people you feel you have to thank when you're up here. It's an individual award but I play a team sport and one of the great things about that is you get to share special moments with those team mates, coaches and without that effort you put in, I wouldn't be up here receiving this award so thank you so much.

"Two years ago was a tough time for me in my life and I've had so many people help me through that. My fantastic manager and friend Neil Fairbrother, you're more than an agent, you're an incredible man. I don't know how you've put up with Andrew Flintoff and me, you and Audrey you're incredible people."

And that's the show over! Gary Lineker, Clare Balding and Gabby Logan say goodbye while Ben Stokes takes centre stage with his trophy.

Loads of confetti and a huge smile from Dina Asher-Smith too.