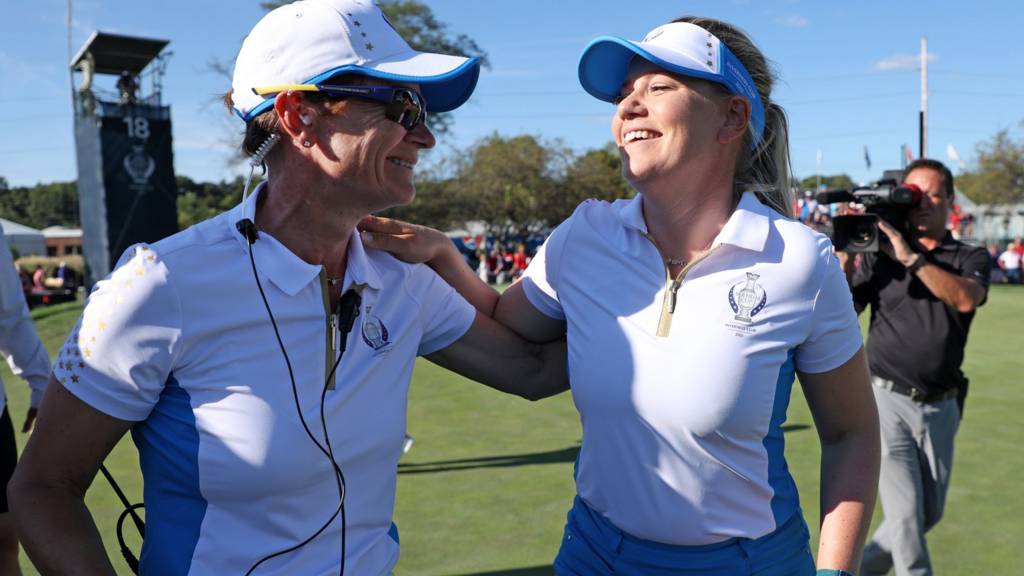 Relive Europe's stunning Solheim Cup victory over US in Ohio
It looks like you could fit quite a lot of liquid refreshment in the Solheim Cup - as Catriona Matthew has already discovered....

Highlights as Europe win Solheim Cup

Fancy recapping all the drama as it unfolded?

Then grab a glass of vino and settle down for the highlights on BBC 2 at 12:15am, and again at 2:15pm.

Matthew won't be captain a third time

Catriona Matthew when presented with the Solheim Cup:

"Two years ago at Gleneagles in Scotland was fantastic. This time, in America, we were up against it.

"The Americans were a fantastic team this year, they played hard but perhaps we holed a few more putts and were lucky we came out on top.

"We've been one big team and we've loved every moment of it. We got off to such a good start and we knew it was going to be close. Matilda closing out to ger her full point, and then Emily."

Matthew had an image of the Loch Ness Monster printed on the bottom of the European bags to celebrate her being Scottish and also playing at a golf course called Inverness.

"I don't know how many of my team knew it was the Loch Ness montser (on the bottom of the European bags)

"I think we were a team of 12 - we needed all 12 of them and huge congratulations.

When asked if she would be captain for a third time in Spain, the respone was emphatic.

"No - that's over to someone else."

The other side of the story

Europe 15-13 USA

They were down and out, fought their way back and in the end gave Europe an almighty scare, but Team USA just came up short in the end.

As always, though, they're gallant losers and they'll be back thirsty for revenge in 2023 in Spain.

Europe win the Solheim Cup - social reaction

'It was a great start and then got a little dodgy'

Catriona Matthew makes a little history in becoming the first European captain to win successive Solheim Cups - and she, with Emily Pedersen, chat to Sky Sports:

Catriona Matthew: "It's just unbelievable. My team have been so fantastic all week.

"I'm so proud of them. We knew it was going to be tough with just a handful of European fans. They hung in and came out with a great finish yesterday. It was a great start and then got a little dodgy.

"It was nervewracking. We got three and a half out of the first four and then the tide was turning.

"I am so pleased for Emily to make that putt on 18 to win her match, just shows how good she is."

Emily Pedersen: "It was a bit of a fight. After 15 I knew we won and I wanted to go celebrate with everyone.

"I think I was happy she put me there and it felt really good to have another outcome compared to 2017, against the same player.

"It's amazing, on American soil and with this group of people. I can't wait to start the party."

Will Pedersen's boyfriend and US caddie Olly Brett be allowed to come to the Team Europe party?

"It's always a bit strange but at the end of the day we're out there to do a job – and I get to tease him a little more tonight. He'll be allowed to come in to the party"

Castren putt seals Europe's Solheim Cup victory

Take another look at how the Solheim Cup was won as Matilda Castren's putt on the 18th hole seals Europe's victory over the United States in Ohio.

Europe break out the Ole song...

Europe 15-13 USA

'One of the best teams we've ever had' - Georgia Hall

Georgia Hall & Charley Hull talking to Sky Sports:

Georgia Hall: "Obviously extremely happy - we can't have any of our own crowd so I think we've done a fantastic job."

Charley Hull: "When the crowd goes wild – it is sometimes for a half! When we win we don't really hear anything!"

Hall: "It's the second time we have won on US soil and we've got one of the best teams we've ever had.

"We couldn't have asked for a better captain.

"She swapped some of the pairings which worked to our advantage – she was amazing."

It's coming home...

Europe 15-13 USA

Well, OK, not quite coming home but the Solheim Cup is heading back to Europe as they retain the title - led brilliantly by captain Catriona Matthew who becomes Europe's first ever two-time winning skipper.

On paper they were the underdogs, they had no fans in the crowd but the European side showed togetherness, pride, and no shortage of skill to win the trophy outright.

Pedersen wins 1UP - Europe win 15-13!

1UP Pedersen v Kang (F)

The European team and staff are standing shoulder-to-shoulder just off the green watching the final match finishing off.

They've had no fans to back them all weekend but they've stood together, backed themselves and really come together as a team.

They're treated to Danielle Kang making an absolute bomb but Pedersen answers by sinking her own birdie putt to take the full point.

What a fitting way to end a stunning Solheim Cup!

Start the celebrations as Europe win the Solheim Cup

They're still going...

1UP Pedersen v Kang (17)

Emily Pedersen is stumbling across the line now as she can't get the job done on 17 despite Danielle Kang not exactly ripping it up.

They're just playing for the final score here with the half coming Europe's way.

Europe's postman delivers a message

Noh wins 1UP

Reid v Noh 1UP (F)

So close! Mel Reid was left with a three-foot point to pinch an improbable half and also officially win the Solheim Cup.

And she's pushed it wide! Oh Mel...

She worked so hard to drag that match back after losing the first four holes, it was an enormous effort but she just couldn't complete the rescue act.

'They played with heart' - US captain Hurst

A tough loss on home soil - here's what US captain Pat Hurst had to say to Sky Sport:

"I think we got behind the eight-ball on the very first foursomes. We fought our way back but it wasn't good enough.

"I was hoping to see a lot of red in the beginning but it is what it is.

"They played with heart and that's what we were asking for.

"Both sides have awesome players. Women's golf level is unbelievable now. It's just going to get better and this is what it's all about.

"We love to do it and the competition is getting that much slicker. I had a lot of fun."