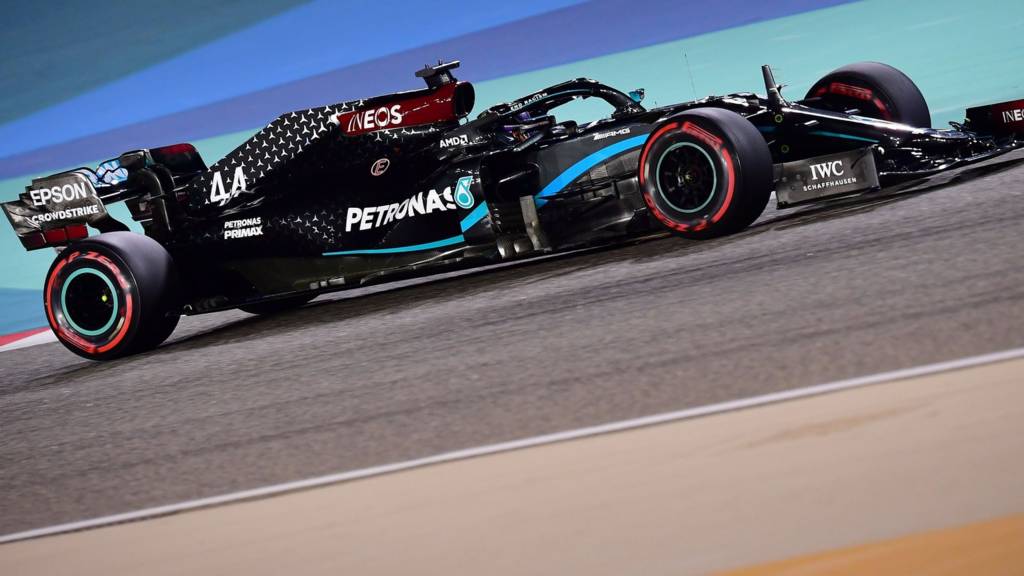 It's getting exciting at the top!

Two minutes left in Q3...

Jack Nicholls

BBC Radio 5 Live F1 commentator

Hamilton has lost a tenth of a second from his medium run in Q2, Verstappen has gained two tenths from his run in Q2 and Bottas has gained one tenth from his medium run in Q2.

So, that would suggest that Hamilton has not had a great one. But still on provisional pole!

Team radio - Max Verstappen

"I don't have the same rear grip than FP3, so I don't know what is going on. The tyres went really hot."

Five minutes remaining...

I am sounding my imaginary klaxon!

So the top five currently looks like this:

Hamilton

Verstappen

Bottas

Perez

Gasly

But who will end up on top?

But that didn't last long as 20 seconds later, Hamilton, Verstappen and Bottas all go faster than the Racing Point of Perez.

Looks like Hamilton is the man to beat...again.

Perez is the first driver to set a time - with a 1:28.470.

Just waiting for the drivers to put down a time - but all the drivers are out on track.

Just watching the sparks fly - love it!

The green lights are on and the first driver out of the pits is Sergio Perez...

11 minutes to go - let's do this!

Q3 is just about to start - so get in your pole predictions!

#bbcf1

Team radio - Racing Point to Lance Stroll

Engineer: "That's P13 Lance."

Stroll: "Ahhh...that was miscommunication."

Last year at the track it was a Ferrari front row...

Team radio - Sebastian Vettel

"I had a couple of wobbles. Arrrggh!!!!"

Hamilton sets the pace in Q2

It's the seven-time champion who once again goes quickest, after a 1:27.586 on the medium tyres.

Verstappen ends the session second fastest, with Bottas in P3.

Ricciardo and Albon complete the top five.

Eliminated from Q2

Not a great session for Ferrari...

Vettel

Leclerc

Stroll

Russell

Sainz

Ricciardo just goes fourth!

Now the driver at risk is Gasly...

Those who are currently at risk of being eliminated in Q2:

Ricciardo

Leclerc

Vettel

Kvyat

Russell

Rachel T: Standard Saturday tweet - GEEEORRRGE!!!

He is on a flying lap - let's see what he can do...

Scrap that last post as Hamilton goes P1 with a 1:27.586 to push the Red Bulls down the timing-screens.

Bottas also ups the pace too and is sandwiched between the Red Bulls in P3.

Three minutes to go in Q2.