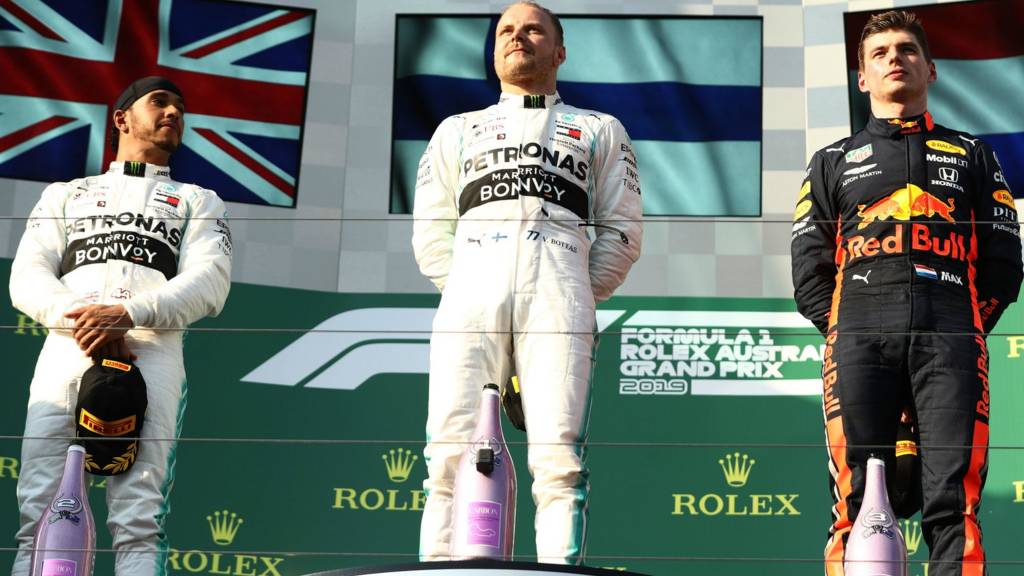 Highlights of Bottas' dominant victory
Thanks and goodbye

Valtteri Bottas is our driver of the day

Well, wasn't that something. I'm not sure how anyone couldn't be happy for him with that victory. What a way to start the season, after a long dry spell with his last win being Abu Dhabi in 2017, and a dismal season last year.

His performance today makes him our driver of the day.

In pre-season testing he was asked who the wildcard of the season would be, and he said himself.

He was right. Let's just hope he can keep the momentum up, and be the destroyer that Toto Wolff said he used to be.

From here you can:

By the way, has Robert Kubica finished yet?

Download the Chequered Flag podcast

You can listen to the Australian Grand Prix review, and catch up on all of the sessions from this weekend's commentary with Jack Nicholls, Jolyon Palmer, and Jennie Gow. You can download it on your favourite podcast app.

'The racing could be closer'

Racing Point's Lance Stroll picked up two points for coming ninth and he tells Sky Sports F1: "A great race, picked up some points and had good pace.

"It was tight, there was not a lap when I was not pressuring someone or was under pressure. We want to see wheel-to-wheel racing and it looks like the racing could be closer and that could make it more exciting."

McLaren's Lando Norris finished 12th in his first Formula 1 race and spoke to Sky Sports F1. He said: "There was potential to get some points or a point at least, the car was performing well enough to get into the top 10. I didn't have the best of starts and struggled to get past Giovinazzi, so there is more potential, that's why I'm not happy.

"Getting the first race out of the way is good and everything went pretty well, I made it past turn one, didn't crash and made it through to the end. I was very nervous, but when the lights were coming on it was just focusing on turn 1."

'I don't know how I'm smiling'

Daniel Ricciardo, who destroyed his front wing on the opening lap and retired from the race on lap 31 tells Sky Sports F1: "No-one to blame, other than grass and a big bump of concrete. I didn't want to go on the grass, I had a run on Perez, I saw him move, so moved a bit more and that put my wheel on the grass and as soon as I got the grass there was the gutter. I don't know how I'm smiling, I don't seem to have a good break here.

"We should be a top-eight car the first half of the season, then even better after that. Bahrain is like a holiday week, nothing going on so I can prepare. When the race is over in five seconds I feel that the preparation was not where it should be and I'm too busy pleasing everybody else."

Philip West: Australia GP talking points: Williams are as good as finished in F1. One of the greatest names in the sport's history, and they've been reduced to this level. Ferrari's incompetence is startling. Number one in testing, but nowhere here, that takes some doing!

Frank Meehan: Perhaps Ferrari need to switch to letting Leclerc be #1 I don't think Vettel has the pace this year and Ferrari will fall behind if they don't let Leclerc race.

SportsGridUK: Valtteri Bottas wins the Australian Grand Prix. A brilliant drive, overtaking team-mate Lewis Hamilton at the very start and, from there, it never looked in doubt.

More reaction from the Spice Girl's husband

"Bahrain is a completely different track. We all came here expecting to be trounced by Ferrari, so Bahrain I've got no idea what is going to happen. This is Honda's first podium since Rubens Barrichello in 2008 so they have great motivation too.

"With the fastest lap, we were even wondering if we take it with Pierre, who was not in the top 10, just to take it away from everyone else. It added an element which was really interesting."

On Pierre Gasly, coming out of the points in 11th in his first race for the team. "I thought he drove a good race, it is a very difficult race to overtake at," said Horner. "It is still early days for him, there is always pressure. His feedback is strong, we just have to give the kid a bit of time and it will come good for him."

'We all came here expecting to be trounced by Ferrari'

Red Bull boss Christian Horner tells Sky Sports F1: "It's a great day for us to get a podium. Max's drive, his pass on Seb, was a fantastic performance and to get a podium with a new power unit is a dream start. Honda have given us a great product, the engine has been reliable and given us good power.

"We've performed in the race and were more competitive then we felt we would be on Friday. It looked like we had a quicker car than Lewis in the second half of the race and to do that here is very encouraging for us.

'It's a fresh start and a good opportunity'

"It was quite satisfying to hold a quicker car for a whole race behind you. I had to focus a lot on what was going on behind me but great to come out of this race in the points.

"I'm feeling fresh in a way that it's a fresh start and a good opportunity to be a better driver and a better person. The things I've been working on are working, in qualifying there were some things left on the table, but we can learn form it and do better next time."

Image caption: "I think this is the beginning of a beautiful friendship."

'If you have big goals and you fail to achieve those, it's difficult'

Valtteri Bottas, speaks to Simon Lazenby at Sky Sports on how it feels to succeed after a difficult season last year.

He says: "I've never had a race like this with such a lead. I just had a really good feeling with the car today.

"I could've gone quicker in qualifying and in the end I couldn't but Lewis could, but overall it's today that matters.

"Your brain tricks you and says it's easy, but it isn't. there are so many things that can go wrong especially when you have that gap with you team-mate.

"For sure it's not easy, what I have personally if you have big goals and you definitely fail to achieve those and you're way behind, it's difficult; for your performance level to come back from that it took time. Over Christmas and new year I wasn't feeling good at all, but in January I began to feel better and started to get back on it."

'Well done to Alfa Romeo'

Marcus Ericsson, who dropped out of Formula 1 at the end of last season, congratulates Alfa Romeo, who picked up four points through Kimi Raikkonen's eighth-placed finish.

'We had to keep positions'

Charles Leclerc, who finished fifth in his first race for Ferrari, tells Sky Sports F1: "Not the greatest race, fourth and fifth, we expected better but on the other hand Australia is a very strange track.

"Mercedes look very strong, but I think we are closer than we showed today. The start was pretty good, Seb didn't see me and I had to go on the grass."

On whether he asked if he was able to overtake team-mate Sebastian Vettel late on, Leclerc says: "I asked, we had to keep positions."

20 years ago, another famous understudy won the opening round at Melbourne - this time Eddie Irvine for Ferrari instead of Michael Schumacher.

See below for how he celebrated...

(He ended up missing out on the title by two points to Mika Hakkinen by the way - after Schumacher broke his leg at the British GP.)

'Happy for the team and Honda'

Third-placed Max Verstappen tells Sky Sports F1: "On the first tyres, as soon as you got within 1.5 seconds the tyres overheated and I couldn't place an attack.

"As soon as I got on to the mediums, the car felt good and as soon as I had the opportunity I went for it, but Lewis had more pace than Seb and at this track it is so hard to overtake.

"I was just trying to push up to Lewis and go for the fastest lap but it did not work out, but I'm happy to be third, happy for the team and Honda. Since we started working together I'm really happy with them."