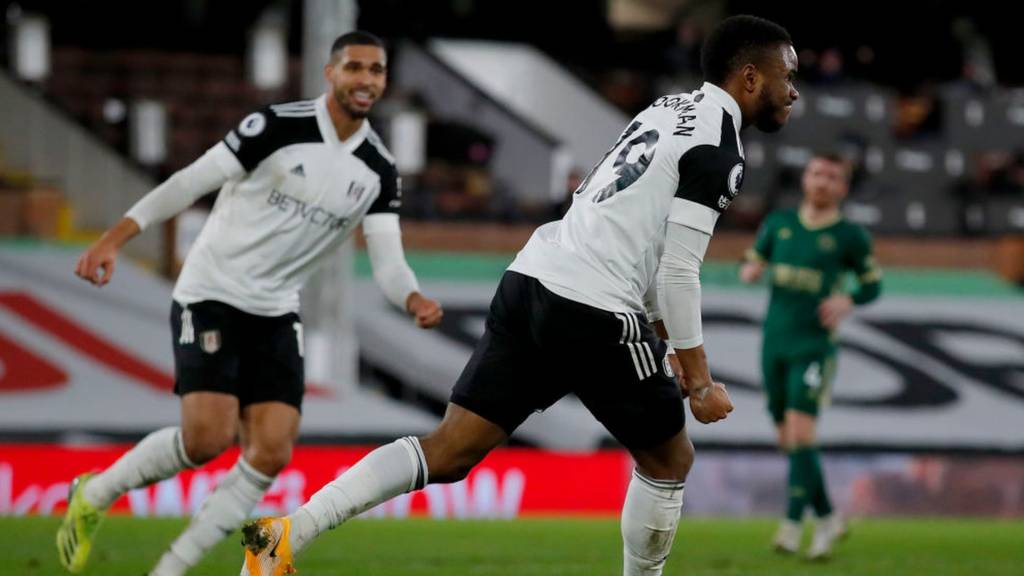 Premier League: Fulham beat Sheff Utd - reaction
There was a lot of chat about 'tight margins' from both managers there. But of Sheffield United's 20 Premier League losses this season, 14 were by a single-goal margin. The PL record for most defeats by a one-goal margin in a single campaign is 15.

The football has been going on so long that Match of the Day has now started.

'There was a big clash'

Fulham 1-0 Sheffield United

Sheffield United forward Billy Sharp speaking to BBC Sport on his side's penalty shout:

"It was tight. There was a big clash between the two players. I think Jayden [Bogle] gets the first touch and then [Alphonse Areola] saves it.

"I haven't seen it back.

"We got a penalty against them last time out. I just don't know."

'It's a penalty, 100%'

Fulham 1-0 Sheffield United

More from Chris Wilder to MOTD: "We've had to readjust our defence all season and it's another mistake - it's an error from Ethan Ampadu. He will be better for that experience.

"It's a penalty, 100%. It's reckless, it's high, I don't understand VAR. I'm not a huge lover of it, I've been public on that, if we can't get decisions lilke that right why are we having it? The keeper is reckless, he's not in control of his body. It's a penalty and these are the small margins at this level.

"Lots of games are tight and decided by a mistake or a poor decison and that would have got us back into the game.

"We believed we could get something out of the game. We have to go again regardless of the league position or the gap. We have to be professionalf and have pride and character.

"There's a bigger picture in this. The majority of people understand where we are at as a football club, it's our third season in the Premier League in the last 20 years, being realistic it doesn't look like we'll have a fourth one."

'A ridiculous VAR decision'

Fulham 1-0 Sheffield United

Sheffield United boss Chris Wilder told Sky Sports:

"There wasn't a lot in it and it was decided by a little bit of quality.

"We had opportunities to get back into the game and didn't take them,. And then we had a ridiculous VAR decision. I thought it was a reckless challenge from the the Fulham goalkeeper. It's a penalty.

"To be honest I'm more grateful that there wasn't an injury because it was a reckless challenge.

"Yes I'm clutching a bit but it was a penalty all day long. No question from me.

"I am completely seeing a different game. The stills and watching it in slow motion, how does VAR not see that?

"I don't care if he's being brave or whatever. It was a ridiculous challenge. Another fine margin has cost us.

"These are big experiences we're all going through. This is a difficult position for all of us.

"There's always something to play for. I won't accept relegation until it happens. And even then I still won't accept it.

"I can't mug everybody off by saying we're going to have a miraculous recovery.

"I won't allow it [to happen] to our supporters.

"It looks like next season we'll be in the Championship."

"I can't mug you off - it's looking like next season we'll be in the Championship," says Chris Wilder.

Chris Wilder thinks his side should have had a penalty for that late challenge by Alphonse Areola on Jayden Bogle.

'We're growing so fast'

Fulham 1-0 Sheffield United

Fulham manager Scott Parker told Sky Sports: "We set a challenge to the boys tonight to not get swallowed up. To worry about ourselves and put in a performance where we showed our quality. I think we did that. We showed our quality.

"Like all these games it took one moment to win the game and it came from Ademola [Lookman] and he found the net.

"I'm really proud of this team because it's a huge moment. Not just this game but this week. It's been massive.

"We all understand what we need to do. We need results more than performances but I felt like we got both tonight.

"We need to rest now, we've had a tough week. We'll get back to it on Monday ready to push again.

"It's a tough league. We understand that. All we need to do is focus on us. That's all we've done this season. When we've had our little dip we've focused on us. We're a young team who are growing fast. I have big belief in this team."

On staying up: "That's the aim. We've been in this position for a while now. We're comfortable with where we are, we know the projections we're on. Let's try and rack up some wins and put pressure on the other teams. That's the main focus."

'This team have real belief'

Fulham 1-0 Sheffield United

Fulham boss Scott Parker to MOTD: "It was a big win for us tonight, massive. There's a lot of emotion in the team in terms of understanding what tonight meant. The most important thing was the result.

"The game was always gong to hinge on one chance. people who have watched us will understand that we have been in games and the fine margins have been the difference. This team have real belief and I want us to focus on us.

"The quality that we have will ultimately get us results in this division. We are a young team who want to improve and get better. We have got something about us that you need in these moments."

'We're ready to fight'

Fulham 1-0 Sheffield United

Fulham winger Ademola Lookman to BBC Sport: "Every game we go into we go in with confidence. We have the belief.

"Our last few performances have been top, we just haven't been able to score. The last three games we've done that.

"It feels good, I'm looking forward to the next one. We'll look to win and play our football. We're ready to fight."

'It's going to be difficult'

Fulham 1-0 Sheffield United

Sheffield United forward Billy Sharp told BBC Sport: "We needed to be a bit better on the ball. We started very well, it's the story of our season really.

"[In] both boxes we haven't been good enough. Today we were excellent after we went behind.

"We're trying to create chances but we didn't get it. Individually we're making too many mistakes.

"The [late] penalty [shout] quite easily could've gone our way.

"It's going to be incredibly difficult [to stay up]. We have to stay professional today and keep fighting.

"It's another tight Premier League game we haven't got anything from."

'Seven points is massive this week'

Fulham 1-0 Sheffield United

Fulham defender Joachim Andersen: "It was so important, it's been a really good week for us, seven points is massive and a big improvement. Finally some of the hard work we have been doing has paid off. It just needs to continue.

"This is a good signal to show the other teams that we are ready to fight. It was a must-win game, there was pressure but every game is big pressure becase we need points. We have to win as many games as possible."

Post update

Fulham 1-0 Sheffield United

Fulham will really believe they can get out of it now. Brighton and Newcastle will have a real sweat on.

'We're only focused on us'

FT: Fulham 1-0 Sheffield United

Fulham goalscorer Ademola Lookman told Sky Sports:

"[The] three points are the most important [thing]. I'm just happy we won the game today.

"I just made the run in behind. I always put pressure on myself to perform and to help the team.

"We need to have that pressure on ourselves. If we can all add that to our game we'll be fine.

"It's been a big, big week for us with our performances. We've been growing in confidence and the wins are coming.

"We're not focused on anybody else apart [only] ourselves. We can only control what we can control.

"Our mentality is very important."

Shattered dreams parkway

Fulham 1-0 Sheffield United

Sheffield United have only won two of their 28 Premier League games in London (D8 L18), winning at Chelsea in October 1992 (2-1) and Crystal Palace in February 2020 (1-0).

Post update

Fulham 1-0 Sheffield United

Post update

FT: Fulham 1-0 Sheffield United

That's a proper hug, there.

Or don't lose to them, anyway.

Fulham remain unbeaten in Premier League fixtures this season versus the other teams that are currently in the bottom six of the table (W2-D6-L0).