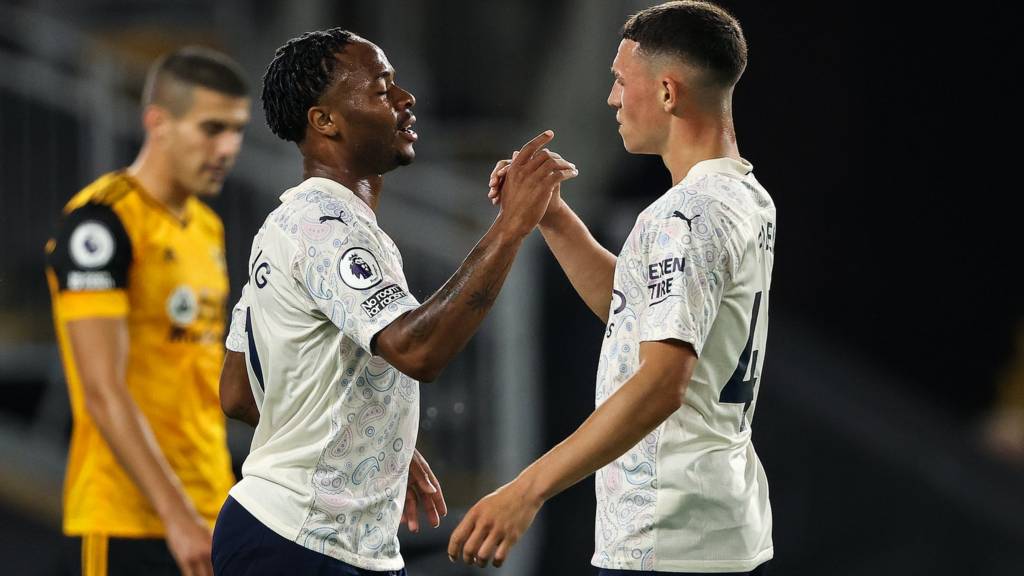 'It is just one game'

Wolves 1-3 Man City

Manchester City manager Pep Guardiola speaking to Sky Sports: "It was a good performance. We know how difficult it is. The game was good.

"It's always to try and start fast. Sometimes the opening is good and sometimes we need more time to get our best conditions but the start was good.

"The goal and in the second half - he [Phil Foden] played incredibly well. We are tired in our legs but in general we did a good game.

"The period that we are in and the situation that we had in these last two weeks, I expect that in some moments we suffer, but in general we control the game.

"Everyone was ready and did well. Of course it was important [to start like this] but of course it is just one game."

'We can improve on a lot'

Wolves 1-3 Man City

Wolves manager Nuno Espirito Santo speaking to Sky Sports: "The first half we didn't start very well. Man City moved the ball well and created a lot of problems for us.

"We conceded the penalty and from then on it become much harder. In the second half we improved. We created a lot of moments and chances we could score from. We knew one moment could change everything. Very good second half for the team.

"We always have to give credit to our opponents because of the talent and the quality they have, but we should do better.

"Even in the second half we can improve on a lot of things. We changed and tried to adapt. We blocked City's possession through the middle. We were able to press and recover the ball. We had a lot of things to change and work out. Too bad we didn't finish with a different end to the game."

'I need to contribute in one way'

Wolves 1-3 Man City

More from Kevin de Bruyne to Sky Sports:

Feel more pressure to create goals in David Silva's absence?

"No I don't. David Silva was an incredible player for us. I cannot recreate what David does. I have to help my team the way I always try to do. Everybody has to play out their own quality. Of course it will be difficult because David was the master of tight spaces but I think we have people who can do the job. He will obviously be a miss inside and outside the pitch.

On his position on the pitch:

"I think it depends on the way the other team play. Wolves play with a back three so the manager wanted to push them high and play secure with the two defensive midfielders. We have so many attacking players so I can slot them in and they can do the rest.

On whether he will break Thierry Henry's assists record:

"I would prefer to have five goals and five assists and go away with the title. You can contribute a lot in different ways. i'm a midfielder but I know these days it's a lot about statistics. I need to contribute in one way or another so that's what i'm trying to do."

'It's encouraging to play well'

Wolves 1-3 Man City

Manchester City midfielder Kevin De Bruyne speaking to Sky Sports: "I think I touched it but I'm not sure to be honest. I was really tired at the time. Maybe because I start the new season with zero they give me this one.

"I think we played really well. Obviously in the second half there is going to be stages where it will be difficult because offensively they are strong.

"But we played secure and didn't take many risks. With only two weeks of training it was going to be difficult.

"It's obviously hard. It's a weird season. We know we need to start well. Wolves have been a bit of a bogey team for us in the last few seasons. So it's encouraging to play well. We know if the pace is the same as the last three years, it will be a hard job and we want to fight against them. We know we make it each other better and for me that is what sport is all about."

Post update

Wolves 1-3 Man City

Would love to tell you what Pep Guardiola and Nuno Espirito Santo thought of the game but I don't have any sound on the interviews.

Will try to access them via other means.

Get Involved

#bbcfootball or text us on 81111 (UK Only)

Paul: How can anyone say wolves should have got a result? I don't support city but they had more possession, more shots, more shots on target with 9 to wolves 1 and more corners. Football isn't played on should haves and Wolves were poor finishers, City deserved win.

Stat attack

Wolves 1-3 Man City

Manchester City have now won 10 Premier League season-openers in a row, becoming the first team to achieve this in the competition.
In 2020, Manchester City have won more penalties than any other side in the Premier League (eight, scoring four).
Since the restart in June, Raheem Sterling has had a hand in 13 goals in 14 appearances for Manchester City (11 goals, 2 assists), with only Pierre-Emerick Abameyang registering more in that time (14).

Rate the players: Wolves v Man City

Get Involved

#bbcfootball or text us on 81111 (UK Only)

SMS Message: Let's not kid ourselves, Wolves should've gotten something from this game, looks a comfortable win but City perhaps not as good as 3-1 suggests. Although not forgetting great teams get results no matter what! from Chris in North Wales

Post update

Wolves 1-3 Man City

Zero draws in the Premier League so far, you know.

And that late goal means we have had 44 goals in this round of matches, more than any other gameweek since the league turned to 20 teams.

FULL-TIME

Wolves 1-3 Man City

All over.

City start the season with the three points, but not without a scare.

GOAL - Wolves 1-3 Man City

Gabriel Jesus

Points sealed.

94th minute of the game and Kevin de Bruyne is running to win the ball back off Willy Boly.

The Belgian slips is through to Gabriel Jesus and the Brazilian's shot deflects off Conor Coady, wrong-foots Rui Patricio and ends up in the back of the net.

GREAT SAVE!

Wolves 1-2 Man City

Gabriel Jesus looking for the City third late on and he smacks a low drive which is arrowing towards the bottom corner but Rui Patricio dives full length to palm the ball away.

Post update

Wolves 1-2 Man City

City boss Pep Guardiola barking out instruction.

The Spaniard is almost on the pitch.

INJURY TIME

Wolves 1-2 Man City

Four minutes added on at Molineux.

It is going to be a late showing if Wolves are to get anything from this game.

Post update

Wolves 1-2 Man City

Ruben Neves swings in the free-kick but Fernandinho dives in full blooded to head the ball to safety.

We are into the last minute.

Post update

Wolves 1-2 Man City

Adama Traore has caused Benjamin Mendy plenty of problems down the right.

The Wolves man earns a free-kick.

CLOSE!

Wolves 1-2 Man City

Willy Boly heads the resulting free-kick over the crossbar for Wolves.