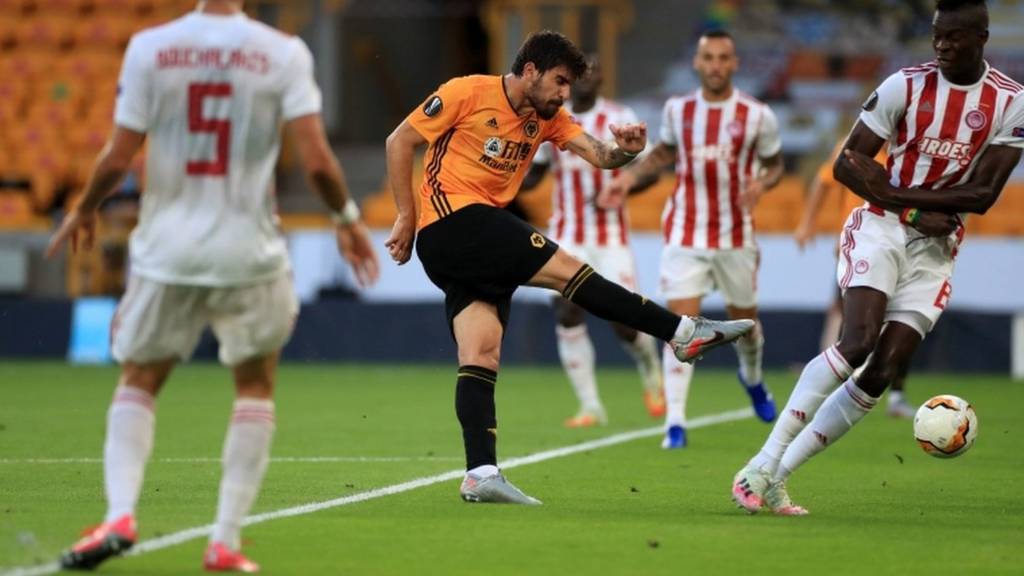 Europa League: Wolves through to quarter-final - reaction
And on that note we shall bid you all farewell.

Join us tomorrow for the return of the Champions League...

'Let's make our effort worth it'

Wolves 1-0 Olympiakos (Agg: 2-1)

Wolves manager Nuno Espirito Santo speaking to BT Sport: "We had to suffer. Today was a very tough game. They caused us too many troubles and problems. The boys worked hard but we suffered today.

"I think we started the game well, we were pressing good and having good possession. We allowed Olympiakos to play and in the second half they started better and we weren't able to kill the game. They had a lot of chances, we needed the goalkeper and today he did well for us."

On the video assistant referee: "So many times we speak of VAR. It goes both sides. We have to get used to it, the tough moment is to react to those decisons after a long wait."

On preparing for the quarter-finals: "Rest. The boys need to rest. They need to recover well. We fly to Germany and let's see how far we go. We have tough opponents in front of us.

"It is exciting to be in the last eight. We started before everybody, against Crusaders. It is a tough period and Sevilla is big team with big players and a good manger. It is a big challenge for us - let's challenge ourselves."

On his words to his players on the pitch at full-time: "I said today we were brave but we should be better. Let's get on the plane and make it worth all the effort we have been through. It was also for our fans - we miss them."

Nuno says "we had to suffer" but he does have a big smile on his face...

'Incredible night for this football club'

Wolves 1-0 Olympiakos (Agg: 2-1)

Wolves captain Conor Coady told BBC Radio 5 Live: "It was really tough. We played against a top class side and we knew how hard it would be after going to Athens. I thought the lads were fantastic and we managed the game very well. It's an incredible night for this football club and a night we won't forget.

"It's amazing and we are here as players to help the club improve. We love playing for the manager and we were able to frustrate them. We scored a great goal in the first half and that gave us the confidence to keep going. It's a huge game coming against Sevilla next."

We are family

Wolves 1-0 Olympiakos (Agg: 2-1)

Wolves striker Raul Jimenez speaking to BT Sport: "After our first year in the Premier League we learned a lot, we achieved Europa League [qualification] and now this year we made more points in the Premier League and are in the quarter finals. We want to keep going like this."

On facing Sevilla next: "We know it will be tough, it will be difficult, it is a team that is a family like we are this season. They are a very good team but we have very good players to play them."

On manager Nuno Espirito Santo: "He is a very important part of the team. He is a leader and at the end he said congratulations to me. That confidence he and the team gives to me I try to give it back to them on the pitch."

'We want to achieve big things'

Wolves 1-0 Olympiakos (Agg: 2-1)

Wolves forward Raul Jimenez: "It's a long long season, we started last year but we are here and we want to achieve big things. We know we can do it, we head to Germany. It's big."

'Strong Sevilla'

Wolves 1-0 Olympiakos (Agg: 2-1)

Guillem Balague

Spanish football journalist on BBC Radio 5 Live

What a strong team Sevilla is. Perhaps they don't score as many goals as they should but they are very solid at the back. The goalkeeper doesn't make mistakes and the midfield has a lot of variation.

Get Involved

#bbcfootball or text us on 81111 (UK Only)

Baldie: Wolves. Sheer grit. Sheer determination. Great for Nuno and the team.

A 48-year wait...

Wolves 1-0 Olympiakos (Agg: 2-1)

Image caption: It's not from the Uefa Cup run - but this is Wolves playing in 1972...

Wolves have reached the quarter-finals of a major European competition for the first time since 1972, when they were beaten finalists against Tottenham in the Uefa Cup.
Wolves have won four consecutive home games in European competition without conceding a single goal for the first time in their history.

Post update

Wolves 1-0 Olympiakos (Agg: 2-1)

The players and staff congregate in the centre-circle as Nuno addresses them all. What a long, hard road and season ths has been.

That was the last game at Molineux for the 2019-20 season, it's off to Germany now for the mini tournament.

'Credit to Wolves'

Wolves 1-0 Olympiakos (Agg: 2-1)

Clinton Morrison

Former Crystal Palace striker on BBC Radio 5 Live

Credit to Wolves, they have had a long season and these players have given their manager everything. Olympiakos were the better team but one mistake has cost them.

Shakhtar Donetsk v Basel

Manchester United v Copenhagen

Inter Milan v Bayer Leverkusen

Wolves v Sevilla

Post update

Wolves 1-0 Olympiakos (Agg: 2-1)

Wolves had to work for that, and no mistake. A gritty, gritty display.

Breaking

FULL-TIME

Wolves 1-0 Olympiakos (Agg: 2-1)

Wolves are into the quarter-finals!

They play Sevilla on Tuesday night.

Post update

Wolves 1-0 Olympiakos (Agg: 2-1)

YELLOW CARD

Wolves 1-0 Olympiakos (Agg: 2-1)

Some shattered legs out there. Raul Jimenez wastes a counter but sprints back 50 yards to make a challenge. He's booked but that's great work from the number nine.

Especially as the free-kick somes to nothing. The clock almost going backwards now for Wolves fans...

CLOSE!

Wolves 1-0 Olympiakos (Agg: 2-1)

Konstantinos Fortounis weaves space again and gets a cross in, it misses everyone in the middle and Omar Elabdellaoui batters it wide at the far post.

INJURY TIME

Wolves 1-0 Olympiakos (Agg: 2-1)

Allan: Remember as well that the 1st leg was played with Olympiakos fans at home, Wolves have had no such home support, so surely their performance is all the more meritable

Post update

Wolves 1-0 Olympiakos (Agg: 2-1)

Willy Boly is helped to his feet, groggily. We'll have plenty of added time again...