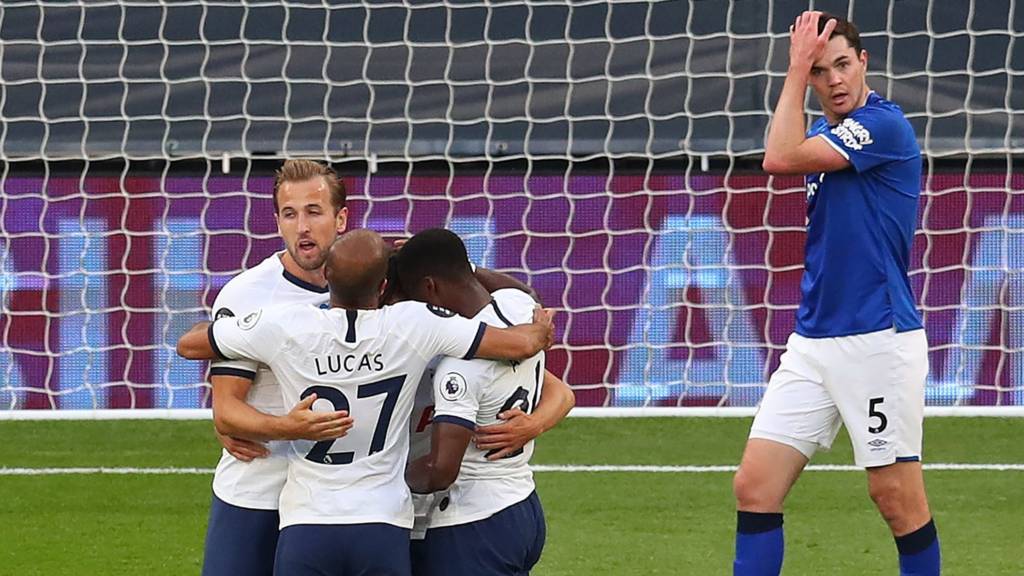 Spurs edge out Everton in drab match
That's a wrap from us tonight.

See you tomorrow for THREE more Premier League games.

They just won't stop.

Everton are 11th now, seven points off fifth place and four points behind Spurs, who are in eighth. Eighth, we think, could be a Europa League place next season but there's a lot of ifs and buts.

'We have to change our mentality'

Tottenham 1-0 Everton

Everton manager Carlo Ancelotti speaking to Sky Sports:

"We lost a lot of second balls. We were a little bit unlucky - we could do more. We have to keep on fighting. Tottenham didn't have a lot of chances. It was a battle in midfield. In the second half we created more opportunities. We didn't have many chances but had a lot more possession.

"We have to change our mentality [against top teams] - that's absolutely normal. We can improve day by day."

Europe? "We have to keep fighting - we can have our chance still."

Hang on here is some Carlo...

'We controlled the Everton forwards'

Tottenham 1-0 Everton

More from Spurs boss Jose Mourinho: "It was not an artistic performance.

"Hugo didn't have to make great saves. Richarlison and Calvert-Lewin are a couple of the best strikers in England and we controlled them very well.

"We were speaking a lot about our attitude. The way we played against Sheffield United, someone in front who doesn't know we are fighting for a European place probably thinks we're a mid-table team.

"Today we tried to score more goals and had couple of chances with Son that could have killed the game."

It was down to Jose then!

We may not get Everton reaction tonight, we didn't have any audio of the interview I'm afraid. Pandemics and all that.

'The clash between Lloris and Son was beautiful'

Tottenham 1-0 Everton

Spurs boss Jose Mourinho speaking to Sky Sports about the incident between Lloris and Son: "It's beautiful. It's probably as a consequence of our meetings. If you want to blame someone for that it's me. I was critical of my boys - they were not critical enough with themselves. I asked them to be more demanding of each other.

"Son is an amazing kid, everybody likes Son but the captain told him you have to do more and give more to the team.

"It's something needed for the team to grow up - to grow up you need big personalities. When you have that reaction I had no doubts."

Tottenham head to Bournemouth on Thursday night, while Everton host Southampton at the same time.

Both 18:00 BST kick-offs there.

Get Involved

#bbcfootball or text us on 81111 (UK Only)

Andy Rudd: Some perspective, @Everton have conceded 2 goals since we came back, both deflections. We have had no midfield all year mainly through injuries, we desperately need some attacking options, and to have the same manager for an extended period of time.

'We're in a situation we're not happy with'

Tottenham 1-0 Everton

More from Hugo Lloris: "In terms of personal investment it's much better than the last game [3-1 defeat by Sheffield United]. We don't have the right to lose more points.We need a run of consistency of performance.

"To be honest we are in a situation we're not happy with. We have to fight. We go in the same way and same direction. We cannot accept the Sheffield United result.

"Now we have to move on and bounce back as a team."

Only Alex Ferguson (322) required fewer Premier League matches to record 200 wins in the competition as a manager than José Mourinho (326).

'My argument with Son is part of football'

Tottenham 1-0 Everton

Spurs skipper Hugo Lloris explains his argument with Son Heung-min before half-time to Sky Sports:

"It just belongs to the changing room - outside you can say whatever you want. What happened between me and Sonny is part of football sometimes. There's no problem. At the end of the game you could see we were more than happy."

Was it as a result of Son not tracking before Richarlison's effort?

"Yes, a chance a few seconds before half-time. But it's part of football - we move on."

I didn't! But there can't be many can there?

There aren't many in the UK look. It's not been in the top 100 boys' names since about 1973.

If you've never had a play with that graph by the ONS I can heartily endorse it. It's here.

SMS Message: Did you find out how many Dereks there are in the Netherlands? More interesting than the game. from Rob. Rushden.

A whole new team is pushing it but yes, this is not really Carlo's Everton just yet is it.

Get Involved

#bbcfootball or text us on 81111 (UK Only)

Amrul C: Everton need steel in the side, the likes of Bernard, Gomes, Sigurdsson cannot play in the same side. Soft.

Phil McNamara: No desire. No guts. No fight. Ancelotti needs a whole new team. Embarrassing

Get Involved

#bbcfootball or text us on 81111 (UK Only)

We'll be doing a vote on this at some point.

SMS Message: Best drinks breaks at any prem game so far I reckon from Jon, Spurs fan:

Capital punishment

Tottenham 1-0 Everton

Everton have lost exactly half of their Premier League games in London (78/156), with only Newcastle (79) losing more in the capital than the Toffees.

Get Involved

#bbcfootball or text us on 81111 (UK Only)

StorminNorman: What an absolute stinker of a game. Tripe.

Andy McNamara: This was the game where we would find out about Everton. Unfortunately my fears have come to fruition. We lack quality, self belief and desire. Very simply you get the first goal and you win against Everton.There has been a deep rooted problem at this club for years

Trevor Durham: Another uninspiring and unconvincing Spurs win, to add to several similar results this season. Yay! I guess?