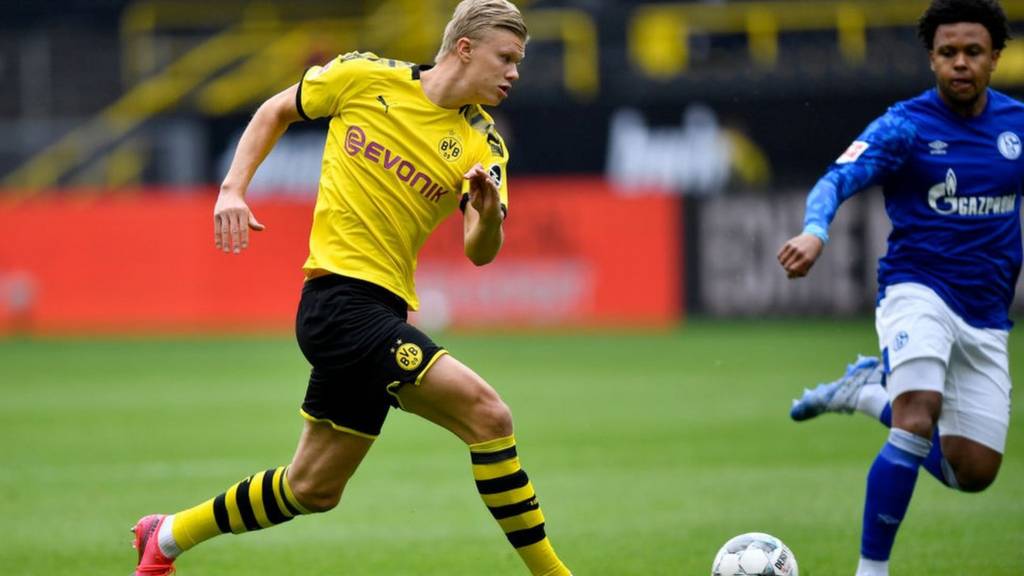 The Bundesliga is back - relive Germany's return to football as Dortmund hit four
That's the end of this live page now, thanks for joining me today and texting/tweeting in.

It's great to have elite football back isn't it?

It was strange without fans and with masks and some social distancing. But it was still magic.

Shall we do it all again for Union Berlin v Bayern Munich at 17:00 BST tomorrow?

Ipswich manager and former Dortmund midfielder Paul Lambert on BT Sport: "There are a lot of unanswered questions still. Safety is still the main thing.

"The lack of atmosphere is a really strange thing. It is going to take a lot to get used to."

Fortuna Düsseldorf have drawn five of their seven Bundesliga matches under Uwe Rösler, winning one and losing the other.

Get Involved

#bbcfootball or 81111 on text

Chris Roach: Re: update at 4:35pm - why no one is calling elbow bumps "elbumps" is beyond me

I'm up for that, elbumps it is

'Football without fans is tough to watch'

Borussia Dortmund 4-0 Schalke

Former Bayern Munich and England midfielder Owen Hargreaves on BT Sport: "I am missing the fans already. It was so strange, it is going to take some getting used to. But the goals were quality.

"For the first 20 minutes the intensity wasnt there and it will take some to get that back. Football without the fans is tough to watch."

A boost for Dortmund's title hopes but a blow for Leipzig's.

At the bottom Paderborn remain six points behind Fortuna Dusseldorf, who are in the relegation play-off place, after the sides drew 0-0.

I've just seen footage of Wolfsburg players kicking boots with the referee team instead of shaking hands. A lot of fist bumps and elbow bumps (is there even a name for that?) too.

I think we all really enjoyed that, didn't we? Football without fans can't compare to football with fans. But it's miles better than no football. So long as everyone stays safe of course.

Get Involved

#bbcfootball or 81111 on text

SMS Message: These last 90 minutes of football have been gold! from Maxime

SMS Message: it's not the real thing, but better than sorting the CD collection for the third time from Hanno, Wirral

SMS Message: My friends and I decided to adopt German teams. I picked Hoffenheim. Totally Spursy. Appropriate for me really. from Chris

Borussia Dortmund have the highest shot conversion rate of any team in the top five European leagues this season (20%), while they've also netted with the highest percentage of their shots on target (47%).

All the games are over now.

Borussia Dortmund 4-0 Schalke

Augsburg 1-2 Wolfsburg

Fortuna Dusseldorf 0-0 Paderborn

RB Leipzig 1-1 Freiburg

Hoffenheim 0-3 Hertha Berlin

Robin Koch was inches offside as the initial cross came onto the box. He was back onside when Lucas Holer headed the ball across to him but of course that doesn't matter.

DISALLOWED GOAL

RB Leipzig 1-1 Freiburg

RB Leipzig survive. The goal has been disallowed by the video assistant referee.

Video Assistant Referee

RB Leipzig 1-2 Freiburg

GOAL - RB Leipzig 1-2 Freiburg

Robin Koch (90+3 mins)

A goal with big ramifications at the top as Robin Koch scores from close in against the title rivals.

GOAL - Augsburg 1-2 Wolfsburg

Daniel Ginczek (90+1 mins)

Wolfsburg steal it at the death as Daniel Ginczek scores from close range in injury time.

Post update

Borussia Dortmund 4-0 Schalke

Ha ha ha brilliant. Borussia Dortmund's players and coaches (some wearing masks) go to the Yellow Wall to celebrate as if their home fans are there.

FULL-TIME

Borussia Dortmund 4-0 Schalke

It's all over. The final whistle goes to a small bit of applause from the bench.

Dortmund were brilliant, Schalke were awful.