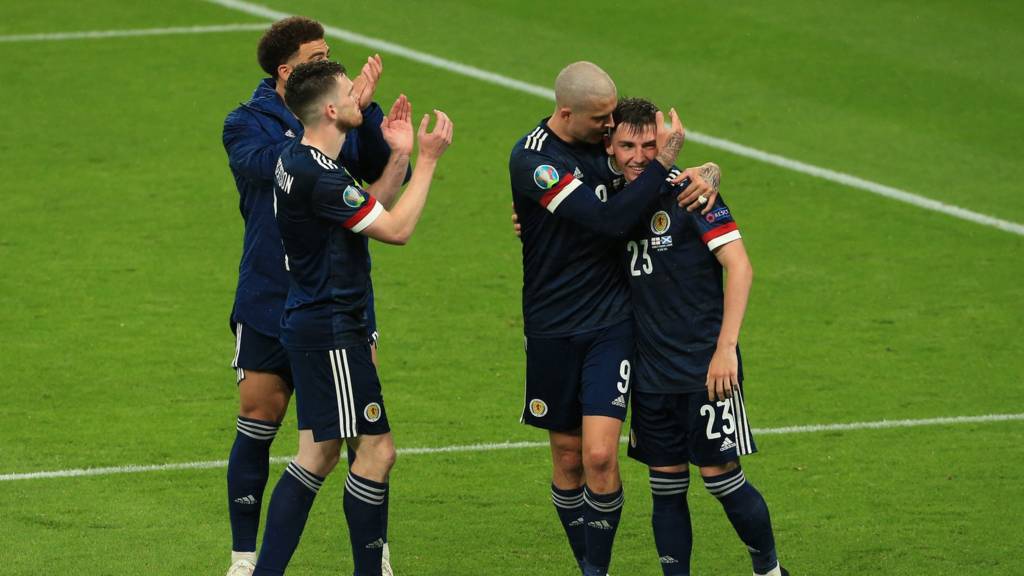 Euro 2020: Reaction as England and Scotland play out goalless draw
WATCH: Highlights

England 0-0 Scotland

'We have got to perform better'

England 0-0 Scotland

England manager Gareth Southgate speaking to BBC Radio 5 Live:

"We know we didn't perform at the level that was needed to win. We have to accept that. We also have to give Scotland credit. They defended brilliantly and they used the ball very well. They deserved the point from the game. It was a difficult night for us. We wanted to send our fans away happy. We haven't done. But in tournament football it's key that if you can't win then make sure you get a point. I've seen games like that where the ball ends up in the back of the net in the 85th minute and everyone's walking off in an even worse mood than we are now. So it's a game we've got to learn from and a performance we've got to improve on and we will."

On people expecting more: "When you play any team that defends as well as Scotland did for a start, that'e one thing. Collectively we've got to make sure we create more chances and get those players in the right area of the pitch. It's a good challenge for all of us now. We've got what I'm sure will be a difficult couple of days ahead".

Why we didn't see more changes: "You're in that situation where we changed two of the forward players and still felt we were a threat. You don't want to be losing the game at the end. We're in a tournament, not a one off game where you've got to push at all costs for the win and abandon everything at the back. That's the fascinating thing about tournament football. You've got to have half an eye on both those situations and the point might be the one that gets us through to the next round."

On if he is expecting criticism: "Look, we've played Scotland. The expectation is that we win. We haven't won. We've got to perform better. I have to accept that. I'm totally understanding of that and I will make sure the players are absolutely fine. There are a lot of young players in tonight's team and they will have learned a lot from that experience. They just about came through. We know we have to be better, that starts with me but we're a point closer to qualification and that's the first objective."

'I thought we might never have scored'

England 0-0 Scotland

England midfielder Declan Rice speaking to BBC Radio 5 Live:

"There's a positive in the fact there was another clean sheet and we always want to defend and do well but we want to put the ball in the back of the net but tonight we didn't have that cutting edge. There was chances for us but as the night kept going on we might not have ever scored. If John's header hits the back of the net maybe it's a different game."

"Scotland defended so well and we always knew it was going to be a really tough game. It was massive out there tonight. They defended with a five and a four in front and kept shuffling and running really hard and in the end we were really frustrated that we couldn't come away with a win.

On England's two game so far: "Two different experiences. Tonight was an incredible atmosphere. You could feel the tension between the fans and we wanted to go out there and win and qualify tonight. That's what we wanted to do and it's a kick in the teeth because we haven't done that yet. But we're staying positive. We just said inside then - it's tournament football and you can't win every one. There's going to be a blip along the way and there are other top teams who have drawn games. we just need to stay positive and be ready for Tuesday."

'When we don't win, it's important we don't lose'

England 0-0 Scotland

England defender Tyrone Mings speaking to BBC Radio 5 Live:

"We're frustrated. I wouldn't say disappointed. Of course we wanted to win the game but no point is ever a bad point, especially in this competition and we kept another clean sheet. When we don't win or look like winning its important that we don't lose. I think we have to focus on the performance rather than the result and the performance wasn't quite our fluid attacking and dynamic best but we kept another clean sheet, we were hard to beat, we defended well and ultimately it's another step closer to our goal which is qualification."

On why the performance wasn't England's best: "I have no idea. Everyone that is here and watches football, sometimes things don't go as you planned and sometimes it's very hard to put a finger on exactly why that was. But I think it was probably the intensity. On the ball our intensity and speed that we moved the ball wasn't quite there, but as i said it's a big occasion for both teams. I don't think that necessarily played a part in why we weren't quite at our best, I think it was an occasion to really enjoy and thrive in and to rise to and they are not a bad team, let me tell you. They have got Premier Leage and international quality in their team."

WATCH: Goalmouth scramble

England 0-0 Scotland

England may have nicked it late on...

'We did not find answers'

England 0-0 Scotland

England boss Gareth Southgate tells BBC Sport: "I am not sure that is the reason we did not win, we were too frantic and not patient in the right areas of the field. We have to give Scotland huge credit, we did not have the answers to break them down. It is an experience we have to learn from and if you don't win the game then don't lose it.

"It is a different atmosphere, the greasy pitch made the surface skiddy and it is a performance we know that has to be better. It might be an important point.

"Jordan Pickford's saves were critical and he has done that again for us, the two centre-backs had a completely difference challenge and they got their clean sheet.

"We have to better, we did not find answers to Scotland's questions and could not find that pass.

"You can see Jack Grealish's ability to take players on one on one.

"I felt the team that started against Croatia deserved to go again so we have to review now and make the right decision for the Czech Republic game.

"The games are intense and you have fresh legs to bring into play, we have a squad and have to use it. We took the captain Harry Kane off but the types of players on the bench, we have to use them.

"We have to look at how we operated in the final third, there was little space. A little bit of anxiety as the game went on because of the desire to win.

"We will see how the other groups play out to see if we already have enough to need more."

WATCH: Sterling goes down

England 0-0 Scotland

Was it a penalty?

You decide.

'Another clean sheet'

England 0-0 Scotland

England goalkeeper Jordan Pickford: "It is a massive game and we wanted to take all three points. The biggest thing tonight was that if we cannot win it, don't get beaten. It showed resilience from the lads.

"I thought I did a good performance, made a good save and came out for crosses. Another clean sheet which I am pleased with."

WATCH: Adams' effort blocked

England 0-0 Scotland

Just couldn't sort out his feet...

'Kane doesn't look fresh'

England 0-0 Scotland

Chris Waddle

Ex-England winger on BBC Radio 5 Live

He doesn't look fresh. It's like hard work for him. If you watch his movement tonight he's a strong runner rather than a sprinter. It's took him minutes and minutes. He's jogged. He's got no change of pace around him at the minute, he looks leggy, he's coming off, he can't get back up there when Sterling or Foden are running with the ball. He can't get in the box. He looks as if he's had a long, hard season.

WATCH: Marshall saves Mount effort

England 0-0 Scotland

Could have crept in at the near post...

'We have to stay positive'

England 0-0 Scotland

England midfielder Declan Rice: "There are games at home we should be winning but credit to Scotland, they ran and defended for their lives. We had our chances to put it away, when John Stones' header hit the post it felt it might have been one of them nights. We need to improve and now the Czech Republic game is massive.

"Scotland nailed their gameplan and nullified Harry Kane, he is a world class player and we need to get the ball to him to score. We need to keep working, chances in the second half but we don't need to be too down and negative. With the press and social media there might be an overreaction now but we have to stay positive."

WATCH: James with clearance

England 0-0 Scotland

'You wouldn't know who was the favourite'

England 0-0 Scotland

Scotland manager Steve Clarke speaking to ITV: "Good night, we played well. We were unfairly criticised after the game on Monday I know I have a good group of players and they showed that tonight, delighted for my players and staff.

"We had chances to win, England had moments as well, looking at this you wouldn't have known which is the favourite which is a credit to us. The most pleasing thing was we played when we had the ball and created a number of chances."

On Billy Gilmour: "We knew before we put him in he can play, it's just getting the right moment, tonight was his big moment and he took it and no one was surprised by it, certainly not in our camp."

WATCH: Pickford make super save

England 0-0 Scotland

Stephen O'Donnell and the rest of Scotland thought it was in...

'On another night we could have won it'

England 0-0 Scotland

Scotland captain Andrew Robertson speaking to BBC Radio 5 Live:

"To be honest I thought we were the better team. Obviously the fans are delighted with a draw but on another night we could have won it and I don't think anyone can really argue with that.

"We had our tough moments but England are one of the favourites to win this tournament so they're always going to have that. The feeling that we have now, the feeling that the fans have, it's important that we keep that and it's not for nothing. We still have a long way to go in this group. We're still not in a position that we want to be in but we take it down to the last game and that's all we ask."

'We've got to be better'

England 0-0 Scotland

England manager Gareth Southgate speaking to ITV: "I think it was a frustrating night, we know we can play better. Got to give Scotland credit they defended valiantly and played well. We didn't do enough to win the game but after that the thing we have to worry about in tournament football after that is we had to make sure we didn't lose it. We know it's a disappointment for our supporters, but we have to dust ourselves down and move on."

On bringing Harry Kane off: "We needed more runs in behind, I felt Marcus Rashford would give us that energy, at that point we had got to try and get the. We have to make these decisions based on what we see.

"The whole team can look at ourselves, that starts with me, we've got to be better. We didn't do enough to win the game tonight, not enough attempts on goal, we have to go away and look at that.

On selections: "We're still working those patterns, we're playing a high level of games under the intensity and to find space tonight was difficult. Scotland played well and we weren't able to open them up.

"I know exactly where this team is - it's a young team and some of them won't have experienced a night under this intensity and pressure, that's a huge learning for then. That's what we have to look at moving forward.

On changes for Czech Republic: "See how everyone is, prepare for a different type of opponent and make the right decisions."

'Scotland were the best side'

England 0-0 Scotland

James McFadden

Former Scotland forward on Match of the Day

Stephen O'Donnell wasn't at his best on Monday. He came in for a lot of stick from everyone saying he shouldn't play. It was a terrific performance from Stephen O'Donnell.

Every single one of them was top class. Everything that was asked, they did it. I watched a game there where Scotland were the best side and I don't think there can be too much argument about that. You have to be at your best. You know who's coming, you know Scotland had to get something tonight so England should have known what was coming. There were star performers everywhere for Scotland tonight. They were absolutely terrific.

'Gilmour was sensational'

England 0-0 Scotland

Pat Nevin

Former Scotland winger on BBC Radio 5 Live

We've spoke about Gilmour before the game and his composure. For a 20-year-old to go into a game like that. I remember one game against Liverpool at home he was brilliant but this is even bigger. This is the biggest game of his careers and to bring the ball down like he did, for me he's a player who understands the game. He knows when it needs to speed up and he can do that. and when it needs to slow down he does it. He was sensational tonight.

'England were stuck in first gear'

England 0-0 Scotland

Chris Waddle

Ex-England winger on BBC Radio 5 Live

I thought Scotland would tire because of the effort they were putting in. You've got to say England never got through any gears. They were stuck in first gear. They never really showed any energy to take it to another level and it was basically one pace the whole game for England.