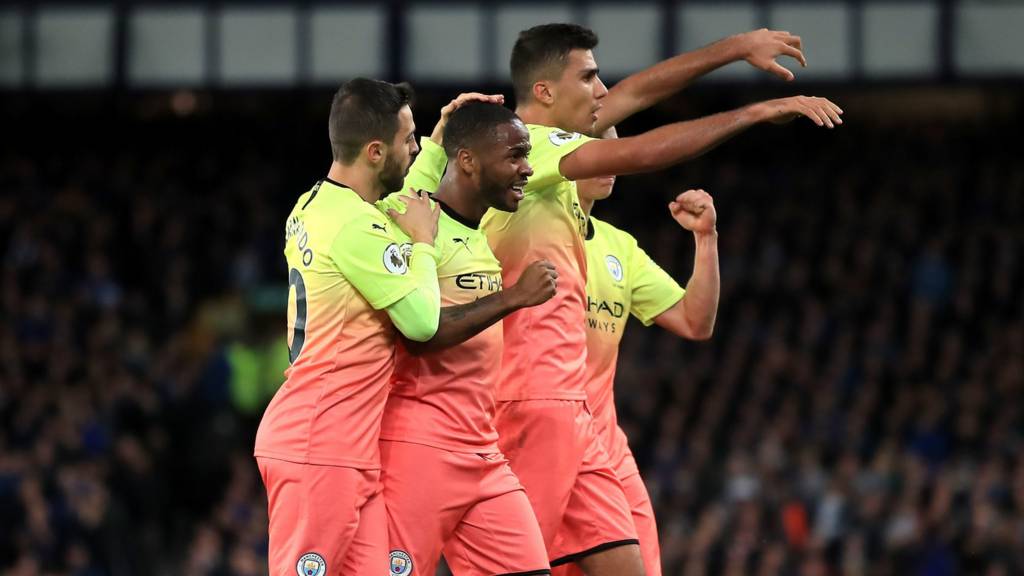 Man City beat Everton to go back within five points of Liverpool
That's it from us! I'll leave you with Gary Lineker's running through the Match of the Day running order.

Cheerio!

'A lot of positives'

Everton 1-3 Man City

Everton boss Marco Silva speaking to the BBC: "The first 20 minutes our performance wasn't good enough but after their goal we responded strong. We had some good moments. We were faster and quicker and made problems for them and equalised.

"We created problems for them and had a good moment with Gylfi Sigurdsson. They had a bit more possession, which is normal against most teams.

"But we had a good attitude from our players and, to be honest, we had the best chances before they scored to make it 2-1, through Mina and Calvert-Lewin. There was a big save by Ederson.

"It was a good game, a competitive game. We didn't get the points but there were lots of positives.

On Theo Walcott: "He was knocked out. He went to hospital and had a scan and now he's in the dressing room, taking a shower, and he'll go home to rest.

On Jordan Pickford for City's second goal: "It's normal for the keeper to be frustrated when he concedes a goal on his side but now we'll analyse it with him, like always."

Post update

Everton 1-3 Man City

Manchester City boss Pep Guardiola, speaking to Sky Sports: "They have incredible players up front and experience in the middle and a good manager so we knew it would be a tough game.

"Every season it is difficult at Goodison Park. With the ball we were outstanding. They had chances but we had chances too, it was this kind of game. Football is sometimes unpredictable.

"We had a problem in the first half with out high pressing.- they had one more player on our left side. It was 25-35 minutes we had problems.

"They are on an incredible run, they don't drop points and they win well. We know it, the players know it. It is not easy."

Good news on Theo Walcott.

'We had the quality of Mahrez'

Everton 1-3 Man City

Man City boss Pep Guardiola told MOTD: "It's always difficult here. First half we started incredible the first 20-25 minutes, then we had problems to control Gylfi Sigurdsson in that position.

"But we created from wide areas in the second half and we had the quality of Riyad Mahrez for the goal.

"Everton have fast players, they caused a lot of problems at the back, so I'm delighted because we want to go for this league and try to win it again."

Get Involved

#bbcfootball or text 81111 (UK only)

Josh Kelly: Massive performance from Mahrez starting to show his quality for us.

'We were unfortunate'

Everton 1-3 Man City

Everton goalscorer Dominic Calvert-Lewin, speaking to Sky Sports: "I thought we had done well to get ourselves back into the game. I thought the all round team performance was good, we were unfortunate not to get a result.

"Our home form prior to the last home game had been really good so we could take confidence from that. We knew we had to work hard if not harder than Manchester City today.

"I am there to score goals and I am happy to do that but disappointed with the result. I thought Seamus Coleman was going to cross it at first so I just got in position ready for that.

"We know what we are capable of and it is about ironing out the dips in form."

Get Involved

#bbcfootball or text 81111 (UK only)

Steve Smith: I have to stand up for Pickford - he was unsighted and the wall let him down. Did well to even get a hand on it.

SMS Message: Where were all the Pickford critics when he was winning penalty shootouts for England in the World Cup? So easy to criticise when someone has a less than perfect game. from Phil, Bristol

'I never think it won't be my day'

Everton 1-3 Man City

Manchester City forward Raheem Sterling, speaking to Sky Sports: "It was a real good moment (to score 100th club goal).

"I had a chance earlier on and didn't know if I was offside or not and dragged it wide. But I knew another chance would come. I never think it isn't going to be my day. I am always waiting for an opportunity.

"We know if we have a set back in a match we stick with the game plan, that is the most important thing. The chances will come.

"Coming here is always one of the most difficult fixtures in a season. The pitch is narrow and they are always up for it but we got over the line.

"It is still early in the season and there are still 90 points to play for. We are behind at this moment in time but the league can change very quickly and we can stay focused."

Post update

Everton 1-3 Man City

Man City winger Riyad Mahrez speaking to Sky Sports: "I think we deserved the win. We could have killed the game in the first half, we had five clear chances and didn't score. That was the difference with the game against Watford.

"But we know sometimes it's going to be difficult and second half we did what we had to do to win.

On goalkeeper Ederson: "That's why he's up there. We need everyone. When Ederson makes good saves like this it's very important for us. We can concede chances but when the keeper helps us it makes a big difference.

On his free-kick goal: "I wanted to put it the other side but looked and there was a big space. I went for the keeper's side and there was a little bounce before he touched it so it made it difficult."

Here it is! Plenty of goals to enjoy tonight.

Get Involved

#bbcfootball or text 81111 (UK only)

Stuart Eccles: Is there a better player to watch right now other than KDB?

Andrew Priestley: That second half was a tale of two goalkeepers. One underrated (Ederson) as a shot stopper who won his team the game and the other (Pickford) who is massively overrated and out of his depth at this level.

'Man City are one of the best teams in the world'

Everton 1-3 Man City

Ronny Goodlass

Former Everton winger on BBC Radio Merseyside

It was totally different for Everton from last week. Their attitude and performances were superb tonight. The disappointing thing for them is that they put so much in but got nothing out of it. However, Man City are one of the best teams in the world and that showed over the 90 minutes. For Everton, this is a step in the right direction. They have raised their game.

Post update

Everton 1-3 Man City

Everton fans, meanwhile, applaud their side off the pitch. A nice contrast to last week when they were booed off after the defeat to Sheffield United.

Lots of encouraging effort there from the Toffees.

FULL-TIME

Everton 1-3 Man City

Job done for Manchester City as they keep the gap between themselves and leaders Liverpool at five points.

Post update

Everton 1-3 Man City

Good play from substitute Moise Kean wins Everton a corner but this time Fernandinho clears the delivery.

Post update

Everton 1-3 Man City

Its going to be defeat for Everton but there's plenty for their fans to be encouraged by in this display. They went toe-to-toe for long periods and could have got more out of it with better finishing.

SUBSTITUTION

Everton 1-3 Man City

Job done for Raheem Sterling and he makes way for David Silva for the final few minutes.

GOAL - Everton 1-3 Man City

Raheem Sterling

Raheem Sterling gets on the scoresheet and Manchester City have the win!

Sergio Aguero's ball towards the near post deflects off Jordan Pickford's boot to Sterling, who smacks an effort against the underside of the bar and the goalline technology swiftly confirms it had crossed the line.

'Schneiderlin got a standing ovation'

Everton 1-2 Man City

Ronny Goodlass

Former Everton winger on BBC Radio Merseyside

I think Gylfi Sigurdsson and Morgan Schneiderlin have impressed tonight. They have been highly criticised n the recent months but Schneiderlin just got a standing ovation as he is substituted and he cannot say that of many games in recent months.