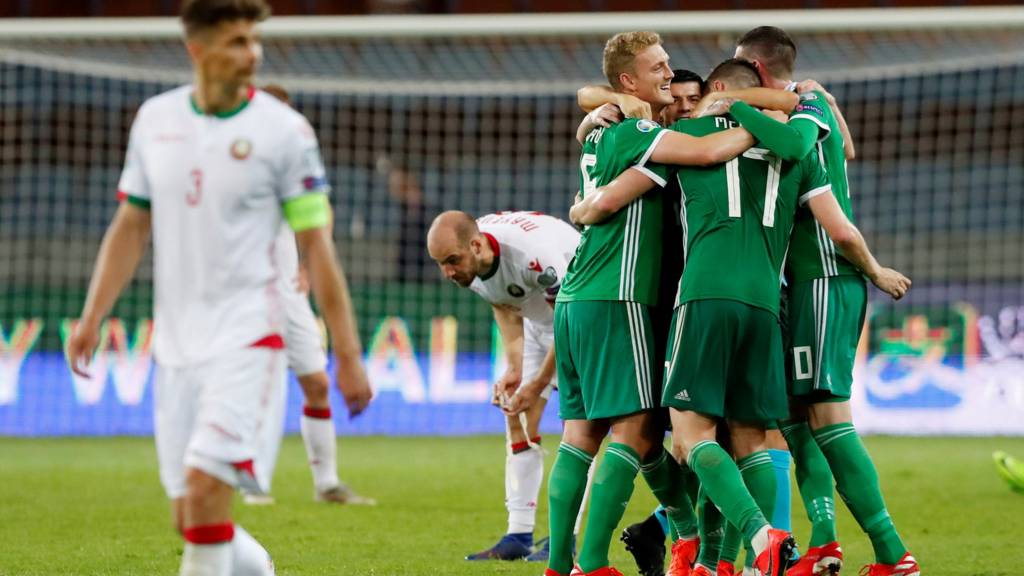 Euro 2020 qualifier - Belarus 0-1 Northern Ireland
I'm going to leave you there for the evening now.

Check out the match report here.

And I'll leave you with this gorgeous sight.

'Objective was to put pressure on Dutch'

Northern Ireland boss Michael O'Neill to Sky Sports: "People think games like these are formalities but they're not [for teams like us]. We're not going to come here and win 3-0 like Germany or the Netherlands might be able to.

"We have created a points gap between ourselves and the Netherlands, who have been in the Nations League. Hopefully they'll play under more pressure. That was the objective.

"The next indication of progress is to take a big scalp. And we've got some big scalps to come."

Northern Ireland could end up playing a couple of games in Dublin, which is one of the host cities for Euro 2020. Or London. Or Glasgow.

Northern Ireland fans, confident of qualifying for Euro 2020?

Northern Ireland have shown some great resilience in these qualifiers. Their winning goals in the past three games have come in minutes 87, 80 and 86.

The United States beat Thailand 13-0. That's the biggest scoreline in Women's World Cup history.

Elsewhere, Marco Verratti scored a late winner as Italy came from behind to beat Bosnia-Herzegovina.

That keeps them top of Group J. Second-placed Finland won 2-0 in Liechtenstein.

Armenia overtook Greece into third with a 2-1 win.

Scotland lost 3-0 to Belgium. Romelu Lukaku scored twice, with Kevin de Bruyne adding a late third.

Second-placed Russia beat Cyprus 1-0. Scotland are fourth in the group, behind Kazakhstan, who beat San Marino 4-0 earlier.

France go back to the top of Group H with a 4-0 win in Andorra. Iceland beat Turkey 2-1. Those three sides are all on nine points.

Albania beat Moldova 2-0 in a game unlikely to have too much impact in that group.

We'll bring you some player and manager reaction when we get it.

Northern Irish that is, I can't speak Belarusian.

Double figures in the Women's World Cup now, USA 10-0 Thailand with a few minutes left.

This is what Northern Ireland's group looks like. They are top after four wins from four.

However those four were the 'easy' ones. They have to face Germany and the Netherlands home and away in the autumn.

Second-placed Germany have beaten Estonia 8-0. Timo Werner and Leroy Sane scored late on to increase the rout.

FULL-TIME

Belarus 0-1 Northern Ireland

It's all over. Northern Ireland make history with four wins out of four at the start of qualifying.

Luckily for the visitors, Ivan Maevski slips as he crosses and it's behind for a goal-kick. Seconds left.

Belarus on the attack. Can NI hang on?

Hoof as Steven Davis punts the ball 70 yards down the pitch into touch.

Stuart Dallas gets booked for not backing away from a Belarus free.