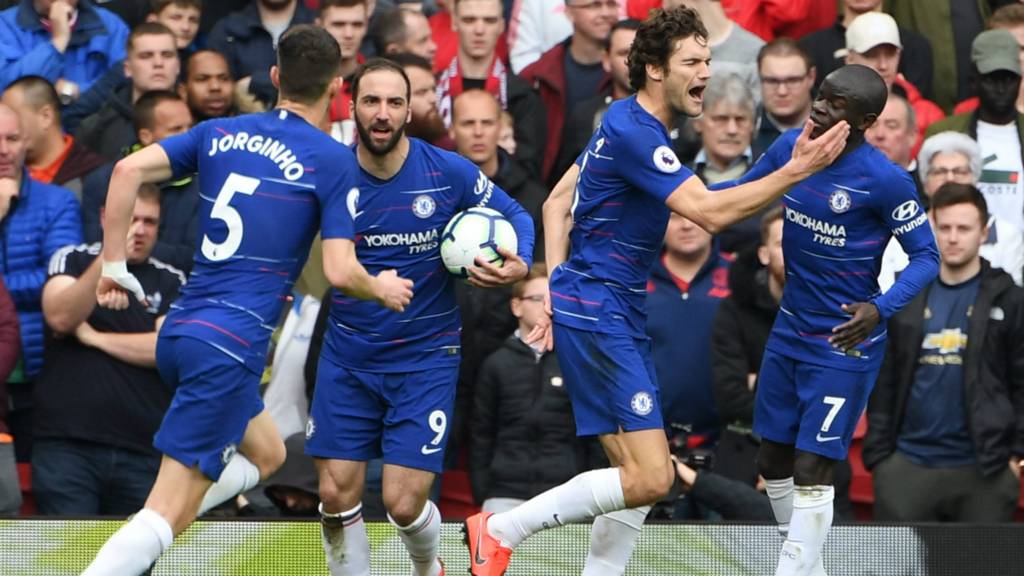 Best Premier League action & reaction in big day at the top
For now, though, we're outta here.

Enjoy your Sunday evening.

Don't forget that Match of the Day Two will have highlights of today's games from 22:30 tonight on BBC One.

Later tonight, there's live coverage on Real Madrid's trip to Rayo Vallecano in La Liga and we'll back on Tuesday with the first of the Champions League semi-finals.

So the top six is 'as you were'. Manchester City are two wins away from the Premier League title, Spurs and Chelsea have the final two top-four places in their hands.

Bleoobi Henket: Sack Ole and reappoint him as interim Manager for his magic to come back... The club made a mistake not backing the previous manager. This has set a precedent and the players feel they are untouchables...

'No chance we will blame De Gea'

Man Utd 1-1 Chelsea

Manchester United manager Ole Gunnar Solskjaer, speaking to Sky Sports: "David has been unbelievable for this club. We do support each other. There is no chance anyone can blame him for losing points. He knows he could have had that shot but that is football. David is one who likes to play games and I will have chats with him and he will respond in the right way."

Get Involved

#bbcfootball or text 81111

SMS Message: Regarding De Gea - today was the first time I can remember since 2012/13 vs. Spurs that he's made an error that has cost United points. Allison, Ederson, Courtois/Kepa, Lloris, Neuer have all cost their side points over the course of each of the intervening seasons. Anyone who thinks United fans will turn on De Gea after today is delusional - he remains the world's best. from From Matt in Chelmsford

'David is one of best goalkeepers in the world'

Man Utd 1-1 Chelsea

More from Juan Mata, on David de Gea: "Every single player has good and not so good moments. He's one of the best and obviously he's disappointed with their goal. He has been the best player for this club, he has my full support and the club's full support and everyone who loves the club should give him their support. We must be with him, he has our full confidence, he's my friend and one of best goalkeepers in the world."

On top four: "It seems nobody wants the third and fourth spot, everyone is struggling, we must get six points but it doesn't depend on us anymore."

Get Involved

#bbcfootball or 81111 on text

Ty: I love the idea of Sarriball but it's too slow and lethargic. Younger players have big shoes to fill and Sarri's the only one whose given them a chance. If we get CL he should stay and be given time to improve our players. Great potential but it hasn't clicked just yet.

More from Solskjaer, on whether he thought he should have left out David de Gea: "No. David has been a fantastic keeper at this club, his reaction after City was good and I was confident in him. He knows he could do better with their goal but it's one of those things again.

"We did the same against City and started well but today we never found our rhythm again. We needed the tempo to be higher, with a higher intensity but we never managed to get that."

'You never know'

Man Utd 1-1 Chelsea

Manchester United manager Ole Gunner Solskjaer speaking to Match of the Day: "You never know, we felt we needed to win this game. The boys started fantastic, created chances, got in behind and got the lead and then second half we never managed to get the quality and tempo back up again.

"It was a good game of football, both could have won it but probably a draw is fair result. They're probably more happy than we are with the draw, it's one of those days and we must dust ourselves down and win the next two - you never know as points are being dropped left, right and centre."

SMS Message: All those saying "Ole just needs time or a transfer window to rebuild". Who do you think you'll be signing? Europa league isn't exactly a strong attraction. Your "world class" players seem to want out as well. from Rob B

'In theory, Higuain will stay'

Man Utd 1-1 Chelsea

More from Maurizio Sarri, speaking to BBC MOTD: "We were in trouble in the first 20 minutes, we had a problem with the distances between Higuain and the midfield. They are very dangerous when they can attack space behind the lines so we were in trouble but in the second half we were in control of the match and we could have won I think."

On Higuain: "For a striker it is difficult to get used to the Premier League, for every striker, I remember Suarez at Liverpool in first season only scores three goals, then 16, then 24, but it's difficult to adapt to this Premier League. I think in the next season he will be able to score a lot."

Will Higuain be at Chelsea next season? "I don't know, I'm not in charge of the market so I cannot answer these questions. In theory, yes."

'We have done a good season'

Man Utd 1-1 Chelsea

Chelsea boss Maurizio Sarri, speaking to Sky Sports: "We had on the pitch a little problem with the distances. There were too many metres from strikers to midfielders and we had trouble recovering the ball. In the last part of first half we were better and very well in second half. In the end we had a big chance but unfortunately missed it. It is not easy to play here against Manchester United.

On Rudiger's injury:"The most serious problem is Rudiger for his knee. We have a problem with Willian for a knock. But the most serious is Antonio."

On Chelsea's season:"We need two wins. With this we are sure. Four points depends on goal difference. We played the final of the League Cup. We are fighting for the top four and in semi-final of the Europa League. We have done a good season. Now we need to take two very important targets."

SMS Message: People seem to be over-reacting a tad. Ole will change things - he didn't sign any of these players. Hopefully Pogba will go, and then we can build a team. from Rob, Newbury

SMS Message: Snap judgments on OGS. Give the guy a few transfer windows to put his stamp on the team. How long has it taken Klopp? from Bazza

'De Gea is unquestionable'

More from Juan Mata, on David de Gea: "You know David is unquestionable for me. His level has been fantastic for this club, he has been the best player over the last years and the points he has saved us have been incredible.

"The important thing is how he reacts, I have 100% confidence in him and we all have, today he is obviously not happy, we are not happy, but we will return to training with the right attitude. For me his level is unquestionable.

"He knows I'm here for him and what I can do is give him an honest consideration of situation, he is disappointed over his situation but he is one of best in the world. Everyone makes mistakes but he's strong mentally and he will save many goals in the next games. He has been the best for us and he had the team's full confidence.

'We're disappointed'

Man Utd 1-1 Chelsea

Juan Mata speaking to Sky Sports: "We're disappointed, we obviously wanted to win and we needed to win and we're disappointed after we had a good first half. Its difficult when you have the top four so close and you've done an incredible job to get there over the last months.

"That's how we should start every game at home especially. We put the other team in trouble and we did very well in first half today especially."

Post update

Man Utd 1-1 Chelsea

And, as for Chelsea, the much-maligned Maurizio Sarri could secure both the top four and the Europa League. Enough for another season? Who would you have instead?

Post update

Man Utd 1-1 Chelsea

I suppose that's the question, isn't it? If you are a United fan and the Reds hadn't yet appointed Solskjaer, would you still have had him?

Post update

Man Utd 1-1 Chelsea

The Solskjaer situation is curious, isn't it? For so long, it looked like United had to give him the job, purely because anyone else would have struggled to match his success. Now, it's looking like appointing him before the end of the season was a little hasty.