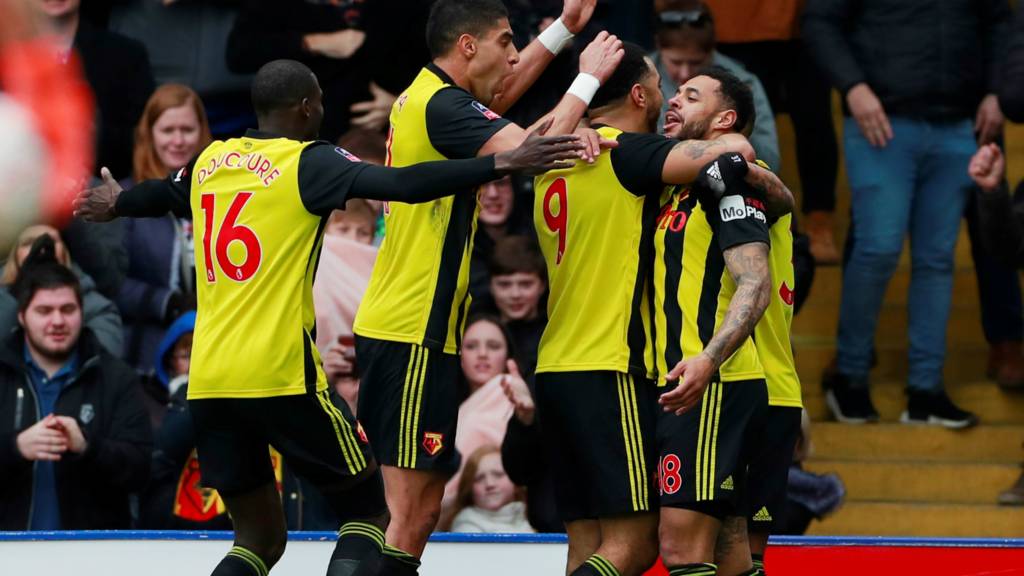 FA Cup: Watford beat Palace to reach semi-finals
Watch: Watford 2-1 Crystal Palace highlights

Video content

Goodbye

Watford 2-1 Crystal Palace

And with that, I'll bid you adieu. Watford can focus on the short trip to Wembley next month, while Palace will concentrate on the league.

Thanks for looking in, but keep in touch with all the other FA Cup ties across the BBC!

Let's recap

Watford 2-1 Crystal Palace

Let's recap

Watford 2-1 Crystal Palace

But supersub Andre Gray put Watford back ahead just two minutes after coming on.

Video content

Let's recap...

Watford 2-1 Crystal Palace

Palace hit back through Michy Batshuayi after a mistake from Adrian Mariappa.

Video content

Let's recap...

Watford 2-1 Crystal Palace

Etienne Capoue finished smartly to give Watford the lead.

Video content

'Opportunity missed'

Watford 2-1 Crystal Palace

More from Roy Hodgson to BBC Match of the Day:

"Every time you get to the quarter finals and you are that close to Wembley and you don't win it is an opportunity missed, but I can't criticise my players through a lack of effort or desire. It was always going to be tight and I thought we made a really good effort, especially in the second half.

"Safety has always been the main goal, the FA Cup has been a very nice bonus and we are disappointed we couldn't take it further. But we never made any bones about the most important thing being keeping our place in the league and making certain we get the points we need.

"We came out at 1-0 and gave Watford a game and that gives me great heart that we will be able to do that."

'Conditions were difficult'

Watford 2-1 Crystal Palace

Crystal Palace manager Roy Hodgson speaking to BBC Match of the Day:

"It was a close game, once again a game at this stage of the season affected by conditions - the wind was difficult, and you can't get ball down on ground as much. At half-time there wasn't much to say - they had a lot of corners and used the wind to their advantage.

"In the second half we played a lot better, got a deserved equaliser and we were looking like it could be us to get the second goal. But, it was the opposite, a good goal from Gray wins it for Watford.

"I don't either side could say 'it was our game', it was fairly even, and it has been like that in all three games against Watford - all decided by a special moment or something that has happened that you can't legislate for. Either team could have gone on to win."

Quick off the mark...

Watford 2-1 Crystal Palace

'Final is our target'

Watford 2-1 Crystal Palace

More from Watford manager Javi Gracia, speaking to BBC Match of the Day:

"I don't know what happens in the next games but Heurelho Gomes is very important - playing, not playing, his experience and attitude every. After the game I wanted to recognise his important role this season.

"We have eight games more Premier League games this season and the semi-final so we will see what happens.

"It is the moment to enjoy it but we are ambitious. We want to achieve the final, that is our target and to enjoy the semi-final in Wembley."

Rueful Roy

Watford 2-1 Crystal Palace

Palace manager Roy Hodgson has been lamenting his side's fortunes - we'll have full reaction from him soon.

'Amazing day for us'

Watford 2-1 Crystal Palace

Watford manager Javi Gracia speaking to BBC Match of the Day:

"It is amazing for all of us, for the players, staff and supporters. It is an important day to have the chance to enjoy a semi-final, we are keeping the same level, competing well and that it is our target in this moment.

"It was a difficult moment (when Crystal Palace equalised), a mistake when we conceded but I was confident we would be able to win the game. We put Andre Gray on the pitch, he always has a good chance to score and scores important goals for the team, he deserves it and I am happy for him.

"There are other players working hard from the beginning but when he plays he shows me his quality and is scoring important goals. We have different options and all of them are ready to compete well."

'We can dream'

Watford 2-1 Crystal Palace

Watford goalkeeper Heurelho Gomes speaking to BBC Match of the Day:

"Sensational - I couldn't ask for more. That's what I asked from the boys before kick off, it is a big opportunity for us in the cup that we can keep going. Game by game when we start to play in this cup, I said this is special so why not dream about it? It was amazing today.

"It was emotional to be honest, it has been a great five years here. I am 99% sure I will retire at the end of the season but still 1% I haven't decided, but that is what I planned for from two or three years ago. I am 38, so I think it is the end of my career here.

"This club has been amazing, they gave me the opportunity to dream again when I planned to go back to Brazil in 2014. It has been an amazing five years but we have to think about this after the season.

"It's been an amazing season, to go to Wembley, and the club and team is growing. Everyone is happy so it is a bit of an opportunity to go there. It is always special to play at Wembley."

And check out those snazzy gloves!

The FA Cup quarters? We've got it covered!

We're not done yet...

This weekend's FA Cup quarter-finals include two live matches on BBC One, including Manchester United's visit to Wolverhampton Wanderers on Saturday.

Build-up from Molineux starts at 19:30 GMT, with kick-off at 19:55.

Sunday's tie between Championship side Millwall and Premier League Brighton (14:00) is also live on BBC One.

The draw for the semi-finals, which will take place at Wembley on the weekend of 6-7 April, will be live on BBC One after the Millwall match.

Andre Gray - impact player

Watford 2-1 Crystal Palace

76:57 Andre Gray comes off the bench

78:57 Andre Gray restores Watford's lead

Two minutes exactly - neat, neat, neat

Get Involved

#bbcfootball or text 81111 (UK only)

The better team won

Watford 2-1 Crystal Palace

Efan Ekoku

Former Premier League striker on BBC Radio 5 live

Benteke is a goal-shy striker and that has been the difference between the two sides - Andre Gray has come on and scored.

The better team has won. They showed more composure.

Palace huffed and puffed in the first half, they came out brightly in the second half but weren't able to establish themselves.

When they needed the extra edge, Watford did it early enough and Javi Gracia deserves credit.

Emotional scenes

Watford 2-1 Crystal Palace

Heurelho Gomes is in tears on the pitch - the Watford keeper retires at the end of the season, and if he only plays in the cup from here this will have been his final appearance at Vicarage Road.

He does a tour of the pitch to applaud the home fans, and then stops for handshakes and hugs with some in the corner.

Watch: Substitute Gray puts Watford ahead against Crystal Palace

Video content

FULL-TIME

Watford 2-1 Crystal Palace

It's all over!

Gutsy stuff from Watford after Palace had clawed their way back into it, and what a substitution!