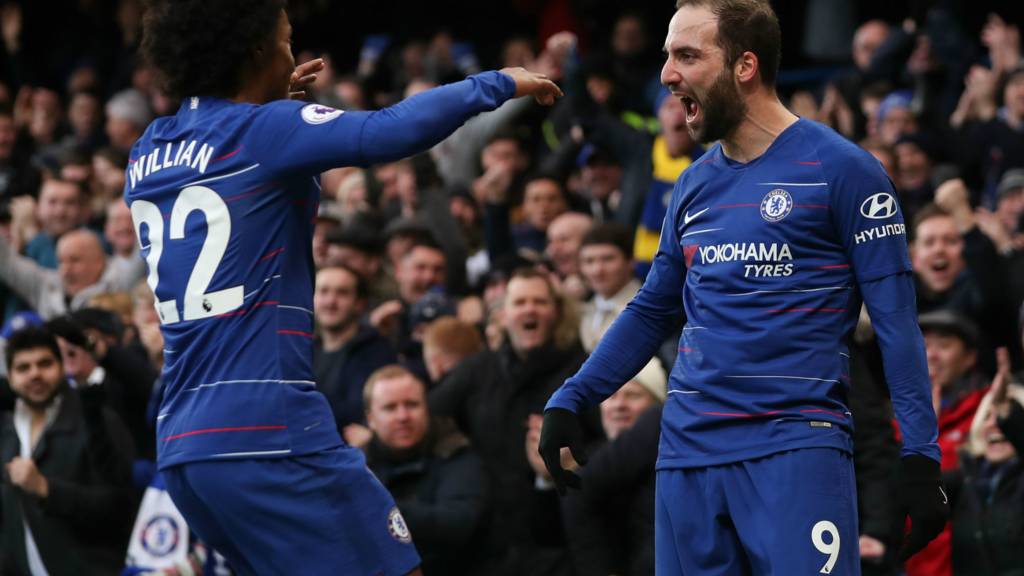 Higuain scores twice & Crouch involved in late Burnley drama - reaction
Summary
Higuain scores twice as Chelsea thrash Huddersfield
Wolves win 3-1 at Everton - cat on pitch holds up play
Milivojevic and Schlupp earn Palace 2-0 win against Fulham
Crouch helps Burnley win late penalty in 1-1 draw with Southampton
Brighton held to goalless draw by Watford
Live Reporting
Send a text to

81111 (charged at your standard message rate)

Twitter:

Use the hashtag

#bbcfootball

Facebook:

BBC Sport
Good night

Cardiff 1-0 Bournemouth

That's all from this page - head over here to join Alex for the late game, where Cardiff lead...

'A fully grown...cat'

Everton 1-3 Wolves

Still brilliant...

'We cannot compete with Chelsea'

Chelsea 5-0 Huddersfield

Huddersfield manager Jan Siewert speaking to BBC Match of the Day:

"I don't feel well at the moment because we lost 5-0 and we cannot compete with Chelsea at the moment so there is not much more to say.

"I think when you look at the game we had the first chance then conceded early and the penalty came at the wrong moment. I'm not sure if it was a penalty.

"We will not talk about these decisions because we lost 5-0 and this doesn't feel good. We had the first chance and had several moments but missed our shots. We have to be more aggressive in the box to go for our goals.

"The fans supported us for the whole 90 minutes but today it was not possible. In the good moments even in the first half we tried to play forward so these moments are keeping us positive."

Post update

Chelsea 5-0 Huddersfield

Mark Scott

Final Score reporter at Stamford Bridge

That was comfortable for Chelsea and just what the doctor ordered after their battering at Bournemouth, although Maurizio Sarri has just told me that while he was happy with the response to that midweek mauling it shouldn't take that kind of defeat to motivate them to play well.

Aside from his goals Sarri was also happy with the way Gonzalo Higuain combined with Eden Hazard in attack.

Post update

Everton 1-3 Wolves

Everton have lost three of their last four Premier League games at Goodison Park, as many as they'd lost in their previous 23.
Everton have won just one of their nine Premier League games this season against teams starting the day higher than them in the table (W1 D2 L6), losing the last five in a row.

'We have the conditions to do better'

Everton 1-3 Wolves

Everton manager Marco Silva: "Disappointing result for us because they achieved the result. We are giving everything to our opponents sometimes from nowhere including the penalty.

"We give easy decisions to them and we were not aggressive at all. Our mistakes were playing against us. We tried at half-time to change something but we still give the ball to the opponent and we lost the game."

On referee Anthony Taylor's performance and the penalty decision: "Even if some decisions you do not understand this is something we cannot control so without the referee we need to keep playing, even with the penalty, whether it is a penalty or not. It is up to us to solve this issue because when we are giving the ball away like we did, it is tough for us to understand. We have the conditions to do better."

On the booing from the fans after the game: "I understand they expect to see a good afternoon and a good game. They want us to achieve the position in the table and I can imagine they are not happy. We must keep fighting to improve."

'It is no penalty'

Chelsea 5-0 Huddersfield

Huddersfield Town's Elias Kachunga: "Everyone in the dressing room is really disappointed, we gave everything form the first whistle. Some decisions were not on our side and we lost 5-0. Maybe if you get to half-time 1-0 without the penalty it is different.

"From my point of view I touched the ball first, and maybe his [Azpilicueta's] leg as well a little bit, but when you give a foul before he was in the box, it is no penalty.

"I told the referee to ask the linesman because he said for him it's a penalty, my team-mate asked the linesman and he says no penalty. I don't know why they don't speak on the pitch, we had the same situation at Cardiff it was a penalty (for Huddersfield) but the linesman didn't give it. We lose 5-0 so we can't change it we have to look forward now. The supporters were brilliant."

A tale of two penalties

Burnley 1-1 Southampton

Burnley manager Sean Dyche speaks to Match of the Day: "We have had two games with big decisions go against us. Had we come away with nothing today you'd struggle to believe what was going on. The first decision baffles me.

"I am outspoken when people go down too easy. Ashley Barnes had no other choice as the keeper takes the legs away and yet Ashley comes away with a booking.

"But we just kept knocking at the door. We were relentless in our attitude again and that is coming back into our play at speed. The least we deserved was a point.

"I can't be any more clear in my idea. That first one was just a plain, simple penalty. I will be amazed if strikers in the studio say it wasn't a penalty."

On the penalty equaliser: "What a calm penalty Barnes took at the end of the game. He stayed calm and that's a good quality.

"I thought our level was very good today. They had a couple of chances and score from distance. We have had scrambles, hit the bar, had a penalty not given and then get one to get something from the game.

"In the calmness of tomorrow morning I'll ask how we didn't get all three. Now we have to keep it going."

On Peter Crouch making his debut off the bench: "Crouch can play, he knows the game and can adapt. And he causes confusion. The ball goes into the box and people are wondering who is doing what. We think he will be good around the group as well and that's part of it."

'We need to show up on the pitch'

Everton 1-3 Wolves

Everton defender Seamus Coleman: "Massive disappointment. We should be performing better after a good result against Huddersfield and that's been our problem in not getting a run of games together.

"Going into the second half we hoped to put the pressure on them but that wasn't the case and we weren't good enough today. We need to show up on the pitch because we're not performing and we need to do that as a team and as individuals."

Post update

Cardiff v Bournemouth (17:30 GMT)

We need consistency'

Chelsea 5-0 Huddersfield

Chelsea manager Maurizio Sarri speaking to BBC Match of the day:

"I think we started very well in the first 25 minutes and then today we played for the whole 90 minutes but we need consistency.

"Today is all positive, we played a full 90 minutes, defended very well, so it was a very good match but we need consistency now, we have to continue to play with the same mentality in all the matches.

"I hope in the future we will not need a lost match to find the right mentality.

"Higuain is improving, he wasn't physically at the top when he arrived, because he had a back problem and wasn't involved, so only played a few matches. He is a great player, he is suitable to play with Eden (Hazard).

"Our best moment in this match was the first 25 minutes, the way we moved with the ball was very fast dangerous."

'These are anxious times'

Crystal Palace 2-0 Fulham

Crystal Palace manager Roy Hodgson: "Second half we played well, first half I have to give Fulham credit, they were very good and we were fortunate. It was a strange penalty, I can't understand what has gone through the defender's head.

"We controlled the game after that and had opportunities. We were not under pressure. But these are anxious times. If we had more points on the board, points that we deserved, it would be less problematic here. Every point is so valuable and if you're in the lead you can stop playing and worry about the final whistle.

"We look more dangerous from corners - there are positives for us. Michy Batshuayi did so well to create the second goal. We will need these players who came on."

'We couldn't have done any more to win'

Brighton 0-0 Watford

Brighton manager Chris Hughton to BBC MOTD: "We looked for a reaction from the team after the Fulham game. I couldn't have asked for more.

"We were very good and couldn't have done any more to win or score. Their keeper was in good form.

"They're a good side, they defend well and caused us problems. On the bulk of the game we were the better side. I'm disappointed and frustrated but not frustrated with the endeavours of our team.

"Maybe a lack of confidence and quality, luck or fortune [for some players]. Maybe they need a scruffy one to go in. What you need is to make sure you get in those positions. If we hadn't created chances today, I'd be more worried and frustrated. On another day, the goals will come."

'We were in trouble from the start'

Crystal Palace 2-0 Fulham

Fulham manager Claudio Ranieri: "The first half was good until the penalty, we had the match in our hands. We controlled the match. The penalty changed the match.

"They deserved to win in the second half, they were better than us. They had three or four chances - well done to Roy.

"The service to Mitrovic was not good enough. We spoke a lot about crosses, crosses, crosses. I tried to do something - I put another striker on but it wasn't good.

"We were in trouble from the beginning but we will continue to be positive, be strong. It's important to be optimistic. We have a target in our mind."

Frustrated but fair

Burnley 1-1 Southampton

Southampton manager Ralph Hasenhuttl: "It feels a bit different this one. The 1-1 with Crystal Palace on Wednesday felt a success but this feels like losing. But I think it was a fair result. We had a few situations where we were lucky.

"We are unbeaten in five games which is important for me. We had a big chance but it's important to keep winning points consistently and that's what we are doing. It's important steps. This point will help us in the end very much so I see the positives.

"We showed again we are hard to beat, also in the away games, and that is important to me.

"I call Nathan Redmond a difference maker. He is a guy who can win games for us. Fantastic performances at the moment and I hope it goes on.

"It's important at this stage we feel hard to beat and the mentality in the team is important at the moment. We are in a good position but it's not done."

'I never want to see black cats again!'

Everton 1-3 Wolves

Wolves boss Nuno Espirito Santo speaking to Match of the Day: "We are proud of the work we did today. I think the first half we play better and in the second half both teams were organised, it requires a lot of shape and being compact but when we achieved the third goal the game was done for us.

"Everton is a very good team, good manager, It's tough to come here with atmosphere but we will go game by game, this is the approach we have. It is a long way to go and we can improve. We are not looking at the table until we go again."

On the black cat that disrupted the game: "Where I come from in Portugal the black cat is bad luck so I never want to see cats again."

'We tried but didn't play offensively'

Brighton 0-0 Watford

Watford manager Javi Gracia to BBC Sport: "After the game I think the point is good. But we wanted to win today. I think in the first half we had game under control and didn't suffer a lot.

"But in the second half when game was open, they created more chances than us. Ben Foster had a special performance. He's a very important player for us. He has an amazing character and ambition. His experience is very good for us.

"We tried but we didn't play offensively."

On the prospects of a top-half finish:

"At the end of the season, I don't only want to see the table to be satisfied with my players. If we do our best, I think we have many chances to achieve something special. Not only if we finish ninth, 10th or 11th - other things are more important."

Chelsea play Manchester City at the Etihad next Sunday.

'Best game of our season'

Chelsea 5-0 Huddersfield

Two-goal Eden Hazard speaking to the Premier League:

"I always say when we lose a game, we need to win the game after and we did well today. We played one of the best games of our season and scored five great goals. The fans were not happy on Wednesday and now they are so we are happy. We want to keep playing like this, like the manager wants.

"I think he (Sarri) will be happy, because he was wanting a reaction from us and we gave him one.

"We try to work with each other, Higuain is a new player but he knows what the manager wants. He is a great striker and he can score a lot of goals. England is different than Italy and Spain but he has that ability. If Giroud or I play as striker we always try and help each other.

"After this game our confidence is better than two days ago but we play the champions so we know it will be difficult. We beat them at Stamford Bridge so why not again?"

'We should have won'

Burnley 1-1 Southampton

Burnley striker Ashley Barnes after his late penalty equaliser: "I've missed a few chances out there but us strikers keep going. Chances will come. I was frustrated in the first half not to get a penalty but lucky enough we got our rewards at the ind of the day.

"We should have won today. I should have finished chances. Hopefully I'll put it right for next weekend.

"The job is nowhere near done. We need to keep fighting and go again at Brighton next week."

Burnley are five points clear of the bottom three.