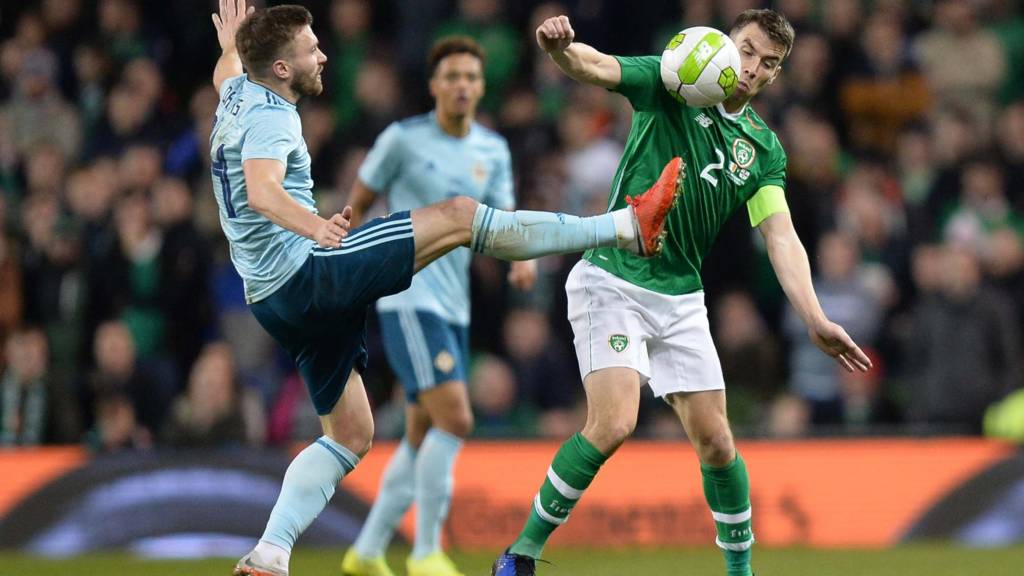 Republic of Ireland 0-0 Northern Ireland - as it happened
Rate the players Use the icon to listen to Sportsound
Well, that's one way of looking at it!

Midfield maestros

Republic of Ireland 0-0 Northern Ireland

John O'Neill

Former Northern Ireland defender on BBC Radio Ulster

Quote Message: The whole Northern Ireland team played well, they played excellently as a team. George Saville was really good in the first half while his midfield partner Steven Davis was superb. That's the best we've seen from the skipper for Northern Ireland in a while. A lot of players out there have done themselves no harm at all in terms of pushing for a place in Michael O'Neill's starting XI.

NI boss Michael O'Neill to Sky Sports: "I'm a little bit [frustrated] but proud of how the team played. We were terrific.

"We had good chances but didn't take them. Darren Randolph had a great night. I was really pleased with the performance and we deserved to win.

"Gavin Whyte and Jordan Jones are young players. They're both disappointed not to finish but they add something to us and have the knack of scoring a goal.

"The game plan was to control the game and I think we did that. We played out from the goalkeeper to the centre-backs At no point did I feel we weren't in control. We had to defend long balls.

"Possibly we could have created more chances. In the final third we have to be more clinical. That's an individual thing. I can't personally change that. There can be a little bit of anxiety in our play in the final third. That'll come when we start to win games and find momentum.

"It was another positive performance. We've had that in our four games this season. A clean sheet away from home is a good thing. This prepares us well."

Former Northern Ireland midfielder Neil Lennon says on Sky Sports that Darragh Lenihan "owes Darren Randolph a pint" for denying Jordan Jones to prevent his mistake leading to a goal.

'The win was there for us'

NI captain Steven Davis to Sky Sports: "I think the win was there for us. We played really well and caused them a lot of problems.

"We had the better of the game. We've been playing some nice stuff recently. It's nice to get a result but we should have won.

"We know they will be hard to play against but we kept our shape well. It's never easy away from home. Even though we were disappointed not to win, there were plenty of positives."

'Hopefully my first start of many'

NI winger Gavin Whyte to Sky Sports: "We played very well, especially in the first half. We'll dust ourselves down, we've a big game on Sunday [against Austria].

"It was a good save [from Darren Randolph to deny him]. As soon as I took a touch he came straight out.

"I enjoyed it [the game] very much so. Hopefully it's my first start of many."

Suspect some of the Republic of Ireland players won't want to see their results later tonight.

You can rate both sets of players on our player rater.

You have until 30 minutes following the full-time whistle.

It was a good (albeit goalless) performance from Northern Ireland tonight - but they have been relegated from the Nations League. Austria and Bosnia ended goalless.

Post update

Republic of Ireland 0-0 Northern Ireland

Why do we bother? We all knew that was going to end goalless.

No goals in three games for either side.

One win in 10 for the Republic, two victories in 12 for Northern Ireland.

Boos at the final whistle.

FULL-TIME

Republic of Ireland 0-0 Northern Ireland

Post update

Republic of Ireland 0-0 Northern Ireland

Throw-in to Northern Ireland. Seconds left.

Post update

Republic of Ireland 0-0 Northern Ireland

Sums up the Republic's play as Ronan Curtis is flagged offside needlessly as he tries to play a one-two.

Post update

Republic of Ireland 0-0 Northern Ireland

Robbie Brady, who I'm surprised has lasted the 90 because of his fitness, plays a garbage cross-field ball that Seamus Coleman does well to keep in.

INJURY TIME

Republic of Ireland 0-0 Northern Ireland

Four minutes added on.

Ronan Curtis is brought down on the edge of the box, but the referee actually rules against him - for a dive or a follow-through - and it's a free out.

Post update

Republic of Ireland 0-0 Northern Ireland

Jamie Ward is down getting some treatment. Northern Ireland have two subs left to make if needed.

Can't argue with that - the Republic of Ireland keeper has saved his side in this game.