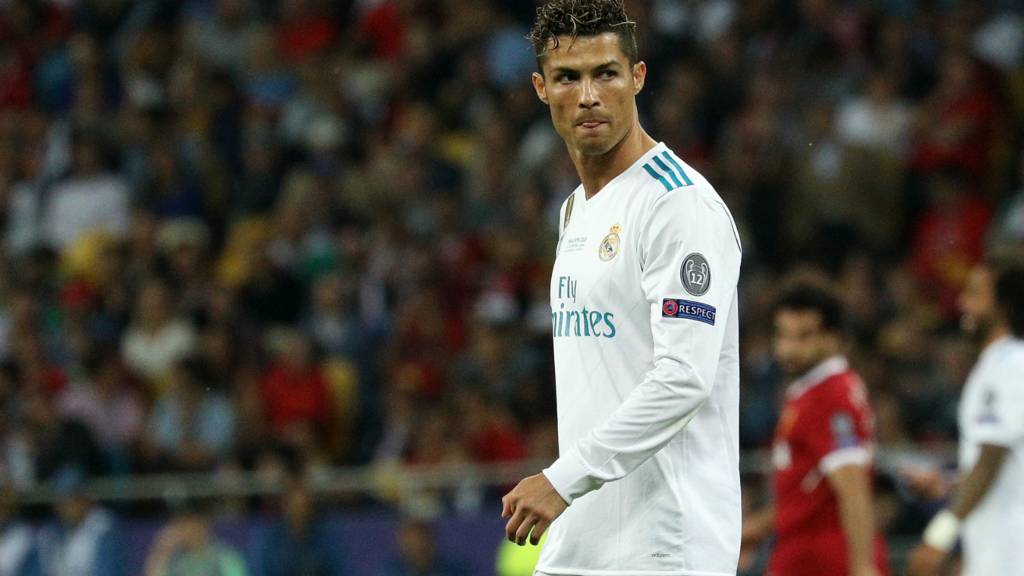 Ronaldo poised to join Juventus - latest
That's all from me. Thanks to Ben Collins for his sterling effort in the earlier part of the day.

But thankfully, we have some football today.

France v Belgium in the first semi-final kicks off at 19:00 BST. Coverage on BBC One gets under way at 18:30 BST, while BBC Radio 5 live will be live from Saint Petersburg.

And of course, Tom Rostance is in the chair with our live text coverage.

Get Involved

#bbcfootball or text 81111

Ashwin Kumar: I wanted him at Manchester United. Ready made captain and tireless goal scorer. As a Manchester United fan I cannot believe that he is joining Juventus.

Juventus to sign Real Madrid forward Cristiano Ronaldo

Real Madrid forward Cristiano Ronaldo is set to join Juventus, becoming one of the four most expensive players of all time.

A deal worth 112m euros (£99.2m) has been reached between the two clubs that will see the Portuguese sign a four-year deal with the Italian champions.

Ronaldo, 33, won four Champions League titles in his nine years at Real.

"The time has come to open a new stage in my life, that's why I asked the club to accept transferring me," he said.

The top two world record transfer fees have been paid out by Paris St-Germain - the £200m they paid Barcelona for Brazil forward Neymar last August, and the fee of around £166m for France forward Kylian Mbappe in July after a successful season on loan with PSG.

Barcelona also paid Liverpool £142m for Brazil midfielder Philippe Coutinho in January. For Juventus, the fee they will pay for Ronaldo is set to eclipse the £75.3m they paid for forward Gonzalo Higuain from Napoli in July 2016.

Read the full story here.

'Juventus believe Ronaldo is the player who could make the difference'

James Horncastle

European football writer

Juventus were made aware a few weeks ago that Cristiano Ronaldo might be available on favourable terms. Ronaldo had a buyout clause worth $1bn (£886m) and Juventus were told Real Madrid were willing to accept £100m and Juventus were willing to pursue that even though it would mean restructuring their wage system.

We heard yesterday Juventus president, Andrea Agnelli, boarded a plane and then got a helicopter to see Ronaldo on holiday in Greece, and it looks as though the deal is done. They are calling it the deal of the century in Italy.

Juventus have reached the Champions League final twice in the last four years and lost both. One of those defeats was to Ronaldo's Real Madrid. He scored in the final in Cardiff and he knocked them out in the quarters this year. They believe he is the difference and the player who could achieve the Champions League with Juventus for the first time in 23 years.

Winning the trophy has been an obsession for them. This is much more than about football it's about them going to the next level as a business. When Deloitte ranked the 10 richest clubs in the world earlier this year, Juventus were only 10th. They believe by being able to leverage and monetising some of his followers on social media and his commercial deals, will help them close the gap financially on Madrid, Barcelona and Manchester United.

The Italians are confident there could be an announcement this evening, although the finer details of the deal would take a few more days. Juventus' share prices on the stock exchange sky-rocketed by 33%.

Cristiano Ronaldo deal worth £99.18m

Italian football expert James Horncastle, speaking on BBC Radio 5 live: "Real would be reluctant to lose Cristiano Ronaldo without a replacement in hand.

"They have been linked with Neymar, who joined PSG for a world record fee last season, and their flirting with the Brazilian appears to have put Ronaldo's nose out of joint at Madrid.

"We don't know who is being lined up, be it Kylian Mbappe, Eden Hazard or Harry Kane."

Juventus say the deal for 33-year-old Cristiano Ronaldo is for four years.

Get Involved

#bbcfootball or text 81111

Bezaleel Adewumi I cannot believe this. I'm still dumbfounded. Cristiano Ronaldo to Juventus. Wonders shall never end in the world of football.

Who next for Real Madrid?

Despite their dominance in Europe's premier club competition, Real Madrid struggled domestically, finishing 17 points behind champions Barcelona last season.

Real are keen on reshaping their team under new manager Julen Lopetegui and the 33-time La Liga winners have also been linked with a move for Paris St-Germain's 26-year-old Brazil forward Neymar.

However, it would be a controversial move as Neymar spent four years at Real's fierce rivals Barcelona before joining Paris St-Germain in a world record transfer of £200m last summer.

Real have also been linked with a move for another PSG forward, Kylian Mbappe, the 19-year-old who has helped France reach the semi-finals of the World Cup.

Post update

France v Belgium (19:00 BST)

Our build-up to France v Belgium in the first World Cup semi-final is now up and running.

Click here to open another browser.

Get Involved

#bbcfootball or text 81111

Hugh Rose: Cristinao Ronaldo's going to Juventus, did not see this one coming. He's actually leaving this time!

'We should not be surprised Croatia are in the last four'

Croatia coach Zlatko Dalic: "Croatia has great players at great clubs around Europe.

"It is true we have not made good results at major tournaments for decades, but we should not be surprised Croatia are in the last four of the World Cup given the quality of the players, which has been proven.

"The players have shown their qualities when it matters at this World Cup, and maybe will go down in history as a great generation which has gone close to the third place finish of the 1998 World Cup.

"This is the result of our hard work, and of the quality of players who play at the likes of Real Madrid, Barcelona, Inter Milan. They have just displayed the qualities they have, that is all."

Croatia's training session has now been closed to the media.

Get Involved

#bbcfootball or text 81111

Saidmadrid: Eternally appreciated to the commitment of Cristiano Ronaldo from day one as a Real Madrid Player.The best of the world gone but this is Real Madrid and we are moving on.

Mike Kursar: So the Italian FA have realised that no one is watching Serie A so ensures that a team signs a big, big player out of desperation. The trouble is that Juventus are the only big team in that league, so it's about to become a lot more boring.

Sushant Shetty: This is why for me Cristiano Ronaldo is the best player in the world. Lionel Messi played all his life for Barcelona while Cristiano is always up for a challenge with success at Manchester United and Real Madrid and now Juventus. Wonder who Madrid have lined up as a replacement?

Get Involved

#bbcfootball or text 81111

Deejay Van Wyk: Is Juventus now a Champions League winning team?

'Time has come for a new cycle'

Little more from Cristiano Ronaldo: "Thank you infinitely once more to our fans and thanks also to Spanish football. During these nine exciting years I have had great players in front of me. My respect and recognition for all of them.

"I have reflected a lot and I know that the time has come for a new cycle. I'm leaving but this shirt, this badge and the Santiago Bernabeu will continue to always like something of mine wherever I am.

"Thanks to all and, of course, as I said that first time in our stadium nine years ago: Hala Madrid!"

'I can only have words of praise for the England players'

Croatia defender Dejan Lovren, when asked if his experience playing in the Premier League will help: "I am team-mates with Jordan Henderson and know many players in the England national team, I meet them every week at matches.

"I think our players know the qualities of England, those players are at great clubs. I can only have words of praise for them and there is not much need for me to give anyone (in our team) tips about them."

Croatia going through some basic warm up drills at the moment. Very casual.