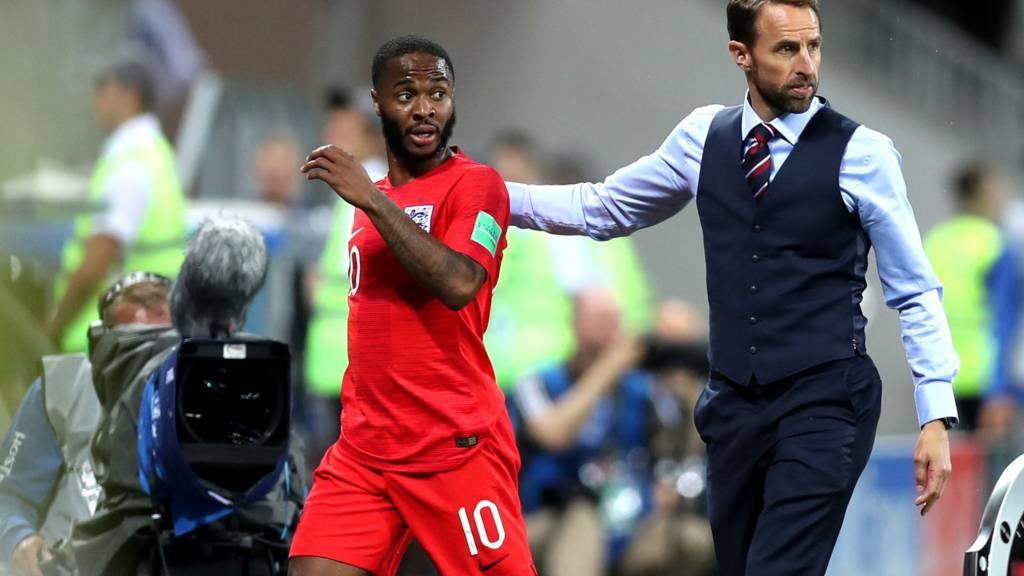 World Cup latest - news, gossip & build-up to the semi-finals
World Cup Rewind: 1990 semi-final

And you can re-live that game, as live, right here, right now.

That's it for today then, and thanks for joining me.

Now just two more days till England play their first World Cup semi-final in 28 years...since they faced West Germany at Italia '90.

World Cup Rewind: 1990 semi-final

#bbcworldcup or text on 81111

Paul Brace: What was brutal about 1990 was our performances other than Holland were not great and Germany were hammering everyone but we were brilliant that night, made them look normal and should have beat them. Still hard to take but hopefully 2018 can erase that.

Bigger than '66?

#bbcworldcup or text on 81111

Flipward: This World Cup, as an England fan, is becoming bigger than Italia 90 but until we get to the final we can't talk of 2018 being bigger then 66. My heart is in your hands Mr Southgate

Koba Fern: Dear Queen, do you have anything higher than an MBE for Gareth Southgate, please. Warm regards, England fan, loyal subject.

England were a laughing stock - not any more

Alan Shearer

Former England captain

England were a laughing stock after the European Championship two years ago - but not any more.

Now everyone knows who we are, and also how we play. I think manager Gareth Southgate has announced that with what he has done during this World Cup - and it has been brilliant to watch this team grow and grow.

...click here to read the rest of Alan's column.

One thing is for sure, they've restored national pride after being upset by Iceland at Euro 2016, something which BBC pundit Alan Shearer mentions in his latest column...

And if that's how the Uruguayan fans react after reaching the quarter-finals, imagine what it'll be like when England come home, even if they don't make it all the way.

Hey, even if Luka Modric and Ivan Rakitic do mark their international swansong by inflicting more semi-final agony on England, it's worth remembering this....

Jordan Henderson & Co have already gone further than Neymar, Messi and Ronaldo. And Luis Suarez too. Check out the fans at Uruguay's homecoming after they were knocked out by France...

World Cup Rewind: 1990 semi-final

Speaking of 1990, as Adrian did there, here's your chance to re-live just how "brutal" it was...

'Powered by something special'

Croatia v England (19:00 BST, Wednesday 11 July)

And finally from Adrian Chiles: "England are now powered by something special. They've got this enormous energy, goodwill and feeling that this is our moment.

"In the end, I feel quite strongly that England will prevail. Set against that though, you've got Luka Modric and Ivan Rakitic playing probably their last World Cup for Croatia and that's a really big motivator as well."

'A sporting miracle'

Croatia v England (19:00 BST, Wednesday 11 July)

Adrian Chiles added: "But Croatia, to me, are something of a sporting miracle. When you've got a country roughly the size of Scotland, population-wise, four million people have somehow produced these incredible athletes - Wimbledon winners and these magnificent footballers as well.

"I think England will win. Croatia have had a marathon of the mind and body with their last two games both going to penalty shootouts. They were dead on their feet at the end of the match against Russia and I think England might just have too much energy for them."

Divided loyalties

Croatia v England (19:00 BST, Wednesday 11 July)

BBC presenter Adrian Chiles is currently speaking on Radio 5 live. Not only is he a die-hard West Brom fan but he's half-Croatian too...

"I have three 'we's' - West Brom, England and Croatia – and now two of them are playing each other. So I've found myself saying 'I think we might beat us', or 'our boys might beat us'.

"I want them both to win and neither to lose, but in the end, I am more English than Croatian. I love Gareth Southgate, I know so many people who follow England all over the world and I've suffered with them since 1982. I nearly died, with everyone else, in 1990 with the semi-final, it was so brutal, so I want England to do as well as anybody else."

Bigger than '66?

#bbcworldcup or text on 81111

Matt BL: So far manager, squad and fans have focused primarily on the next game only, and that has worked for us. Talking about winning a final before we are in a final... Worried we are breaking with a winning formula... We should be just celebrating being in a semi.

Ope: Respect to the 66 group and stop counting your chickens before they are hatch! Remember Bobby Moore had 3 successful Wembley finals from 64 - 66!!

'Southgate you're the one'

Despite all those Lightning Seeds tunes, they will forever be remembered for Three Lions (not forgetting Baddiel & Skinner of course).

But this summer has seen the birth of another terrace chant with a reworking of Atomic Kitten's 2001 hit Whole Again.

Now band member Natasha Hamilton has joined in the fun...

Get Involved

#bbcworldcup or text on 81111

Tom has seen you and raised you Oliver...

Tom Arron: Apparently we've started a competition on #BBCWorldCup - Life's Too Short to keep this going. If Only I wasn't Feeling Lazy.

City close to Mahrez signing

Manchester City are expected to complete the signing of Leicester's Riyad Mahrez later this week.

A deal for the Algerian is still to be finalised. However, it is understood there are only a few minor issues to sort out and unless there is an unexpected hitch, Mahrez will be signed in time to join City's three-match tour of the United States, which begins next week.

There has still been no resolution over Pep Guardiola's other main summer transfer target, Jorginho.

The Italian midfielder is still thought likely to join City at some point.

City are due to return for pre-season medical checks today.

Only Leroy Sane, Claudio Bravo and Aymeric Laporte of the senior players in City's first-team squad did not go to the World Cup.

The same is also true of goalkeeper Joe Hart, who still has a year left on his contract, but has no future at City under Guardiola.

But Harry Maguire may be about to lose one of his team-mates at Leicester.

We have an update here from the BBC's very own Simon Stone, which also happens to include Joe Hart...

Does Maguire have the skills?

#FAPeoplesCup

One of those Yorkshiremen is Harry Maguire, who like Jordan Pickford could well be establishing himself as a mainstay in the England side.

After Maguire's towering header in the 2-0 win over Sweden, see how the Leicester defender got on against England team-mates Jesse Lingard and Jack Butland in the FA People's Cup skills challenge...

You can register your interest to play in the 2019 FA People's Cup - the country's largest five-a-side tournament - here.

There's a few Yorkshiremen in the England squad but I don't know if any of them like their cricket as much as Joe Hart.

After failing to make the plane to Russia, the Manchester City goalkeeper was playing cricket instead on Saturday.

Click here for the full story.