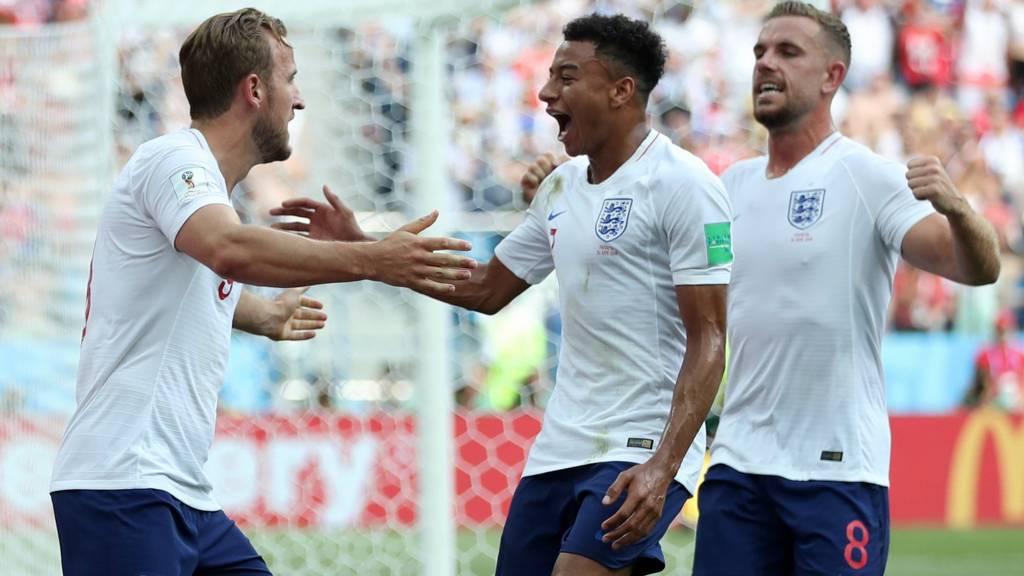 World Cup latest - England build-up & shock Germany exit
Summary
Germany's earliest World Cup exit for 80 years
Build-up to England v Belgium at 19:00 BST
Japan, Senegal or Colombia next for England
How does drawing lots work?

Before I'm home and hosed - just worth drawing your attention to what should happen if we end up drawing lots after tonight's England v Belgium game to determine first and second in Group G.

BBC News have helpfully obliged with an article here.

Before I sign off for lunch I've got a couple more quizzes that are well worth a go so I'm going to throw them your way.

How's your knowledge on all the wonderful colourful football phrases from around the world?

Try our commentator challenge here.

And if that leaves you wanting more we've got something a little more entertaining here.

'Passion to play for England'

More from the England manager Gareth Southgate:

"We have no idea who, when or where we will play in the next round. We are pleased we are there in that next round but we are building a team that everybody at home can see has a passion to play for England and are improving and I think they will see that on Thursday."

'We need to keep winning'

Some good noises coming out of the England camp pre-match, particularly from Gareth Southgate who really looks to be growing into the job as manager.

"We have not won a knockout game at the World Cup since 2006, so why we would start plotting which would be a better venue for our semi-final would be beyond me," he said.

"We think that we need to keep winning football matches and we want to breed a mentality that everybody in our squad consistently wants to win."

Media friendly England capture the nation

The World Cup has captured the nation because - for the first time in a while - we like the players, said Michael Caulfield, who was England manager Gareth Southgate's club psychologist when Southgate was Middlesbrough boss.

"A hallmark of his leadership is that instead of hiding them away from the media, he has encouraged the players to be very open about who they are and what they do," said Caulfield.

"For the first time we have a real understanding of who they are as people and we want them to do well.

"They are not pretending to be perfect, they are normal people on a fantastic adventure and we are joining them on that journey."

Liverpool & Chelsea agree Solanke fee

Moving away from England for a moment. It seems that Liverpool and Chelsea have come to an agreement over the fee for striker Dominic Solanke.

The England Under-20 World Cup winner signed for the Reds in July 2017 but as 20-year-old Solanke's Chelsea contract had expired, the fee was due to be set by a tribunal.

Read more here.

Speaking of sunny optimism. BBC News have run a nice piece trying to capture the mood of a nation after all it's only been 52 years since England last won the World Cup.

Read more here.

Phil McNulty

BBC Sport chief football writer in Kaliningrad

Belgium's squad are out on a leisurely stroll around the lake that is overlooked by their hotel in Kaliningrad.

Glorious sunshine and very happy to mix with fans outside - not sure they will be having a go on the pedalloes that populate the lake though.

Perhaps my positive outlook has been buoyed by the news that there will be no Romelu Lukaku tonight for Belgium as the winner of Group G is decided in the clash against England.

The 25-year-old Manchester United has averaged a goal every 37 minutes so far in the tournament, with four goals in total.

But he suffered an ankle injury in Saturday's 5-2 win against Tunisia and misses out.

Read more here.

Now going back to this evening. What do we think. I for one quite fancy an England victory tonight and then who knows.

You can almost feel the tension can't you. Who would be a Japan, Senegal or Colombia player this afternoon.

While Group G is pretty much settled at least in terms of who has qualified with England and Belgium on six points, three teams are still capable of emerging from Group H.

Enter Japan who face already eliminated Poland this afternoon and Senegal and Colombia who are likely to be involved in one almighty last scrap.

So what've you made of the group stage and key performers?

Hat-tricks, penalty saves and stunning finishes have lit up the 2018 World Cup but who is worthy of your team of the group stage?

Pick your group-stage XI with our team selector here.

Too late to pick and choose

Returning to the first v second debate from earlier, Mark Ogden formerly of the Telegraph and these days of ESPN makes a valid point.

We've also done a scouting report on tonight's opposition. Well former England star and BBC pundit Alex Scott has, picking out Belgium's biggest threats and discussing how England can break Roberto Martinez's side down.

Are England good enough to rewrite history?

Since reaching the semi-final at Italia 90, England have won only two knockout matches, the 3-0 win against Denmark in Japan in 2002 and the 1-0 win over Ecuador in Germany four years later in which David Beckham scored.

Hardly stirring stuff. So are Gareth Southgate's boys good enough to rewrite history?

You can read what our chief football writer Phil McNulty makes of it all here.

For those that don't get the boots scenario. Those beauties sported by Chris Waddle retailed at a hefty £200 a pair back in the early 1990s.

I once got given a pair of an updated version from USA 1994 by former Republic of Ireland forward David Kelly, or Ned as he's known to his friends.

Diadora and another brand synonymous with Serie A, Lotto, were also very much in vogue following Italia 90.

If anyone is unfamiliar with Enzo Scifo here is a picture of the great man tangling with England's Chris Waddle at Italia 90.

Think midfield schemer with a stunning strike.

Oh and I hate to go all retro but those Diadora and Asics boots in shot were something else!

Is this Belgium's greatest team? Possibly. Personally I'm not quite convinced yet. They've had one or two handy sides in the past, notably the 1986 vintage that reached the World Cup semi-finals in Mexico.

And they were only sent packing by a very, very special diminutive Argentinian.

Granted Romelu Lukaku, Eden Hazard and Kevin de Bruyne are all outstanding individuals but

But Jean-Marie Pfaff, Georges Grun, and Jan Ceulemans weren't bad, nor was my personal favourite Enzo Scifo, who rattled the woodwork against England four years later.