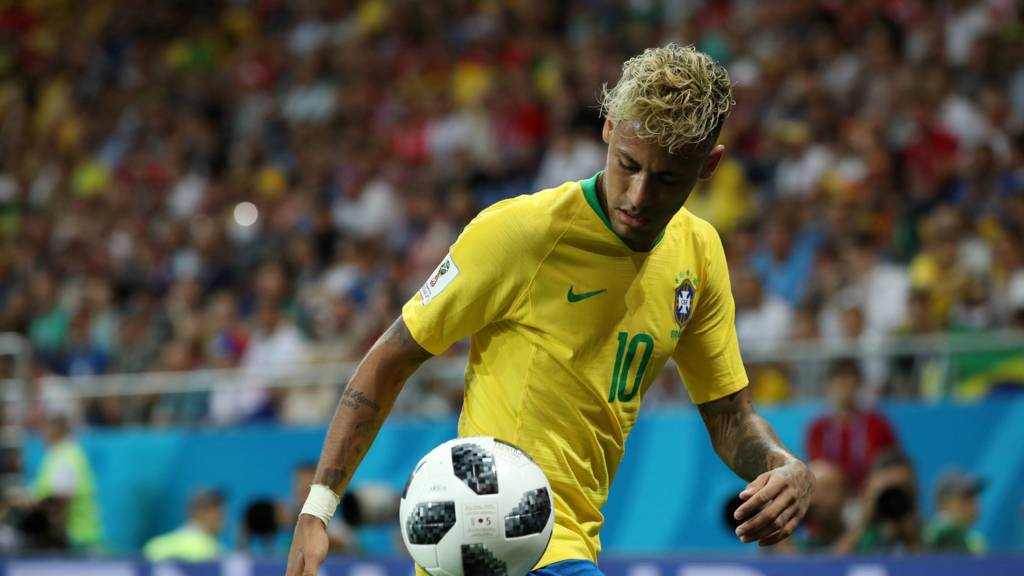 Catch-up: Brazil v Switzerland
Monday. Sweden v South Korea, Belgium v Panama.

Then.

Well, you don't need telling, do you?

Sleep well. Dream big.

Goodnight.

Ah yes, the small matter of a Monday night in Volgograd.

It could be the start of something wonderful...

'Many positive things'

Brazil 1-1 Switzerland

Brazil midfielder Philippe Coutinho said: "I think our team played well, we did have many positive moments in the match, of course we want to win but the World Cup is made up of three games and we want to win the next two.

"I'm glad I did it (the goal) but the main thing is the team.

"In a match it depends on how the opposition is working and how they are positioned. We were trying to make the ball go forward and create nice passes and we managed that in some moments. There were many positive things, but we need to think about the next match."

'I trust Firmino'

Brazil 1-1 Switzerland

More from Brazil coach Tite, asked about why he decided to bring Liverpool's Roberto Firmino on as a substitute, said: "Firmino is in a very good moment so I trust him.

"There is a concern about the first game, you want to win, you want to do it.

"Two thirds of the match I was happy, then the opposition grew stronger and we were not blocking enough. There is some more work to be done and then be more effective with the finishes."

'Of course I'm not happy'

Brazil 1-1 Switzerland

Brazil coach Tite said: "We had too many balls off target, if we had been a bit more focused we could have made the goalkeeper work a bit more.

"My expectation of course was to get a victory and of course I'm not happy with the result.

"It (Switzerland's goal) has nothing to do with positioning, it was a foul."

Have you been watching The Impossible Job?

It was absolutely excellent. If you missed it, do yourself a favour and find it on the iPlayer.

Alex Trembath: Potential World Cup scenario after today...

Group E: 1st Brazil, 2nd Serbia

Group F: 1st Mexico, 2nd Germany

Group G: England & Belgium beat both Panama & Tunisia

Final group game: winner gets Brazil/Germany in QF, loser gets Serbia/Mexico...

'Great determination'

Brazil 1-1 Switzerland

More from Switzerland coach Vladimir Petkovic, who says: "I had hoped we would do what we didn't do against Portugal (a 2-0 loss in World Cup qualifying in October) and play our game and try to impose our way of playing.

"Against a strong opponent you need to be realistic of course. The team has shown great determination."

'Excellent starting position'

Brazil 1-1 Switzerland

Switzerland coach Vladimir Petkovic said: "When we are able to play forward and press higher up we were able to do it well and it is an excellent starting position for the rest of our group matches.

"The opponents were not well positioned and it was not a foul (for Switzerland's goal).

"We had real difficulties in the first 40 minutes, I said 'let's remain calm, focused and believe in ourselves, push up higher up the pitch and create opportunities to score'."

I would too, Sam. I would too.

Johnny: The mighty are falling - fast. Hard-fought wins for both Uruguay and France look even more impressive now.

Alan: All signs pointing towards an England World Cup win. Football is coming home

Sam: Even with today's eyebrow raising results, I'd still be stunned if Panama took home the trophy.

'Very proud and pleased'

Brazil 1-1 Switzerland

Switzerland coach Vladimir Petkovic: "I'm very proud and pleased with the discipline with the way we played.

"We worked collectively and cohesively. I didn't see any bad fouls and there were too many yellow cards.

"I hope they will start taking notice of us and taking us seriously. Sometimes if there is a lack of recognition that is a pity because we have played very well. We showed and demonstrated that this team always believes in itself and can achieve results.

"Most of the duels (with Neymar) were won in a very clean way. It was one of the key ingredients to neutralise Neymar."

Post update

Brazil 1-1 Switzerland

The dessert came with Brazil being pegged back by Switzerland. The managers have been speaking in Rostov...

You don't believe that Mexico beat Germany, do you?

Watch this...

What have you been up to today? Have you been marking Father's Day?

Missed any of the action? Time to catch-up...

Post update

Brazil 1-1 Switzerland

No surprises that Philippe Coutinho was voted man of the match in our player rater. His average mark of 7.43 was just ahead of Valon Behrami, who came in at 7.23.

SMS Message: I think people are forgetting that Neymar has been out injured for months, it's going to take him time to rediscover his best form. from Jack, Kings Cliffe

The Impossible Job has just covered Euro 96. The 11-year-old me is still crying.

Speaking of Panama, they get Group G under way against Belgium tomorrow afternoon.

Then, the big one. Tunisia v England. 19:00. BBC One.

But you knew that already, right?