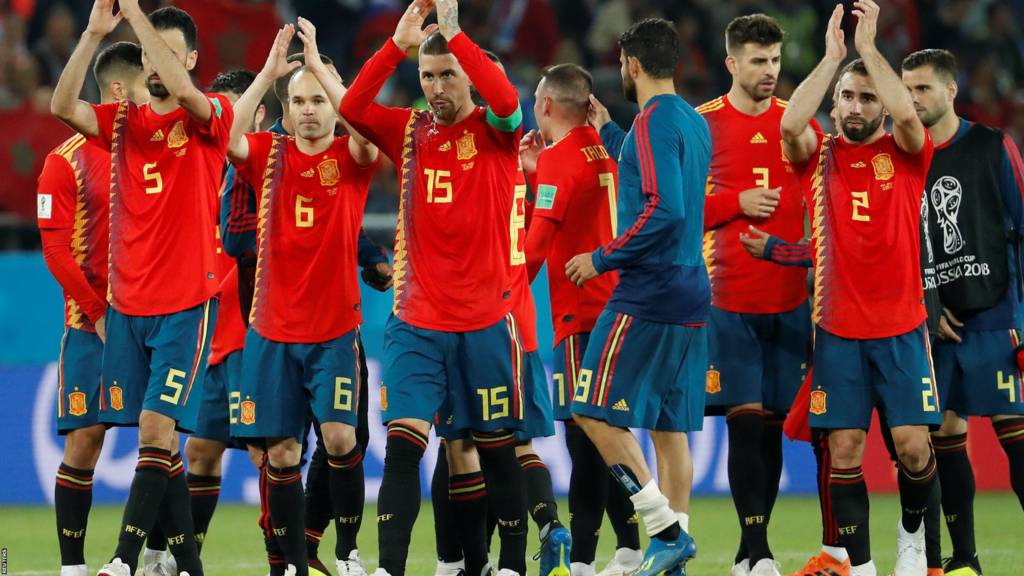 Summary
Watch online and on BBC Four
A draw is enough to see Spain through
Morocco already out
Match taking place at Kaliningrad Stadium
Get involved using #bbcworldcup
That's it for now, though. Until tomorrow.

Argentina could go out then, you know...

Post update

Spain 2-2 Morocco

Did you miss it? Another World Cup cracker. Relive it right here...

'We can improve'

Spain 2-2 Morocco

Spain manager Fernando Hierro: "We knew this would be a tough match, we knew Morocco were going to fight. We can improve," he says.

"I'm not pleased or displeased we play Russia next. We're pleased to be through. We tried not to think about the other match [Portugal v Iran]. We have to be very demanding of ourselves, it will be very difficult to reach the ultimate goal."

'Moment of truth'

Spain 2-2 Morocco

Spain midfielder Isco: "Now we are facing the moment of truth but I have complete faith in this team.

"Morocco was a really tough match. Maybe we were lacking greater control of the game and normally that is what we do a lot better."

On facing Russia in the last 16: "It's going to be a tough game. They have the whole country behind them and play excellent football. We played a friendly against them ahead of the Wolrd Cup so we know about them."

'We lacked experience'

Spain 2-2 Morocco

More from Herve Renard: "We suffered, as every team that plays against Spain suffers, because their line-up is a mix of Real Madrid and Barcelona players - all exceptional.

"But I think our players, the whole team, should be commended for this game and the entire World Cup.

"We've lacked a bit of experience and there were games we should have had better results in. But we've shown that we can take on two of the best teams in the world, Portugal and Spain, and represent Morocco well.

"We will keep this World Cup in our minds. It was a magical moment for us and I want to wish good luck to all the teams in the last 16, and particularly the two African teams [Senegal and Nigeria] trying to make it through."

'We should be proud'

Spain 2-2 Morocco

Morocco boss Herve Renard: "This World Cup has been an exceptional experience. I came here to learn and we have learned a great deal over the three matches. We would have loved to have gone into the next round but we should be proud of what we have done and what we have achieved."

Asked about his future: "We will think of the future later on."

Post update

Spain 2-2 Morocco

The managers have been speaking...

'Off night for Pique'

Spain 2-2 Morocco

Leon Osman

Former Everton midfielder on BBC Four

He had an off night Pique. He got caught out a few times defensively, made mistakes in going tight and allowing people to go over the top.

We're talking about Gerard Pique, Barcelona legend and World Cup winner so I'm sure he'll be back to his best next game but he had an off night.

Get Involved

#bbcworldcup or text 81111

Owen: As a lifelong Spain fan (well since I drew them in our office sweepstake) I thought that was an excellent last five minutes.

Sho: Uruguay and Russia have nothing to fear when facing Portugal and Spain. Both have been so poor so far.

'Still faith in De Gea'

Spain 2-2 Morocco

Joleon Lescott

Former England defender on BBC Four

It's a different pressure, international football. I'm sure the coach and manager have all got faith in David de Gea's ability, I'm sure he'll be the man going forward into the knockout stages.

Paul: Morocco were the best team in this group. And they finished bottom Purely because in first two games they were poor up front and couldn't finish.

Post update

Spain 2-2 Morocco

Meaning, after Iago Aspas equalised for Spain, this put the Spanish top of the group...

Post update

Spain 2-2 Morocco

And Cristiano Ronaldo, with the opportunity to put it beyond doubt, did this...

Post update

Spain 2-2 Morocco

These two goals, almost 2,000km apart, looked to have left Portugal top and Spain in second.

In case you need reminding, this is how Group B ended up.

That, though, doesn't tell half the story.

SMS Message: People against VAR being introduced because it takes the 'romance' (drama) out of the game now complaining about the drama VAR is creating. Excellent. from James, Blackheath

Post update

Spain 2-2 Morocco

BBC One has just switched from Portugal-Iran to Eastenders. Keeping the drama coming.

'Spain were complacent'

Spain 2-2 Morocco

Joleon Lescott

Former England defender on BBC Four

They looked very cautious, and there's probably a bit of complacency in there, maybe they did take their opponents lightly, thinking they were through and it would be a walk in the park and that wasn't the case. Playing against a stronger nation will be difficult for them.

Post update

Spain 2-2 Morocco

I'm nailing my colours to the mast. I love VAR. I will watch replays all night if I have to. And don't talk to me about refs in Moscow having to wear full kit. It gets hot in there...