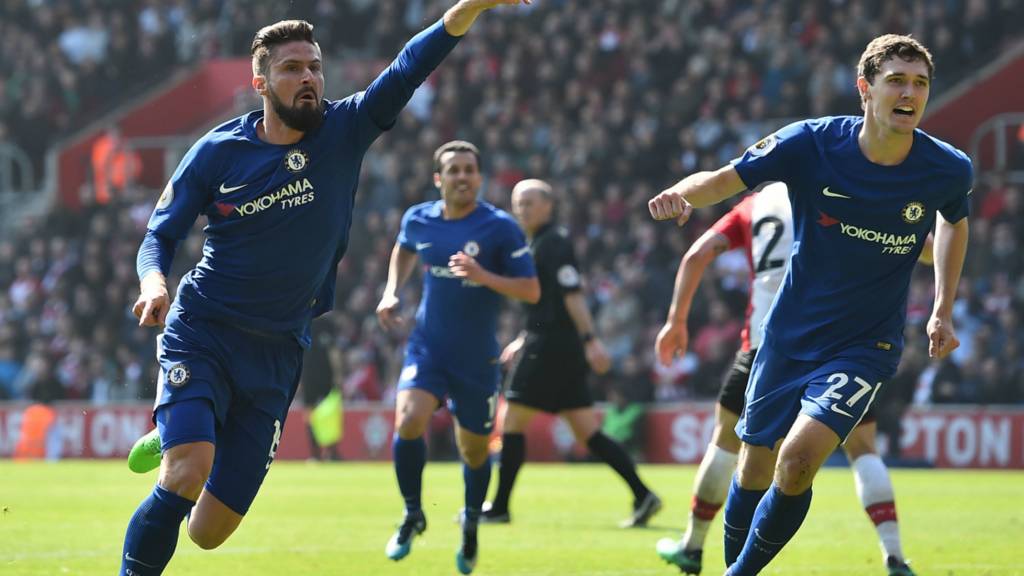 Premier League: Chelsea come from 2-0 down to win at Southampton
Farewell

Southampton 2-3 Chelsea

'How did they not see it?'

Southampton 2-3 Chelsea

Mark Hughes, speaking to MOTD: "Mike Dean was five yards away, his assistant was seven yards away and the fourth official was six yards away - how can they not see it when everyone else did?

"That tackle could've had significant consequences for Shane and Chelsea going down to 10 men at that point with us in the ascendancy would've changed the game.

"Some of our guys are up for what we've got ahead of ourselves. I'm learning about the group more and more each training session and match. I'm comfortable with the guys who will get us out of this.

"We're still conceding goals and they're just slips in concentration."

Post update

Southampton 2-3 Chelsea

As if it couldn't get worse for Southampton...Crystal Palace have just taken the lead against Brighton through Wilfried Zaha.

Last word on this game goes to Mark Hughes, who is very unhappy that Marcos Alonso wasn't sent off for raking his studs down Shane Long's leg...

Post update

Southampton 2-3 Chelsea

Chelsea boss Antonio Conte, speaking to Sky Sports: "Our first half wasn't good in a lot of aspects, not only tactically, but didn't show great spirit desire or the will to fight for a good result.

"Our first half was very negative. In the second half I saw a great reaction, the right will to fight to win despite the difficultly. We went 2-0 down but had the right spirit to come back and win.

I am disappointed in the first half, I am the first to take the fault for that, but in the second half my players deserved credit.

I am happy for Giroud. Olivier we know very well, we are talking about international players. He has specific characteristics, he played well and I am happy for him."

'We didn't clear our heads'

Southampton 2-3 Chelsea

Southampton manager Mark Hughes to Match of the Day: "I don't think we got what we deserved out of the game. We had a period where we weren't able to clear our heads. You have to recognise when momentum changes and clearly we didn't. You need to be resolute in those moments and wait for it to go the other way, but we didn't.

"We got rolled over by good quality but simple balls in the middle of the box and they got free shots eight yards out - that can't happen.

"A 2-0 lead is good but it's susceptible if they score the next goal. Their first gave them a boost at the right time and there was tension in how we played after that.

"You need to understand what's required in the immediate minutes after a top team score and we're not good at that at the moment."

Post update

Southampton 2-3 Chelsea

Chelsea boss Antonio Conte to Match of the Day: "A good win but for me it was important to see the right spirit, the right passion and enthusiasm in the second half. In the first half we didn't play well but not just that, they put more into the tempo than us. I was very disappointed but we must be pleased by the second half.

"The most important thing is to show in every game the right passion and to fight until the end. We need to finish this season in the best possible way.

"I don't know why the desire wasn't there but the coach is the first person to have the fault. It doesn't matter that we won the game 3-2, it was important to see the right reaction and fight in the eyes of my players.

"Southampton played a good game and took a lot of confidence after their first goal because they were nervous at the start. It was difficult for us to come back so we must be pleased by the desire we showed.

"I didn't see Marcos Alonso's challenge and after the game I don't want to comment on the referee's decision."

'A clear red card'

Southampton 2-3 Chelsea

More from Saints boss Mark Hughes: "In the last two games against Arsenal and Chelsea I've seen encouraging things but also things that will damage us in the coming games if we don't learn from them.

"I've got a group fighting to get out of this situation but we've not taken points where we should've done again.

"I've seen Marcos Alonso's tackle on Shane Long again - it's a clear red card and clear intent to hurt Shane. It could've broken his leg. There were three officials within five to 10 yards so how each of them missed it is a mystery to me."

Get Involved

#bbcfootball or 81111 on text

Steve Howes: And that's why Giroud has to start ahead of Morata. More threat and more involved. He understands what's needed in the Premier League.

Dave W: If Hoedt had gone for the ball with his head instead of throwing his body at Giroud he might have stopped Chelsea's first goal.

'We have a soft underbelly'

Southampton 2-3 Chelsea

Saints boss Mark Hughes, speaking to Sky Sports: "For the most part I was pleased, the team were committed and understood what was required. We got ourselves into a great position, a winning position because we should've seen the game out.

"But as has been the case all year apparently we've got a soft underbelly. When the momentum shifts against us we can't get a platform and wait until the momentum swings our way again.

"Their first goal gave them enough time to push the game. We were disappointed with the original awarding of the free-kick on the halfway line. They play a quick one and Giroud, who has just come on, his strength and power are evident in those situations.

"A 2-0 lead is always a difficult one to protect."

Post update

Southampton 2-3 Chelsea

Here is Mark Huges for his post-match interview...

Get Involved

#bbcfootball or 81111 on text

Kevin Windsor: All these Saints fans coming out and praising Mark Hughes for getting two goals against an abject Chelsea team might want to listen to one or two Stoke fans opinions about him… I'm sure you'll figure it out for yourselves though…

Peterfeet: Hughes is a quality manager...What a joke !!

Anon: Got to love how Mark Hughes single-handedly destroyed Stoke and is now going to somehow save Southampton.

'Nobody was doing their job'

Southampton 2-3 Chelsea

Dion Dublin

Ex-Aston Villa striker on Final Score

It's hard to explain what happened today. Southampton were so positive, squeezing high up the pitch and catching Chelsea off guard. They were on top pushing for a third goal and then everything changed with the substitution.

When they conceded, panic set in and that was when the problems came. Nobody took responsibility for the defending even though there was so many back in defence. Nobody was doing anybody's job in that ten minutes.

'We showed great character'

Southampton 2-3 Chelsea

Chelsea striker Olivier Giroud, who scored twice, to Sky Sports: "The beginning of the game was not what we wanted but in football you always have a chance to step up, to bounce back, so we showed great character and team spirit.

"I used to say that football is an everlasting new beginning. You always need to question yourself, I've been through some difficulties in my career. I try to comeback stronger and it happened today. I'm pleased for me and the team.

"It was tough for us, the second for them was difficult. The most important thing is never give up, believe in our quality, play our game and I am proud of what we have done today with our amazing support.

"I said when I came on to Eden Hazard we need to fight to the end keep believing. I didn't tell him we would score, but our first goal put us in that position.

"As long as it is mathematically possible we will believe we can reach the top four. We take the games one by one. We have got five or six finals to play after that we will see."

'We lost concentration'

Southampton 2-3 Chelsea

Saints defender Jan Bednarek, speaking to Sky Sports: "That is the second game in a row with the same situation. We're frustrated - we need points but lose in the same way. We need to be more focused at the end of the game.

"From the beginning we were convinced we could win this game but they are a top team. We lost concentration and that's why we lost.

"We need to keep going, it's the only way to survive. We need to focus on working hard, playing without the ball and then staying patient on the ball.

"Of course individually I'm happy for my first goal on my first Premier League game but the team is more important.

"Except for the 10 minutes when we conceded three goals, we played a very good game. We need to keep positive and keep fighting."

Get Involved

#bbcfootball or 81111 on text

Nige: Every season during the run in there is always a team who blows a massive opportunity to get out of trouble and blowing that opportunity crushes their confidence for the rest of the games. This may have been Southampton's moment.

JavelBleach: If the PL had VAR, Southampton would've taken all three points instead of zeo with Chelsea down to 10 men.

Zak: You're welcome, Palace fans.

Post update

Southampton 2-3 Chelsea

Chelsea are now seven points behind Spurs in fourth.

Tottenham face leaders Man City at 19:45 BST tonight.

Is a Champions League spot still up for grabs for the Blues.

It was all-but-lost on 70 minutes before that cracking comeback.

'The signs point to relegation'

Southampton 2-3 Chelsea

Pat Nevin

Former Chelsea winger on BBC Radio 5 live

A tough afternoon. So hard to take for Southampton you wonder where their confidence will be after this result. They played better for the majority of the game against a team that turned up for 15 minutes.

When you are battling relegation you are looking for signs that it's just not our season. Looks like it is not Southampton's season.

Get Involved

#bbcfootball or 81111 on text

They needed some inspiration from somewhere, Davy...

BBC Sport app users may need to click on the link to access the tweet

Post update

Southampton 2-3 Chelsea

More comebacks than Rocky this past week.

Chelsea the latest to do it after Manchester United, Roma, Marseille and Red Bull Salzburg. Shout outs to Juventus and Real Madrid too for the drama they provided.

Get Involved

#bbcfootball or 81111 on text

Tom Blakey: Mike Dean just relegated Southampton

Adam, in Edinburgh: Mike Dean's inability to be a referee has cost Southampton this game. Alonso assist to get Chelsea back in the game, no idea what would've happened if they were down to 10 either.

Rob, in Chelmsford: Great comeback by Chelsea inspired by Alonso's ball to Giroud. What would have happened if Alonso had been sent off? Tough luck Saints.