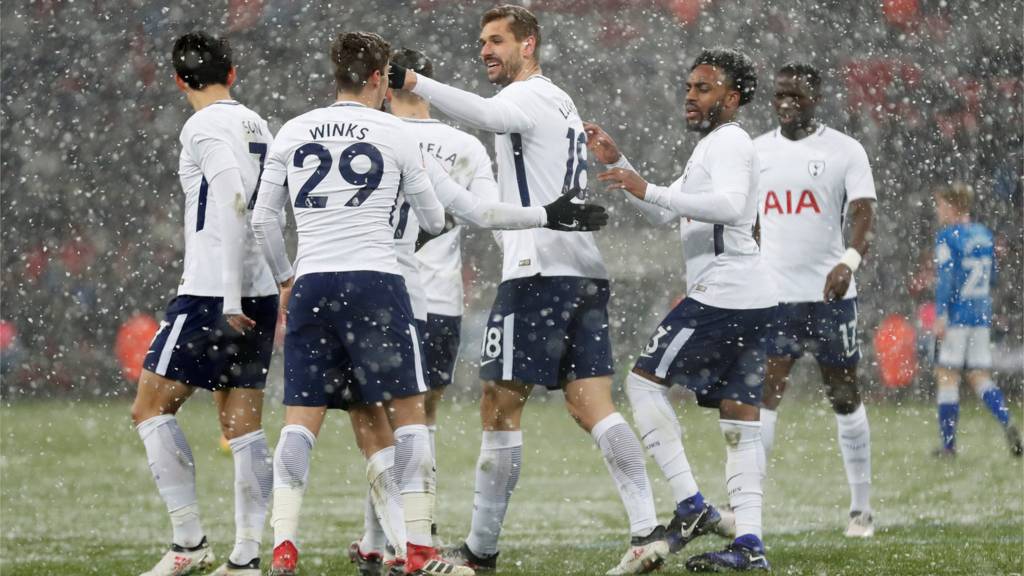 FA Cup: Watch highlights - Spurs hammer Rochdale plus VAR confusion
Thanks for joining us tonight and getting involved in the debate. You can catch the end of the highlights at the top of this page now.

Or come back to our football page later and watch them on demand.

Spurs up for the Cup?

Spurs 6-1 Rochdale

Mark Schwarzer

Ex-Chelsea keeper on BBC Radio 5 Live

The big question for Tottenham is, when they come up against the bigger teams, can they perform? But this is a competition they have a big, big chance of winning.

'We will miss it this week'

More from Keith Hill on BBC Sport: "The first half was special. Tottenham are a marvellous and exceptional side and I hope they go on to win the FA Cup. In no shape or form am I embarrassed about the way they [his players] took them on. Let's be proud about what we tried to achieve.

"It's not often you get an opportunity to pit your wits against a special side. We will miss it this week but we look forward to the league games.

"It was confusing. Now I have been a part of what VAR is, I feel sorry for the referee. I think the decisions need to be explained to the crowd. The visuals need to be used better.

"I hope that eventually they explain it to the supporters."

On Dale's League One relegation battle (they are 11 points from safety).

"We have to improve on results not performances. It's important we use this game tonight as a starting block for the next 16 games because they are all FA Cup finals from tonight."

'I feel sorry for referee and fans'

Spurs 6-1 Rochdale

Tottenham boss Mauricio Pochettno to BBC Sport: "It was a game we can talk about different things. It was so complicated because of the new system, it was difficult to keep focus on the game.

"The job is done and we are happy because we are in a quarter-final.

"I took the players to keep focused at half-time. The circumstances were difficult. I think we have the best referees in Europe or the world but I don't know if this system will help them or cause more confusion. It is a game of emotion. If we are going to kill this emotion I think we are going to change the game.

"It's difficult for the referee - I feel so sorry for the referee and more I feel sorry for the fans because it's so difficult to understand the situation.

"We have a tough game at Swansea and we will have a competitive time."

Hill proud of Dale

Spurs 6-1 Rochdale

Rochdale manager Keith Hill told BBC Sport: "I'm very proud. We've been beaten in a game of football but we've not lost. As a group of players they've been brave against Tottenham, in front of our loyal supporters.

"The scoreline doesn't alter my opinion about this group of players. In the first half we really dreamt. We hit the post to go 2-1 up. I can't deny maybe Tottenham could have been winning anyway, but in no way am I embarrassed. There were some mistakes but if the players can learn from them they can play in the higher echelons of the Championship or the Premier League.

"It's complicated with VAR. It's not fair on the referee. The fourth official was explaining to us what was going on but the referee needs a bit of help.

"We've given ourselves a massive mountain to climb in the league but we'll take inspiration from tonight's display."

If you squint, you can see Danny Rose smirking in the background...

Rochdale boss Keith Hill told BBC Sport: "I'm not bothered about the scoreline. I wanted the lads to show bravery."

Spurs boss Mauricio Pochettino has told BT Sport that "it's too early to judge the system but it's not easy. I think the referees in the Premier League are the best in Europe".

If you click play at the top of the page you should be able to watch highlights of the game (if you're in the UK).

Watch: Walker-Peters scores his first goal for Spurs

Have a watch of the sixth goal (if you can even see what happens)...

'Delays are worth it'

Spurs 6-1 Rochdale

Mark Schwarzer

Ex-Chelsea keeper on BBC Radio 5 Live

Human error will still occur with VAR, the other codes have shown that, but it dramatically reduces the number of errors.

There's too much riding on it nowadays. If we can limit the errors and get the game flowing as much as we can... I think to lose some fluency is worth it to get more of the decisions right.

If Rochdale fans leave right now by car or bus, they'll be home by 2am. If the weather/motorways are kind t them.

'Took momentum out of the game'

Spurs 6-1 Rochdale

Spurs defender Kieran Trippier speaking to BT Sport: "It was crazy. Obviously the decisions took some momentum out of the game but the referee has to make the decision so we have to wait.

"We created a lot of chances in the first half. We have to give credit to Rochdale, they made it difficult again - as they did in the first game. They had one chance and they took it but every chance we had we took."

VAR takes too long?

Spurs 6-1 Rochdale

Mark Schwarzer

Ex-Chelsea keeper on BBC Radio 5 Live

When it's straightforward, as it was in the second half, the referee could go through the goals quickly and there was barely a pause.

In the first half, I think it was a foul by Llorente so it should have been disallowed. VAR is good for the decisions the referee didn't quite get right or maybe didn't even see. People will still celebrate, players will still continue, but I think once we get more clarity I think it will flow better

'Swansea have improved a lot'

Spurs 6-1 Rochdale

Tottenham's hat-trick man Fernando Llorente on BT Sport: "I feel good. I'm happy because the team have won and it's important to be in the quarter-final.

"We know Swansea very well - they've improved a lot and it will be difficult."

Llorente joined Spurs from their quarter-final opponents in the summer.

The other FA (People's) Cup

#FAPeoplesCup

Meet some of the teams who took part in the first round of the FA People's Cup at the weekend......

Over 50,000 people took part around 278 venues across 18 different categories.

You can find out more about it here - and see more of people like this and their stories in the FA People's first-round highlights programme on the Red Button/online on Saturday,3 March (12:55-14:00 GMT and 22:00-23:00 GMT).

Get involved

#bbcfacup or text 81111

Liam Needsome: Anyone else remember the France 98 Play Off in Russia Vs Italy when the pitch was completely white with snow and the players slipped all over the shop?

Anon: Spurs-Rochdale is nothing compared to USA-Costa Rica in Denver back in 2013. That was a proper blizzard.

Oh man, I can't stop thinking about how good that video was

Post update

Spurs 6-1 Rochdale

All the first-half VAR drama seems slightly less consequential now that Spurs cruised through in the end.

Not sure any of the decisions were hugely wrong - the first disallowed goal was a bit harsh maybe - but it was just the long delays and confusion.

Tottenham's class shone through

Spurs 6-1 Rochdale

Mark Schwarzer

Ex-Chelsea keeper on BBC Radio 5 Live

Tottenham's class shone through in the end. We thought they'd be way too strong but we hoped for a magical upset and at half-time it was on the cards so Rochdale can hold their heads high.

The game got away from them in the end but they were excellent. They really took the game to Tottenham in the first half.