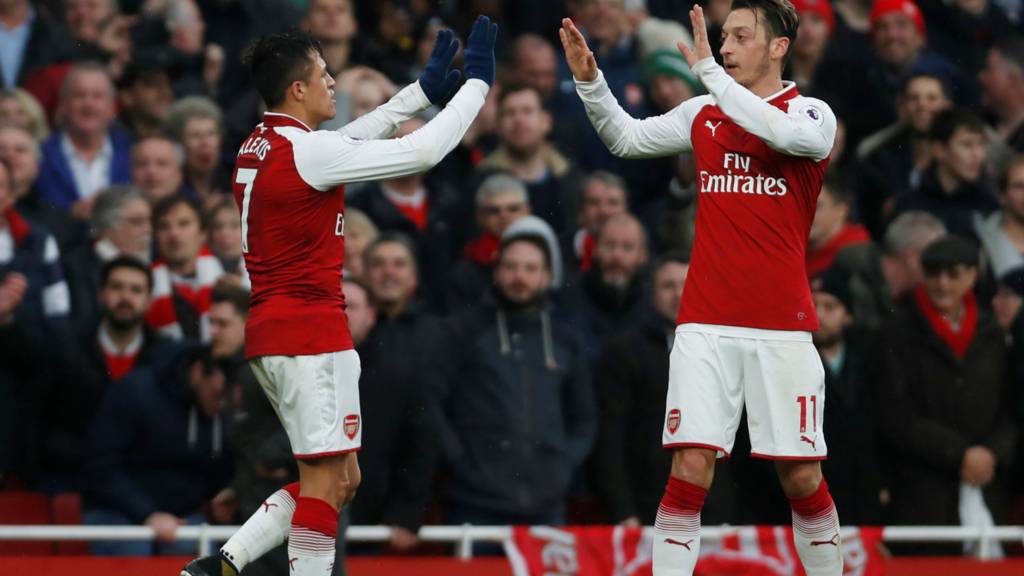 Arsenal 2-0 Tottenham - Gunners' first league win over Spurs since 2014
'The small details were against us'

Arsenal 2-0 Tottenham

Tottenham manager Mauricio Pochettino tells Sky Sports: "It was an even game in terms of shots on target, off target, possession. I am only disappointed because the effort was massive from the team. It is obvious you saw what happened in the game and the small details were against us, it makes it difficult to win. I am very proud with the effort.

"I do not need to say anything, it was obvious for everyone here and watching at home. It is not easy to accept because we lost the game but we have to more on and keep going.

"The free-kick for the first goal and the first goal was obvious offside, maybe the second was too. When you play against a team in the top-six, the big details are up to you, sometimes things go against you but that is football. Against Swansea, it was the same Mike Dean too.

"Granit Xhaka should have had a second yellow card, sometimes you feel disappointed and frustrated because the small details change a lot.

"Harry Kane and Dele Alli were OK to play but with 15 minutes to go, it was not necessary to take risks. We had few chances to score in the end.

"I made a technical decision on Danny Rose, after months out they need to get back up to fitness. The situation is not an issue."

'The foul was a foul'

Arsenal 2-0 Tottenham

Arsenal boss Arsene Wenger on Sky Sports: "In a derby, urgency plays a part. We had that on our side. We didn't lose defensive focus for 90 minutes.

"We were lucky Alexis Sanchez didn't play in the international break and Alexandre Lacazette only played one game.

"I'm convinced that Mesut Ozil adds physicality to his game and when he needs it he can produce it. He got a standing ovation because he added to the team the defensive job. He's not a specialist in that but he can do that because he's an intelligent man.

"I don't know where referee's decisions went for us. I haven't seen the offsides - the foul was a foul. I can give you plenty of games where we have had bad luck.

"We play in the Premier League and people want to go to different conclusions. Nothing is permanent in our job."

'It's the hope that kills us!'

Arsenal 2-0 Tottenham

Garth Crooks

Former Spurs striker on Final Score

I don't feel great! If Arsenal play like that they're guaranteed to end up in the top four.

I'm concerned that it took Spurs two Arsenal goals to work out what mood they were in. If those Tottenham players are as good as we're all told they are they would have anticipated Arsenal's attacking earlier. Spurs found it difficult to even get to Arsenal's goal.

I've never said Tottenham would win the league, but we hope. It's the hope that kills us!

'Spurs have landed on their backside'

Arsenal 2-0 Tottenham

Martin Keown

Former Arsenal defender on Final Score

Tottenham were perhaps a bit complacent. They have been chasing Arsenal for years - Arsenal win the trophies, have won many more trophies than Tottenham over the last 10 years.

The Gunners were on it from the start, which wasn't a surprise. Spurs have landed on their backside today.

'Strong and stable Shkodran'

Arsenal 2-0 Tottenham

Arsenal midfielder Mesut Ozil: "On the pitch, i just think about the team and myself, to give everything. Today we aimed to do everything and believe in ourselves.

"I really enjoy playing with Alexandre Lacazette and Alexis Sanchez. We have good quality and they are both very dangerous. Today Alexis showed his quality and I am really happy for him.

"Of course, we are happy, the fans are happy too. You see our defence is more stable and compact with Shkodran Mustafi in the side."

Get Involved

#bbcfootball, text 81111

Demidinho: Let the power keep shifting, we will keep winning trophies and beating Spuds.

Ray O'Brien: Spurs were getting a bit too big for their boots after beating Real. We had to remind them who they really are. Great performance from everyone. Even Ozil turned up!

Saqub Sheikh: Credit to Arsenal for beating Spurs convincingly. Well done Wenger too who does take a lot of unfair criticism. The best Arsenal XI played today.

Jenas speaks

Arsenal 2-0 Tottenham

'Nobody wants that'

Arsenal 2-0 Tottenham

Tottenham midfielder/defender Eric Dier to BBC Sport: "There is so much on the line, for a goal to be decided in the manner it was is very disappointing. It changed the game.

"I don't want to get in trouble but everyone can see it. If that's a foul then soon we won't be able to touch each other. Nobody wants that.

"But there can be no excuses."

'I am lucky'

Arsenal 2-0 Tottenham

Arsenal defender Shkodran Mustafi tells Sky Sports: "Since I joined, we have had a few good performances but the only important thing is too keep it up. We did well today in the derby, we showed character, were there in the important moments and if you do all that, you win games.

"As I was going up for the header, I told Mesut Ozil to go to the ball and swing it in. If you have players who can put crosses in like that, you have belief to get your head on the ball.

"I was happy the referee did not blow the whistle for offside. I am lucky to get away with it. That is football, you get things for and against you, at the end of the season the decisions end up as a draw."

'Too much on the line for mistakes'

Arsenal 2-0 Tottenham

Tottenham defender/midfielder Eric Dier: "I thought our perforamce was good from the beginning, we did what we wanted to do. We were playing a very good side and both teams will have their periods in the game. We are disappointed to concede the goals we did.

"I don't need to say anything [about the referee]. In big games there is too much on the line for mistakes like that. It put them in front and changed the game."

'An invigorating performance from the home side'

Arsenal 2-0 Tottenham

Bradley Allen

Ex-QPR striker at Emirates Stadium for BBC Radio London

A brilliant defensive display form Arsenal, and how many times have we been able to say that in recent seasons?

It was an invigorating performance from the home side. There was an aggressive start, a strong header for the first, and after the second Tottenham simply huffed and puffed. Arsenal were worthy winners while Tottenham's gameplan simply didn't work.

'I expected a new Everton manager by now'

Crystal Palace v Everton (15:00 GMT)

John Murray

BBC MOTD commentator

I expected to be covering the first match for a new Everton manager but obviously that's not the case. Instead, interim manager David Unsworth takes charge for a fifth time, having emerged with his first points last time out against Watford.

With pressure eased on Everton, it still weighs heavily on Crystal Palace. Last month's win against Chelsea is their only victory in seven league matches since Roy Hodgson was appointed manager.

It brings back memories of how he recorded only one win in his first 10 league games as Fulham boss back in 2007-08 yet still avoided relegation.

Palace now face a run of eight consecutive fixtures against teams outside the top six and simply have to start winning to kick-start their revival.

'Special memories for Chelsea'

West Brom v Chelsea (15:00 GMT)

Steve Bower

Match of the Day commentator

This fixture will rekindle special memories for Antonio Conte after Michy Batshuayi's goal clinched the Premier League title at The Hawthorns in May.

Mind you, the recent mood of the Chelsea boss hasn't hit those heights. His reaction after their victory over Manchester United last time out told a story, and he'll know it's imperative the champions make it four wins in a row in the West Midlands.

Tony Pulis would welcome any kind of result to lift the current West Brom spirits as they face the first of three home games in their next four matches.

His side are nine league games without a win and, once again, their lack of goals is a real concern.

Image caption: Michy Batshuayi is out injured today

'A very impressive performance from Arsenal'

Arsenal 2-0 Tottenham

Matthew Upson

Former Arsenal defender at Emirates Stadium for 5 live Sport

It was a very impressive performance from Arsenal, they were showing things we've criticised them to lack previously, like their intensity and work rate.

Physically they matched Spurs, or were even better.

My only concern is that this is the standard and this is what needs to happen going forward.

Kompany back

Leicester v Man City (15:00 GMT)

Vincent Kompany is making another comeback for Manchester City this afternoon.

All of the team news for the six 15:00 GMT kick-offs is in and here.

Post update

Arsenal 2-0 Tottenham

Has that revitalised Arsenal's season? How high can they finish?

Just the ticket

Arsenal 2-0 Tottenham

Arsene Wenger has now beaten 10 of the 11 Spurs managers he's faced in the Premier League, with the exception being Christian Gross.

Final Score incoming...

Premier League on BBC television

Post update

Arsenal 2-0 Tottenham

A big win for the Gunners, and maybe for Manchester City too,

City could be 11 points clear tonight...