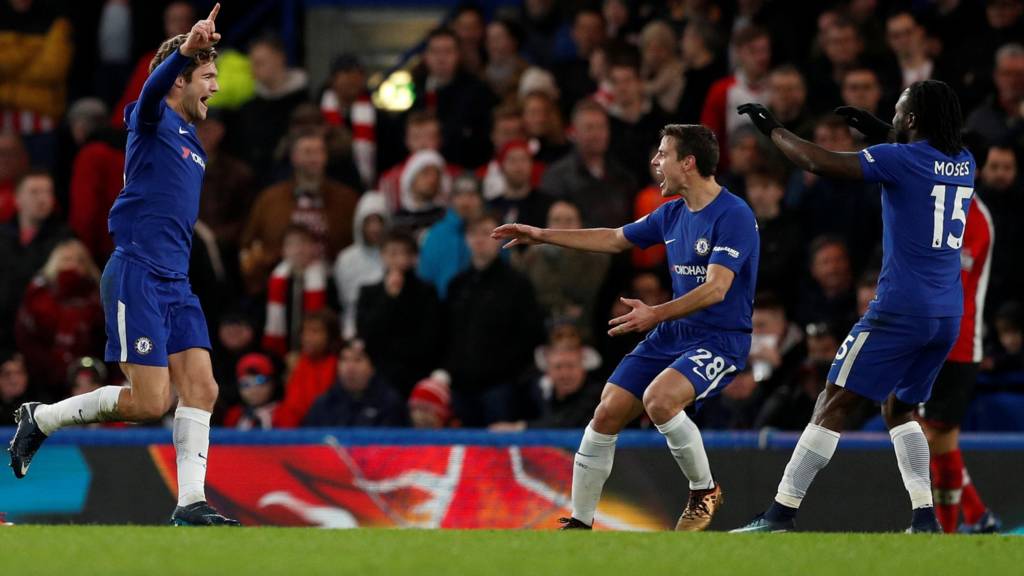 Premier League - Arsenal and Chelsea win, Huddersfield hit four at Watford
That's all from the Premier League reaction.

You can follow Spurs v Manchester City over here, if you like.

Adios!

More from Hughes...

Stoke 0-3 West Ham

On the penalty: "It's the way our luck is going at the moment. You convince yourself that luck will change and we've got to keep that mindset. Things are conspiring against us and we need help from referees to get things right. That's the hope moving forward, that we get cut some slack."

"I've seen it again. The guy's dived. He's drawn the challenge. He's a clever player. It was clearly a dive and the ref's seen something that no-one else saw. All in all it was a poor sequence of events for him and for us.

"It sounds like sour grapes when you talk about people getting punished retrospectively. It doesn't help us now."

On relegation battle: "We're in this position. Maybe we've got some clarity now. We're better than what we're doing at the moment. We need to get ourselves out of our situation. I don't want to be in a relegation battle. We need to recognise that and do something about it."

Is he the man for the job?: "I know this group and I know what they can produce. We'll get a tune out of them and hopefully we'll get better."

Stoke 'damaged' by penalty decision

Stoke 0-3 West Ham

Stoke manager Mark Hughes on Match of the Day: "We huffed and puffed, up to the point of the second goal we were in it. We were damaged by a poor decision it allowed them to get people behind the ball. They're a threat on the attack and in the end that's what's taken the game from us.

"When we try and be expansive we can't go one v one, we get picked off. We've got to be better in that regard."

This is the first time since March 2014 (Man Utd) that a side managed by David Moyes has kept three consecutive clean sheets in the Premier League.

Stoke, meanwhile, have kept just one clean sheet in their last 16 Premier League games.

Life under Moyes

Stoke 0-3 West Ham

West Ham defender James Collins on Match of the Day: "It was huge. We thought we'd been playing well and that we had some tough games coming up. To get seven points is huge.

"Our work rate has upped and the way we've played football [under Moyes]. We've got the results.

"I've been in the game a long time and I can't explain it but a lot of it is down to the manager coming in."

We're just waiting for Mark Hughes to appear in front of the media.

It will be quite interesting to hear what the Stoke boss has to say. He's under an awful lot of pressure right now.

'I was annoyed with Marko at half-time'

Stoke 0-3 West Ham

West Ham boss David Moyes speaking with John Murray for Match of the Day: "The result went our way and it was important win. We're gaining momentum and at times we showed that.

On the penalty: "The defender gave the referee a decision to make. Manuel Lanzini ran about 70 yards so I think he went over with fatigue rather than a dive. I'd be disappointed to give away a penalty like that but sometimes that's the way it goes.

"We had to deal with a lot of stuff but we missed good chances. I was annoyed with Marko at half-time as he had the chance to get two. He's doing really well and I said to him at half-time he would score.

"Clean sheets are one of the things you want to do. Don't shout about it too much as we're going to need a few more."

'We have six of the 12 wins we need'

Watford 1-4 Huddersfield Town

Huddersfield manager David Wagner, speaking to Sky Sports: "I haven't seen any footage of the goals, nor the red cards, but at the end we played well. We scored some wonderful goals and had other opportunities. We were focused on defence and good in offence. The players performed to their best today. Watford have problems at the minute with suspensions and injuries but they are a top team. But today we were good as well. We always had the feeling this was just around the corner.

"I think we are in the race. Nobody thought we would be. This is what makes us happy., It is only nearly the middle of the season, nothing more. You need 12 wins I believe to stay up, we have six."

On Hogg red card: "I would say if Watford didn't get the red card I am unsure if we would get a second yellow for Hogg. We have to accept it. This game is too great for us to discuss referee decisions."

On injuries: "It looks serious. Kachunga is something on his knee and Lowe has a knock on his foot. We have to make further investigations."

'Burnley form is pleasing'

Brighton 0-0 Burnley

Burnley manager Sean Dyche:"It's a good point and to have three straight clean sheets and seven points from our last three games in the Premier League is very pleasing.

"They [Brighton] are on a tough run and made a few changes from in the week. My players are putting in a monumental amount of effort and we have to earn the right to compete in every game, including here at Brighton."

'I thought the boys were great'

Stoke 0-3 West Ham

West Ham defender Aaron Cresswell: "We're delighted. That's three clean sheets on the spin and another three points. It was hard with the delay before kick-off. We had to relax for an hour and I thought the boys were great.

"Marko was brilliant along with Michail. All he needed was a bit of luck and he could have had a hat-trick. We defended well, and went forward well."

Post update

Stoke 0-3 West Ham

Stoke City fall to a third straight defeat while West Ham win successive Premier League games for the first time in 11 months.

Peaks and troughs in the Premier League.

FULL-TIME

Stoke 0-3 West Ham

David Moyes is buzzing. Mark Hughes...is not.

Is there a discipline problem at Watford?

Watford 2-4 Huddersfield Town

Watford manager Marco Silva: "The result is bad for us. This moment what I can talk and what I want to talk is congrats for our opponent. We need to keep working hard. The last two games we can't change but we can change the next. We analyse what we did. This is the moment to look forward and continue to work hard.

"I cannot talk about the attitude of the players. We react with 10 players. It is not a matter of attitude or commitment it is about the moments. We should do, must do better in situations.

Is there a discipline problem at Watford? "No. It is the same as with the first goal You ask me about that because you know what happened. And you know what happened with the red. I don't want to talk about officials.

"I am 100% happy with my job. The PL is 38 games not only 10. We need to keep going and to work to take results in the next game. You need to react to bad moments."

GREAT SAVE!

Stoke 0-3 West Ham

Stoke keeper Jack Butland makes himself big to deny Javier Hernandez from a tight angle. The wee West Ham striker made a lovely break, there.

GOAL - Stoke 0-3 West Ham

Diafra Sakho

"You're getting sacked in the morning," scream the Stoke fans.

They could be right.

Hernandez lays a lovely ball off to Diafra Sakho and the West Ham sub sends the ball past Jack Butland from inside the area.

Post update

Stoke 0-2 West Ham

Ha, what a mess.

Javier Hernandez spins a high ball across the box to Diafra Sakho, who decides to control the ball between his knees and then attempts to backheel past Jack Butland in the Stoke goal. It doesn't work, needless to say.

Post update

Chelsea 1-0 Southampton

Chelsea manager Antonio Conte tells Sky Sports: "When you do not score the second goal, you have to suffer. You are afraid at every corner and free-kick and the opponent has the chance to draw. We dominated the game, shooting 24 times, hitting the post and we needed to score the second goal to be relaxed.

"We had a lot of chances but the goalkeeper Fraser Forster was good. We have to be happy with the performance and the clean sheet.

"If you shoot only twice and score two goals, you must be worried. We had lots of shots but we must be more accurate in our finishing.

"In the last 10 games, we have won eight, drawn one and lost one. This is our run, you have to consider last 10 games, not just two. It shows we are doing our job."

SUBSTITUTION

Stoke 0-2 West Ham

That's the last action for Marko Arnautovic.

The West Ham goalscorer and former Potter heads off to a chorus of really unpleasant boos. Mark Hughes even tells him to hurry up.

A Stoke scarf is thrown at the striker. Arnautovic is actually going to be escorted down the tunnel, but he has time to applaud the away fans first.

Chicharito is on in his place.

GOAL - Stoke 0-2 West Ham

Marko Arnautovic (75 mins)

That's been coming.

Manuel Lanzini pings a looping ball into the path of Marko Arnautovic and he finally gets the goal he's been hunting.

The former Stoke man celebrates in front of the home supporters, and it looks like a few things have been thrown on to the pitch.

This is desperate times for the Potters now. And pure glee for ol' Moysey!

'Another point on the board'

Brighton 0-0 Burnley

Burnley boss Sean Dyche talking to Match of the Day: "Really good point at the end of a tough week. It's been a tough week, but to get three clean sheets and seven points from three games is very pleasing. We've come through it strong physically in the end, and it's another point on the board.

"Brighton started well, like they really meant business, and a lot of different things happened in the game. There was the penalty, and the save from Chris Wood, so, we have to earn everything we get in this game, and we've done that today here at Brighton."

On diving: "I just think the game's bigger than diving, and I don't think the rule about it being just in the box should be there, it should be everywhere, there's no place for it in the game in my opinion."