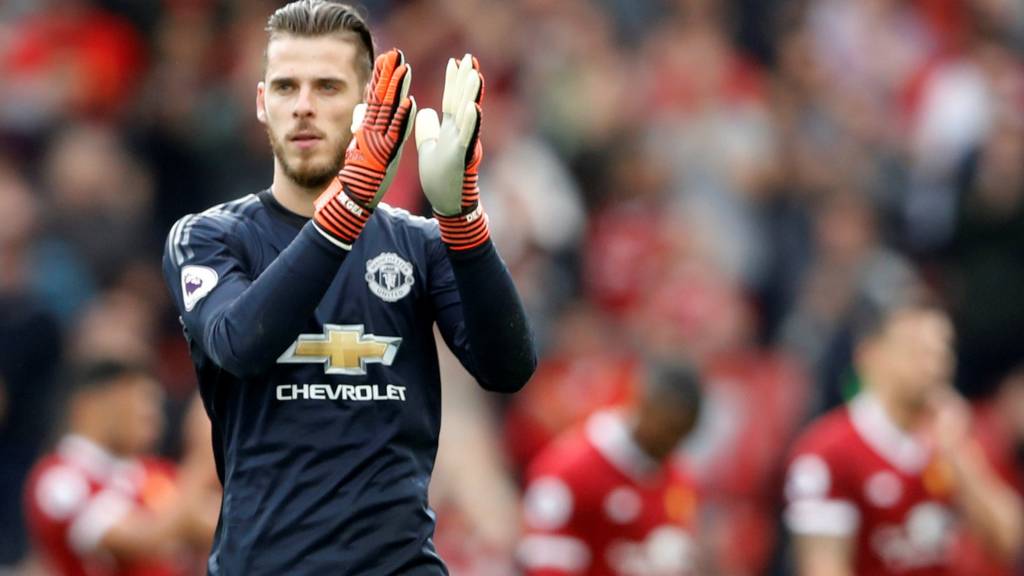 Liverpool & Man Utd - reaction after goalless draw
Follow Saturday's other Premier League action here.
Summary
Listen to commentary on 5 live now - first of three commentaries
Second successive goalless draw in this fixture at Anfield
De Gea brilliantly denies Matip with his left foot
Liverpool keeper Mignolet then saves from Lukaku
Can fails to hit target from six yards
That's all the reaction from a rather glum Anfield.

'Take the positives'

Liverpool 0-0 Manchester United

Liverpool defender Joe Gomez speaking to Sky Sports:

"We'll try and take the positives from a clean sheet and a point. The teams cancelled each other out and we need to move on to the positives.

"Obviously they are a good side and have had some decent results this season, but we come into every game this season thinking we can win."

'Matip save was instinct'

Liverpool 0-0 Manchester United

Manchester United goalkeeper David De Gea speaking to Sky Sports:

On the Matip save: "I tried to react quickly...sometimes the ball is so quick and I did what I could. It was just instinct to touch the ball. It was a really good save but I need to keep my level high."

On the result: "It's one point for us so we need to keep going. We always try to win the game but I think Liverpool played better than us. It's a point, we're happy."

'A point is OK'

Liverpool 0-0 Manchester United

Manchester United manager Jose Mourinho: "In the first we had the ball and were always compact. We had a few shots in the second half.

"They played with a very strong midfield of Can, Wijnaldum and Henderson for 90 minutes but in the second half I had no one on the bench to change the direction of the game. I thought they were afraid of our counter attack.

"I just tried to improve in attacking areas where I could surprise them, but they kept a strong organisation in midfield. I was waiting for him [Klopp] to break it [the play] a bit more. But he didn't let it break.

"A point, in this long marathon? A point at Anfield is OK."

'We haven't lost confidence'

Liverpool 0-0 Manchester United

Liverpool manager Jurgen Klopp: "[It was] a good performance, I thought worthy of three points. We were unlucky in at least two, maybe three situations - of course the big chance when De Gea made the save.

"There were a lot of good individual performances. Even when the last few games for us were not perfect, we were clear and concentrated. When an opponent has this kind of defensive approach you will not create 20 chances.

"I felt the referee should have given us a penalty. Then, maybe, it was a red card with the Lukaku and Lovren situation. Two situations, with different outcomes producing maybe a different result.

"We need to be creative and brave in a situation like we are in. We don't score easy goals anymore so the biggest challenge is not to lose confidence and we haven't. We carry on. I told the boys already they took the hard way when they decided to join Liverpool."

Matchstick man

Liverpool 0-0 Manchester United

Pat Nevin

Ex-Chelsea winger at Selhurst Park for 5 live Sport

I'm here at Selhurst Park but I saw the second half of the game at Anfield. I only saw it though because I found a couple of matchsticks and propped my eyelids open...

Get involved

#bbcfootball or 81111 on text

SMS Message: I'm sorry. You can talk tactics and 'it'll be a good point at the end of the season' all you want, but considering it's his second season now, considering the huge mega money squad at his disposable, for Jose to STILL set up like that against a (poor current form) top six side, is head scratchingly frustrating and negative. Saying that, going by his previous, I don't know why I'm in any way surprised. from Adam

SMS Message: An away point at Anfield is good but wish Jose had watched Bobby Charlton midweek talking about Utds duty to entertain. from Jim Robinson

'That was absolutely woeful'

Liverpool 0-0 Manchester United

Dion Dublin

Former Leicester & Man Utd forward on Final Score

That was pretty boring, sitting here watching that game. After the international break the press hyped up this fixture but really, that was absolutely woeful.

Both sets of fans will regret paying £50-60 to watch that.

That is the biggest fixture in the Premier League calendar and that was probably the worst game of the season so far.

As always, Final Score is here to keep you up to date with everything that is going on in football across the country.

Jason Mohammad is your host and he is joined by former Coventry and Aston Villa striker Dion Dublin and and ex-England forward Sue Smith.

You can watch on this page and on red button right now and on BBC One from 16:00.

Don't shoot, don't score

Liverpool 0-0 Manchester United

Neither side landed a single shot on target in the second half.

Man Utd have landed exactly one shot on target in three of their last four Premier League games against Liverpool.

'Easy for the experts'

Liverpool 0-0 Manchester United

Manchester United manager Jose Mourinho: "We had one shot on goal - well for you and the experts it is easy to speak but it is more difficult from the sidelines. Liverpool's midfield was really strong. They are faster than us when the game breaks. I had no chance to bring the game in another direction so it is a positive point."

'I had no solutions on the bench'

Liverpool 0-0 Manchester United

Manchester United manager Jose Mourinho live on 5 live Sport: "The opposition was good today, but we played our game. In the first half we had a couple of very good chances and good control of the game.

"In the second half Matic tired and I had no solutions on the bench. I tried with my substitutions to make us more dynamic in attack, but in reality we lost power and energy and control in midfield."

'I had no bench'

Liverpool 0-0 Manchester United

Jose Mourinho says "we had total control" in the first half and in the second half "I needed my bench, and I didn't have a bench."

United low on adventure

Liverpool 0-0 Manchester United

Image caption: Jose Mourinho

United have their point and the stats suggest they're happy with it.

They had one shot on target, only six in total (compared to Liverpool's 19), and just 38% possession.

'You could not play this way at Liverpool'

Liverpool 0-0 Manchester United

Jurgen Klopp refuses to criticise Jose Mourinho's approach to the game but does say: "For sure you could not play this way at Liverpool but it's OK for Manchester United."

Get Involved

#bbcfootball or text 801111

Andy Hunter: Louis Van Gaal getting a good reception from United fans at Anfield after the game. 1st real incident of note.

Eteyen Adegoke: So glad I stayed up after my night shift to watch that game...in fact, I'm proud I was able to stay up.

Dave Oakley: Football is a beautiful game, but not when Man Utd play. Ugly. Mourinho moans when teams shut up shop, but does it all the time.

Hardik Vishna: Dull game. But fair play... Utd are 7 points clear of Liverpool after just 8 games.

Post update

Liverpool 0-0 Manchester United

Jurgen Klopp starts his post-match interview with a lengthy exhale. A deep sigh.

"Manchester United came here for a point and got it," he says.

Full reaction to come.

Kenny the highlight?

Liverpool 0-0 Manchester United

John Murray

BBC football commentator at Anfield for 5 live Sport

For many standing and applauding here, the highlight of their afternoon was probably Kenny Dalglish's appearance on the pitch at the start.

Get involved

#bbcfootball or 81111 on text

Did you all enjoy that then? Oh...

SMS Message: Apparently Jose's tactics involve getting out played, not having a shot on target and riding your luck. Genius. from Iain

SMS Message: Awful. Mourinho had a chance to take Liverpool's weak defence apart and bottled it again. from Dave, Reading

SMS Message: If Liverpool can dominate United, imagine what City can do in the Manchester derby. United have shown this season and last season they are incapable of constructing and recycling possession when pressed in their half. from Tony

Top of the league

Liverpool 0-0 Manchester United

Job done for Jose Mourinho though. That point takes his side top of the league, with Liverpool sixth.