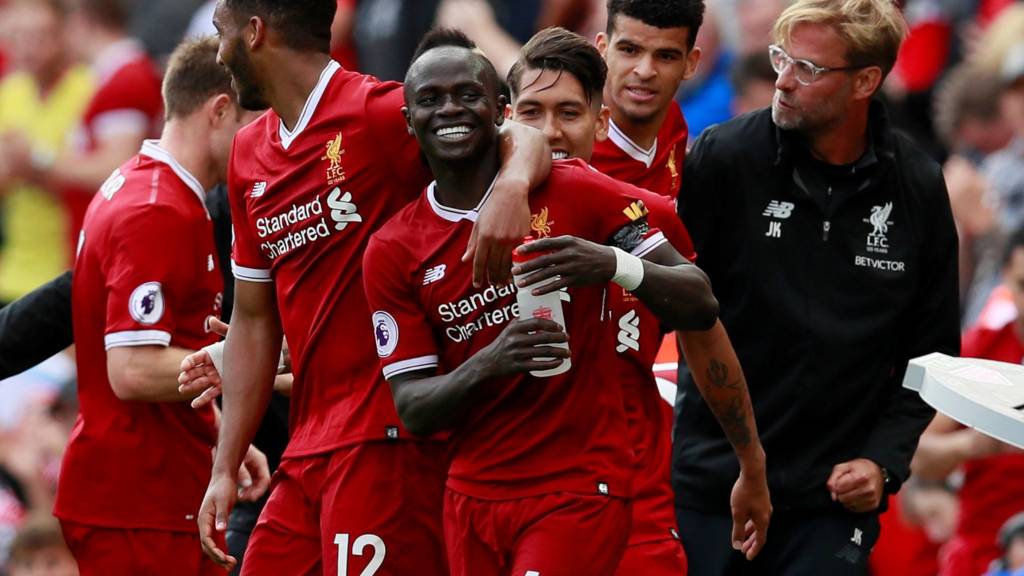 'Reid injury not serious'

Southampton 3-2 West Ham

Slaven Bilic on Arnatuovic red card: "I want to talk about the game. I will leave that for to someone else to talk about.

"With 10 men we were 1-0 down and on paper it is difficult to keep it 2-0. But we showed we were fit enough and we did it for each other and equalised. Unfortunately, we conceded late on.

"Javier Hernandez is a goalscorer but he played on the wing in the second half. He did not only scored goals, he showed enthusiasm and great work.

"Winston Reid felt his calf in the warm-up. It is nothing serious."

'We need to score goals'

Leicester 2-0 Brighton

Brighton & Hove Albion captain Bruno: "It was the early goal that cost us, but we weren't that far from them.

"Football is about quality and the small details and we didn't score. It's the Premier League, you have to score. Especially when you are 1-0 down.

"We have to learn from these games and come back stronger, to score our first goal will give us confidence."

'A great start'

Burnley 0-1 West Brom

West Brom boss Tony Pulis: "It is a great start for us, especially with two clean sheets.

"I've not looked at it [Hal Robson-Kanu's red card.] I don't want to say things that will get me in trouble so I've not looked at it. The decision stands. I am so pleased we got through that final 15 minutes with 10 men. There is good spirit in the dressing room and we needed that today. Our fitness levels were fantastic."

On Jonny Evans and reported interest from Manchester City: "They all deal through the football club, I won't get involved in that.

"Jonny is a real example to other professionals. We took him and Darren Fletcher from Man Utd and they were absolutely wonderful people and wonderful pros.

"There is no way in a million years that Jonny would do anything but play football if he could. The injury is there and we know it is there and we do have to make sure when he does come back and play for us - hopefully - he is fit to stay in the team."

"That stays in house"

Southampton 3-2 West Ham

West Ham manager Slaven Bilic on Marko Arnautovic's sending off to BBC Sport: "It is a big blow because you have to play with 10 men for a big part of the game. We have spoken about everything and that will stay inside the dressing room."

*Stares at reporter Mark Scott* "You are trying to make me talk about the penalty. I will leave that to you and your colleagues."

'Vardy ankle injury not serious'

Leicester 2-0 Brighton

Leicester City manager Craig Shakespeare: "When you get a start like that it's very pleasing. It was hard to break them down today but it was a professional performance to the end.

"Of course we created more chances in the first-half but it was important to get the first three points of the season and you have to have a good home record.

"It didn't feel as comfortable as the stats suggest. We learned cruelly about game management last week [in the 4-3 defeat to Arsenal], but to get the first win under the belt was the main thing."

Asked about the condition of Jamie Vardy, who hobbled off after colliding with Brighton Mathew Ryan, he added: "It's an ankle injury, they are in the physios room, but I expect him to be OK."

'Always tough against Benteke'

Liverpool 1-0 Crystal Palace

Liverpool defender Joel Matip speaking to BBC Sport: "It was a tough game over 95 minutes. It was a hard fight. Benteke has amazing skills and with his body he is a strong opponent. It is always a tough fight against him.

"We had to be awake until the end and it is good to have these three points."

'No point talking about the penalty'

Southampton 3-2 West Ham

West Ham manager Slaven Bilic: "We are very disappointed we lost a point but we gained a lot of things. We showed character, quality and that we can cope with 10 men and we can score two goals and we can stop them scoring. We had two or three chances to take the lead. It is a disappointing way to lose he game.

"There is no point talking about the penalty. I am proud of my team and they showed everything I asked. Commitment, quality, character, team spirit and we never gave up."

Nothing has changed on Coutinho - Klopp

Liverpool 1-0 Crystal Palace

Asked about Philippe Coutinho's future, Klopp told BBC Sport:

"It is no problem. Nothing has changed. My first job is to coach the available players. It is not my decision. Missing a player like Coutinho is not good for anyone but nothing has changed. It is a club decision not mine."

And on Andrew Roberston who made his Premier League debut, Klopp said: "He is a wonderful lad. You never know how a person reacts in a situation like this. He showed up today. Offensively it was never in doubt and defensively in the second half he was really good. I am happy for him."

'We must learn to keep possession better'

Leicester 2-0 Brighton

Brighton & Hove Albion manager Chris Hughton: "We didn't help ourselves and the timing of both goals was very detrimental to our style of play.

"We've got to keep possession, we need to get into shape but we had ample opportunity over the 90 mins to do better; they aren't a side that really opened us up, but where they needed to be sharper, and keep possession, they did. That's what we need to learn.

"We can't be the type of team that lose goals from set plays. It's a learning curve for us, and we'll need to be better in the next game.

"We'll look to add to the squad, we'll work as hard as we can through to the end of window to make this team and squad as good as we can."

'We had a good second half'

Bournemouth 0-2 Watford

Watford manager Marco Silva after his side beat Bournemouth to take four points from their opening two matches: "I am very satisfied. It was a very good game between two teams who played to win the match. Congrats to our players, they did everything I wanted and we showed great character and attitude again.

"It was a balanced game in the first half and in the second half we were better.

"We had a very good second half, we controlled it and had lots of chances to score and we deserved the three points. Our fans kept pushing us and the three points are for them as well.

"We had character and confidence and I'm happy. But it is only three points, we need to rest and analyse to prepare for the next match."

'I loved our goal'

Liverpool 1-0 Crystal Palace

Jurgen Klopp speaking to BBC Sport: "It was difficult. We could have played a little clearer in the first half. We defended brilliantly and we had the ball all of the time - it felt like 85% possession. You need to make the right decisions and in the first half we didn't. We could have finished more often than we did but had our moments.

"The second half was much better and I loved the goal we scored because it was not our best one-two in the game. It was a nice goal and we deserved it a lot.

"At 1-0 up we made the ball do the work. We could have closed the game earlier, we didn't. It was an all inclusive package."

'Result eases pressure'

Leicester 2-0 Brighton

Leicester City goalscorer Harry Maguire: "It's a team effort and if we keep keeping clean sheets we'll win games.

"The main positive is the clean sheet but it does help when a centre-half steps in to play some football. It's the things we work on in training.

"It's a result that eases pressure, the performance was good that was the main thing today."

Post update

Burnley 0-1 West Brom

Burnley boss Sean Dyche, speaking to Sky Sports: "I thought there was enough there today. We had some very good chances, our overall performance was very good.

"You have a future in your performances. If we keep applying ourselves and playing like we are we will be fine."

We need to be more clinical - Gray

Bournemouth 0-2 Watford

Watford striker Andre Gray on his first Hornets start ending in victory: "We're over the moon in the changing room. It has been a long hard week and the manager put in a lot of effort into how he wanted us to play and we put that into practice.

"Me and Richarlison seemed to be on same wavelength, he is an attack-minded player and hopefully we will keep playing well together and scoring goals. He's quiet on the training ground - he's still working on his English - but he is a great player.

"As a team we need to be a bit more clinical, and I should have scored earlier. But it is a great start, we were unlucky last week against a good side in Liverpool but importantly we learnt from it.

"It was a hard game and luckily we came out on top."

The late game

Stoke v Arsenal (17:30 BST)

'Pleased with the performance'

Burnley 0-1 West Brom

Burnley boss Sean Dyche: "The game is unfair sometimes and today I thought it was. We gave a very good performance, we created enough to get something from the game.

"I have been very pleased. It is a tough one today because I was not happy with the result but I was happy with the performance. We are laying down some good markers for how we want to play and where we want to be."

On link with Leeds striker Chris Wood: "We've been linked with lots of players. We will watch this space and see what comes. We are still in the market, still looking at different options."

'We have to keep learning'

Southampton 3-2 West Ham

Southampton manager Mauricio Pellegrino: "It was a difficult game because we had everything under control after a sending off and two goals. This is football, West Ham are a strong team and they won a lot of balls in our box. It was a nice game to see, but difficult for a manager to be in.

"Your mentality is relaxed when the opposition gets a players sent off. We were suffering until the end.

"I could not see the penalty decision from the bench, we have to respect the decision.

"We have the three points, we have to keep learning. We created chances but we have to score the third goal a bit earlier."

Post update

Liverpool 1-0 Crystal Palace

Crystal Palace manager Frank de Boer speaking to BBC Sport: "We were quite concentrated for almost all of the match. I saw a team who wants to fight for each other. It could be a draw, a Liverpool win or the other way - with our two chances it could have been different.

"A lot of times they were frustrated because we played very organised.

"Today this was the best tactic to get the result but the coin could have fallen the other way."

'Mr Referee, could I have a word please?'

Southampton 3-2 West Ham

Jonathan Overend

BBC Radio 5 live

Relief at St Mary's after that late drama. You have to feel sorry for West Ham, playing with 10 men for over an hour, fighting back from 2-0 down, but Lee Mason's last minute call to penalise Pablo Zabaleta for his nudge on Maya Yoshida trumps everything as the day's main talking point.

I suspect that Slaven Bilic wants a word with the referee......