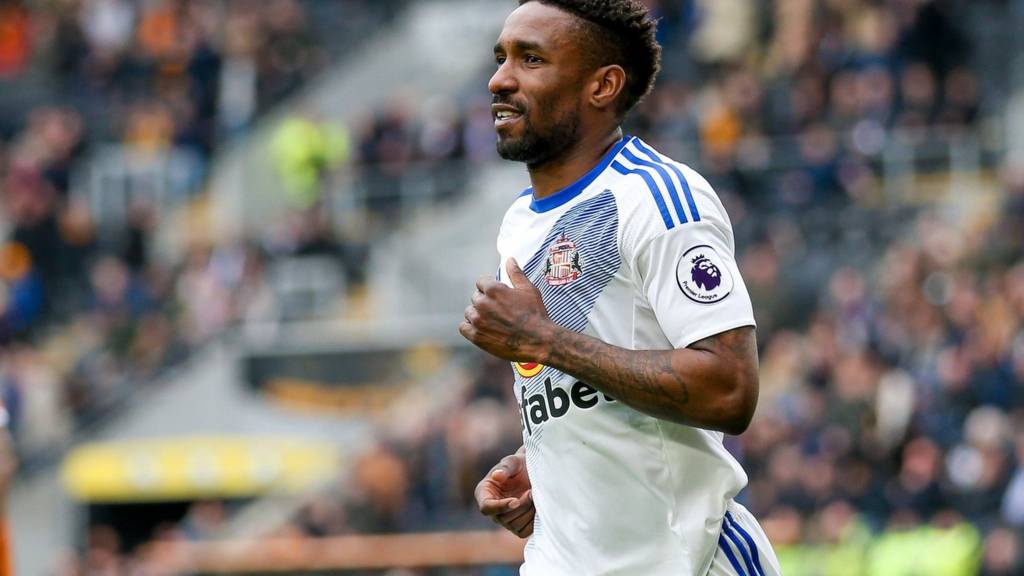 Reaction as Hull beaten by Sunderland, Bournemouth & Stoke safe
Going to the wire?

Man City 5-0 Crystal Palace

Manchester City manager Pep Guardiola believes the race to finish in the Premier League's top four will go to the last day of the season.

City moved above Liverpool and into third place on goal difference thanks to Saturday's 5-0 win over Crystal Palace.

Manchester United and Arsenal, who are fifth and sixth, meet on Sunday.

"There are four amazing teams fighting for the last two Champions League places," the Catalan boss said. "It will be a big, big battle until the last game."

Doncaster are currently on course to win League Two because they are beating Hartlepool 1-0. The bad news about that scoreline means Hartlepool are going out of the Football League.

Follow all the EFL action here.

Cardiff trains

Champions League final

Bit of Champions League news...

Football fans have been promised 21 post-match high speed trains from Cardiff to "avoid the embarrassment" of a repeat of the Rugby World Cup travel chaos, reports BBC News.

About 60,000 travellers are expected to pass through Cardiff Central station following the 3 June Champions League showpiece.  

Post update

Swansea 1-0 Everton

Swansea have taken the lead against Everton, Fernando Llorente heading the hosts ahead.

As it stands, the Swans are out of the relegation zone.

Follow that match here.

Hull City fans, look away now...

'Shakespeare has gone back to basics'

Leicester City 3-0 Watford

Trevor Sinclair

Ex-Man City & West Ham winger on Final Score

Leicester, it became apparent, were simply not being prepared sufficiently for games by Claudio Ranieri. Craig Shakespeare has gone back to basics and the players are clearly being given detailed game plans... and the boys are delivering.

'He came from nowhere'

Burnley 2-2 West Brom

Burnley manager Sean Dyche: "I'd prefer not to say we are safe until it is 100%, but we are a long way down the road.

"The team and myself deserve a lot of credit. 

"We have had a few knocks this season but we believe in what we are about. There are teams with more talent but we are a strong unit.

"That was Kevin Long's first start in the Premier League. He came in from nowhere and was outstanding. We have no individuals who are outstanding, we are a team.

"The ones who are not in the team can always come in and deliver."

Post update

Burnley 2-2 West Brom

West Brom manager Tony Pulis: "We are pleased, this is a difficult place to come to.

"Having gone in front late on we are disappointed not to win.

"We have created chances in games without scoring, it's a small dressing room but it's a great dressing room. The football club is in good shape.

"Jonny Evans is very important for us. He has a week to get fit and hopefully he will be OK. Sam Field will be a tremendous player for us and he stood up to Burnley well today."

'We were given no chance'

Burnley 2-2 West Brom

Burnley manager Sean Dyche: "Statistically 40 points is a big marker, it's a big mark for us. We were given no chance at the start of the season so I'm pleased with the players.

"We gave away two soft goals but we repsonded superbly. Sam Vokes was superb today.

"We are not defintiely safe yet but you would suggest that we are. The foundations we have put in over a period of time have paid us back. Everyone knows what they are doing, we are well orgainsed.

"Other teams have more budget, more money than us but we just focus on ourselves. For a team like us to reach 40 points with two games to go is a good achievement."

'We will make a massive profit'

Burnley 2-2 West Brom

West Brom boss Tony Pulis: "You have to defend well here, Burnley put you under real pressure.

"Salomon Rondon has been our only striker available in the last few weeks, he's been playing by himself and he works hard. Today he got his reward.

"People who have been giving us stick don't understand. We will make a massive profit at the end of the season, this club is run very professionally. We have to survive and we do that very well.

"We are looking to identify players we can bring in now. Who we can afford, who will make us better."

'I'd like to highlight Honeyman'

Hull 0-2 Sunderland

Leon Osman

Ex-Everton midfielder at KCOM Stadium for 5 live Sport

Hull should have scored one or two goals earlier in the game. But a formation rejig by the Tigers following an injury saw the whole game change, and Sunderland slowly but surely came into the ascendancy. 

I'd like to highlight George Honeyman, who looks slight but who had a great touch and passed it beautifully. Well done to him.

'Silva is a manager in demand'

Hull 0-2 Sunderland

Trevor Sinclair

Ex-Man City & West Ham winger on Final Score

Marco Silva has been doing incredibly at Hull since arriving, almost unheralded, in the Premier League. His recruitment has been superb and the players have got on board. 

Even if Hull stay up I am not sure he will be there next season - he is a manager in demand.

'Silva will be so disappointed'

Hull 0-2 Sunderland

Alex Scott

Arsenal Ladies & England right-back on Final Score

Hull were expecting to take three points today, But Sunderland would not be broken down, and Marco Silva will be so disappointed that his side conceded twice from set plays.

Get involved

Text us on 81111 (UK only)

Adam: Struggling to see Mark Taylor's point (17:07). United have scored less goals while spending about £200m per window for the last three windows, which shows what an awful job Jose is doing. That's the point.

'Big tension in the team'

Hull City 0-2 Sunderland

Hull City boss Marco Silva, speaking to BBC Sport: "It's disappointing. We had chances to score in many moments of the game. Ultimately there was big tension in some of the team. We need to be calm in some moments. 

"When you don't do this you start to lose focus and we conceded two from set-pieces. Now is the moment to rest and analyse. It's an important moment for us. We didn't achieve what wanted from match but we have two more games."

'Stupid individual mistakes'

Leicester City 3-0 Watford

Watford manager Walter Mazzarri told BBC Sport: "We are disappointed and I'm sorry for our fans. We committed some individual mistakes, their goalkeeper made some fantastic saves, they played on the counter-attack and managed to score some goals.

"I am very sorry to lose 3-0 against this team. In the first half, we could have scored before them and they punished us for stupid individual mistakes. You wouldn't commit these mistakes if you had more experience. We have a very young squad.

"I am not thinking about my future. We managed to get to 40 points with six matches left, that was our objective, maybe the players were a bit tired."

Pickford is 'a young Joe Hart'

Hull 0-2 Sunderland

More from David Moyes at Hull, who is delighted with the performance of keeper Jordan Pickford: "We got a couple of goals today and of course have a very fine young goalkeeper who made a couple of key saves. I remember a young Joe Hart when he started - at Everton we were really keen to sign him from Shrewsbury. 

"That's a young Jordan Pickford. He makes saves and comes for crosses and has saved us points throughout the season. But honestly, I expect this level of performance form him on a regular basis - that's how highly I think of him."