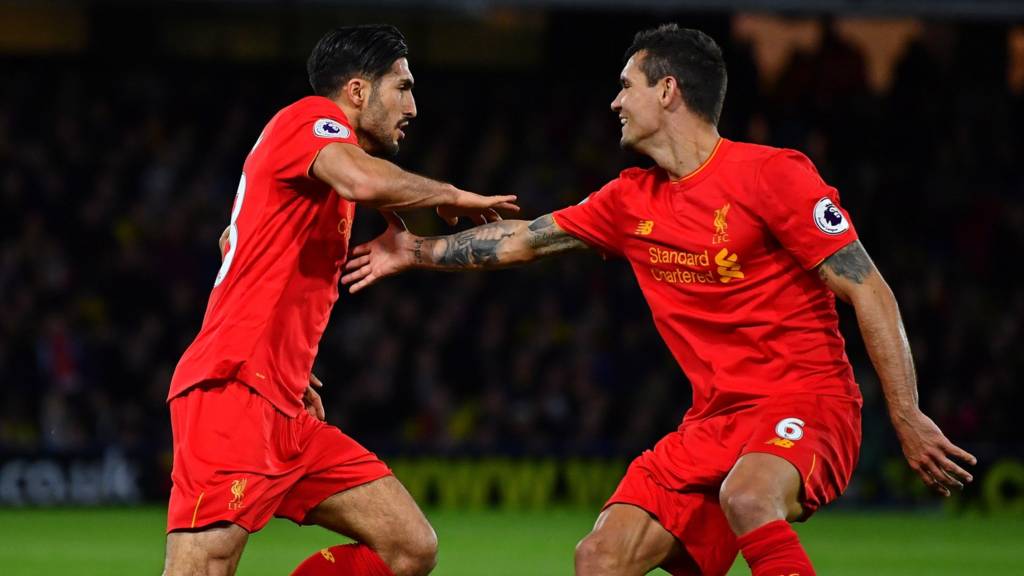 FT: Watford 0-1 Liverpool
That's all from the football - the snooker is going to the wire.

Watford have got three away games in a row coming up - at Leicester, Everton and Chelsea, before a home game against Manchester City.

You can see why some fans are saying that they won't get another point. 

Liverpool have got Southampton at home, West Ham away and Middlesbrough at home left. Win the lot and they are in the Champions League. 

We didn't deserve to lose - Mazzarri

Watford 0-1 Liverpool

Watford manager Walter Mazzarri: "We didn't deserve to lose. Today we were a team that was very unlucky. We played against a team that creates five or six chances on goal.

"We were unlucky in the second half because Deeney had a clear chance and he wasn't offside.

"Their wonder goal means nothing is going on our side because first real chance they had - and it wasn't really a chance - they took it."

Watford boss Walter Mazzarri says that his side didn't deserve to lose and were unlucky. 

'The goal was spectacular'

Watford 0-1 Liverpool

Liverpool manager Jurgen Klopp, speaking to Sky Sports: "It feels really good as you can imagine. It was a difficult game to play, we started really well and then we had to change Phil, who is very important player, and Adam Lallana coming on after so long out.

"We started patiently, played football and tried to create moments. The goal was spectacular of course.

"It was clear we have to work and that is what we did. It won't be easy for anyone to win here.

"We needed a bit of luck but we worked hard for it. They did not have a lot of situations but it was difficult to defend.

"We needed to be careful and I think the boys did well. I'm fine with the performance."

Pass master

Watford 0-1 Liverpool

Lucas Leiva has registered three assists in his last five Premier League appearances, as many as in his previous 163 in the competition.

Jurgen Klopp is in front of the cameras now. No opinion on black ball gate but he does say that losing Philippe Coutinho so early was a major blow. 

SMS Message: Liverpool realistically need to be fighting for not just CL football, but third place. Knowing Liverpool, we could so easily bottle the 3rd qualifying round. That means winning games by more than a one goal margin. from Ashwin, Cambridge

Still no sign of Jurgen Klopp or Walter Mazzarri. Can only presume they are watching the snooker. 

'Best goal I've ever scored'

Watford 0-1 Liverpool

Liverpool matchwinner Emre Can, speaking to Sky Sports: "I have never scored a goal like that - maybe when I was younger. That is the best goal I've ever scored. 

"I saw the space and I ran behind and my first thought was that I wanted to head it, then I didn't think too much. 

"But the most important thing was three points after knowing what happened yesterday. It was a big game for us.

"Everything is in our hands. If we win the three games we are in the Champions League. We are confident. If we perform how we can perform then we can do it."

Post update

Watford 0-1 Liverpool

No sign of either manager yet. This is a visual representation of what the win meant to Jurgen Klopp though. 

Some massive sporting controversy over in the snooker, where the World title may hinge on whether Mark Selby actually hit the black or not.

Follow the latest here... but Geoff's certain

SMS Message: The black clearly oscillated, it's blatant on the replay. Could that swing the match in Higgins' favour? from Geoff D

SMS Message: As a Watford supporter I'm genuinely concerned. We don't look like picking up another point this season and I'm not sure that 40 will be enough. from Gavin Ucko, Edgware

You won't be surprised to hear that Emre Can 'has never scored a goal like that.'

Not many have!

Post update

FT: Watford 0-1 Liverpool

Mark Schwarzer

Ex-Middlesbrough keeper on Radio 5 live

Liverpool were almost made to pay for not taking their opportunities during the game.

They rode their luck but in the end the result was all that matters - people will forget about the chance at the end and the performance overall.

The result gives them an extra boost ahead of their final fixtures.

Get involved

#bbcfootball or text 81111

Sean McGreal: In terms of champions league football that could be a priceless crossbar for Liverpool

Dan Washbourne: with United still to play Spurs in the mood they're in, I don't think they'll be making up that gap this season.

Post update

Watford 0-1 Liverpool

All smiles and high-fives from Jurgen Klopp. He knows that could end up being a big win. He runs and hugs Sebastian Prodl too, before picking up Emre Can.

A sensational goal has settled a pretty ordinary game. 

FULL-TIME

Watford 0-1 Liverpool

Emre Can wins it. 

HITS THE WOODWORK

Watford 0-1 Liverpool

Off the bar! 

Almost another cracker from an unlikely source! And Watford are so unlucky. They do stick the ball into the area, it's not dealt with and Sebastian Prodl is the man arriving at the far post. It's at an awkward height, bouncing knee-high, but he smashes the crossbar with his left foot.