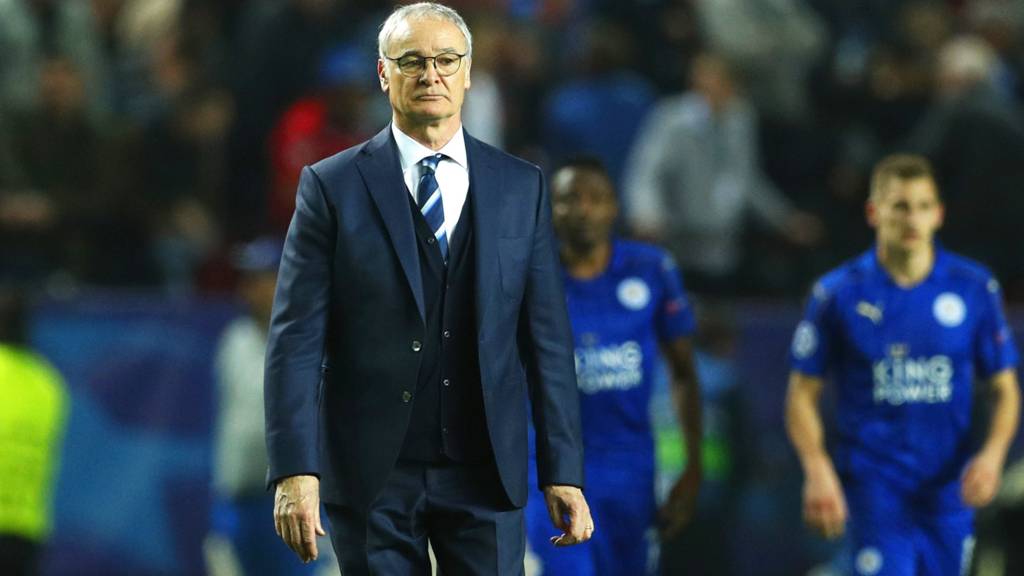 Reaction to Ranieri sacking as it happened
Former Leicester City striker Steve Claridge seems to have sympathy with Claudio Ranieri...

'We will fight together until the last breath of fearless foxes'

Leicester chairman Vichai Srivaddhanaprabha on Instagram: "This has been the most difficult decision we have had to make. 

"But we are duty-bound to save the club's long-term interest above all sense of personal sentiment, no matter how strong that must be. 

"His warmth, charm and charisma, we will forever grateful for what be helped us to achieved.  

"We will fight together until the last breath of fearless foxes. Big thanks to everyone who still trust the team."

A long nine months...

Ranieri sacked by Leicester

In May, La Gazzetta dello Sport led on news of a king. What a difference nine months makes.

Copyright: Gazzetta dello Sport

Get Involved

Tweet us on #bbcfootball

Niall: If Vardy got on the end of more crosses than he did photoshoots, his manager might still be in a job. 

Rod LeGybe: Sacking Ranieri. A move only a coward would make, when you need the stomach for a fight never look to the chairman. 

Plot lost

Ranieri sacked by Leicester

Michael, a Leicester fan, calls BBC Radio 5 live and says Ranieri had "lost the plot" in recent weeks. Another fan adds that no-one at the club knew how to handle the summer after the unexpected feat of winning the title.

Tweet us your thoughts on #bbcfootball, listen to 5 live by clicking 'live coverage' at the top of this page.

Dan Roan

BBC Sports editor

Claudio Ranieri was told he was sacked this afternoon in Leicester once the team returned from Spain but the suggestion is that the owners decided before that defeat by Sevilla.

The decision was taken very reluctantly but the owners are desperate to avoid relegation and its consequences.

Who next at Leicester?

Ranieri sacked by Leicester

Jonathan Northcroft

Sunday Times football correspondent on Radio 5 live

I think the owners here will try to do something glamorous. 

Ranieri has under-performed. I just think the boost of a new manager will lift the players and keep them up.

Y ou can listen now, just click 'live coverage' at the top of this page.

Post update

Tottenham 2-2 Gent (agg 2-3)

Former Italy striker Christian Vieri is displeased by Claudio Ranieri's departure from Leicester.

Who next?

Ranieri sacked by Leicester

John Motson

Match of the Day commentator

I think there will be so many names in the frame, no-one knows. This feels like such a knee-jerk reaction to the Sevilla game. Martin O'Neill? I don't think Alan Pardew will fancy another relegation scrap, Mark Warburton?

Post update

Tottenham 2-2 Gent (agg 2-3)

Tottenham manager Mauricio Pochettino, speaking to BT Sport: "I am very disappointed. Once again we were excited to play today in front of our fans. We started well and scored. The tie was open but we conceded a goal in one action in the first half. After that it was complicated.

"I was very proud. We were brave and created chances and scored the second but could not get another. In the second half we played with energy."

Roy at Foxes?

Ranieri sacked by Leicester

Pat Murphy

on BBC Radio 5 live

There is a man who is calm, respected and has the experience of getting a team out of the hoodoo, his name is Roy Hodgson.

Gary Wood:  At least Dele Alli chose a good news night to bury an absolutely horrific challenge. Near-political genius!

Joshua Edwards:  Fans need to understand that they are no longer supporting a team playing sport. They are cheering a business making money.

Dan Nixon: Looks like the Tinkerman paid the price for not tinkering enough. Ranieri stayed to loyal to players that had peaked.

Roberto di Matteo anyone?

Ranieri sacked by Leicester

Di Matteo's been out work since being sacked by Aston Villa in 2016... who would you replace Claudio Ranieri with?

'We weren't good enough'

Tottenham 2-2 Gent (agg 2-3)

Tottenham forward Christian Eriksen, speaking to BT Sport: "We are very disappointed with what we did today and over two games against Gent.

"They did not have a shot in the first half but still got a goal. We gave it away after getting in front. We weren't good enough in our finishing or our final pass.

"Overall, we did what we could. The ref was not on our side either. Even with 10 men we had chances to get the winner. We can blame the ref but we had our chances and we weren't good enough."

What positives can Spurs take from the game? "Not much."

Oh. My. Word.

Europa League round-up

Image caption: Nabil Fekir scored three times for Lyon

Some incredible results in the other Europa League ties, Lyon beat AZ Alkmaar 7-1 and even more outrageously 11-2 on aggregate. 

The game of the night was in Italy, where Fiorentina blew a 2-0 lead against  Borussia Monchengladbach which ended 4-2 (4-3 on aggregate) to the German side.

Belgian side Genk defeated  Astra Giurgiu 1-0 (3-2 on aggregate), with FC Rostov also progressing as they drew with Sparta Prague 1-1 (5-1 on aggregate).

FC Copenhagen  drew 0-0 with Ludogorets , but are through 2-1 on aggregate. 

We also have one game going to extra time, Shakhtar Donetsk are level 1-1 with Celta Vigo on aggregate, with the Spanish side leading 1-0 on the night. 

You can watch the Premier League Show right now on BBC Two (if you are in the UK and have a TV licence).

Gary Lineker meets Juan Mata to discuss life at Manchester United. Gabby Logan travels to Swansea City and speaks to manager Paul Clement and midfielder Gylfi Sigurdsson.

'He will feel let down'

Ranieri sacked by Leicester

Italian-based journalist Gabriele Marcotti speaks to BBC Radio 5 live: "For it to come like this, 16 days after the statement of support, you'd have thought if there was one club, set of owners or fans, who believed in keeping the dream alive, it would be this lot.

"I think he formed a deep bond with Leicester. This is the only title he has won. I think he will be feeling let down. He knows how football works. My understanding is he really bought into that statement 16 days ago.

"To me, Roberto Mancini as the next manager is a strange one. I don't think he has ever managed a struggling side. He's a clever manager but tactics are only part of the job."

You can listen now, just click 'live coverage' at the top of this page.