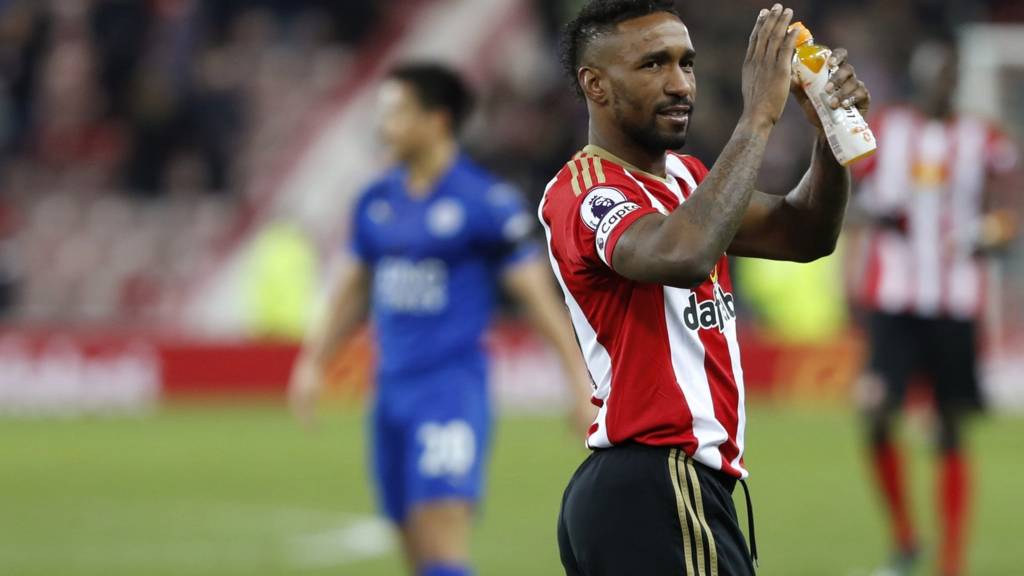 Palace beat Saints, Spurs win 5-0, Sunderland edge out Leicester
Post update

West Ham 0-1 Arsenal

Nice of Angelo Ogbonna to carry on with today's theme of defensive howlers. 

The West Ham defender passes out from the back, sees the ball cut out by Francis Coquelin and allowing Alexis Sanchez to lay it on a plate for Mesut Ozil.

If you've missed out on any of the action from the FA Cup second round today, we can tell you that famous giantkillers Sutton United have booked a place in the third round with victory over Cheltenham Town. You can watch highlights from all of the matches right here.

Post update

West Brom 3-1 Watford

Watford captain Troy Deeney: "It's frustrating. The fundamentals are that we conceded two goals from set-pieces. We know what Tony Pulis is all about and it was a Pulis-style game.

"We dominated, but didn't take our chances. When you don't take your chances there's no point playing well.

"McClean has a style of tackling that got him in trouble last year. He did it on me, then he did it again. I don't think he tries to hurt people, but twice in two minutes is interesting."

Post update

West Brom 3-1 Watford

West Brom boss Tony Pulis speaking to BBC Sport: "What has happened off the pitch has happened and I disagree with the judgement. 

"It was tough. Watford are very strong physically. We have had to stand up for ourselves.

"I'm more disappointed with the one we conceded from a set piece. They went zonal today. 

On the players' melee: "I was more concerned about James McClean. Trouble seems to follow him around. I was more concerned with keeping him out of trouble.

"The lad (Roberto Pereyra) has kicked out. Whether you catch him or not it is the intent. 

"We have good spirit here. They are playing well. I am very pleased with Matty Phillips today. In a lot of areas we have had to grind it out."

Loveof Football: What's going on at Leicester? Gradually playing towards a relegation scrap. not saying win the league again but guys.

'We are in a relegation battle'

Sunderland 2-1 Leicester City

Leicester City manager Claudio Ranieri on BBC Radio 5 live after their defeat at Sunderland: "This moment is not the right moment for us. We wanted to get points here but of course it was a relegation battle, they won, well done to them. They started stronger than us in the first ten minutes. Both teams wanted to win. They scored with our own goal. 

"I said two, three weeks ago, always I look behind me. We are in the battle of relegation. For this reason we must stay calm, together and continue to work hard."

Ramos to the rescue

Barcelona 1-1 Real Madrid

All of today's excitement has not been restricted to the English Premier League.

It has been El Clasico dia over in Spain. While there were no pig's heads being thrown, or anything equally as barmy, it was eventful.

Luis Suarez put Barcelona ahead before La Liga leaders Madrid stole a late point through Sergio Ramos's stoppage-time equaliser.

'We have a long way to go'

Tottenham 5-0 Swansea

Swansea Bob Bradley speaking to BBC Radio 5 live about Tottenham's penalty: "I didn't think the referee was in a good position and that certainly changed the game.

"Today is a big concern. I think the starting point was Tottenham, physically, got to every ball faster. On a day like today it feels like we have a long, long way to go.

"There have been other days where I think there have been promising signs. We have work to do. We knew coming here today was going to be particularly difficult. We have to learn from it but go forward quickly." 

KICK-OFF

West Ham 0-0 Arsenal

You've already had five hours of Premier League fun. And it is not over yet. There's the small matter of a London derby.

Fourth-bottom West Ham are in desperate need of three points. Unfortunately fourth-placed Arsenal, who could go second, stand in their way. 

It's kicked off at the London Stadium. Follow all the action here.

'Today was the best we've played'

Sunderland 2-1 Leicester City

Sunderland manager David Moyes, whose side are up to 18th and a point from safety, on BBC Radio 5 live: "I thought we played well today, probably the best we've played. We made a few chances in the first half but we maybe lacked that final pass. Fortunately we got the goals.

"I think the performances have been growing and we've been getting better. We've been showing signs of improving in attacking and defending. I thought for the majority of today's game we did that.

"It is the most momentum we have had since I've been here. We want to keep it going but we know how tough it can be. The players are playing better and they're performing.

"To have confidence makes a big difference. If you go into it confident it gives you a great belief. For most of the game I didn't think we'd concede a goal."

'There was more pressure at Newcastle'

Crystal Palace 3-0 Southampton

More from Crystal Palace manager Alan Pardew: "I'm pleased for the club and it was important that we won today. The discipline was good. 

"When the pressure racks up in the Premier League it's hard but we got the balance right and we had some good attacking play.

"When you've been manager at Newcastle and the whole town lives and breathes football, you have to be able to cope with pressure. The pressure sometimes there was intense. It wasn't as bad this week.

About the thumbs-up he gave his chairman Steve Parish: "We have a lot of serious investors at the club who perhaps don't know a lot about football so the chairman has been defending me this week, so I just wanted to say thanks."

Post update

Crystal Palace 3-0 Southampton

Southampton manager Claude Puel: "It is frustrating because it was a good opportunity for us to stay in the top half of the table. The first-half performance was not sufficient. We just played for the last five minutes. 

"We tried to play in the second half with good movement and we created chances, but it was not enough to win the game. We did not keep good concentration. It was a bad day."

On Fraser Forster's howler: "Perhaps it was bad luck but it happens. The pitch today was bad but it is not an excuse."

Post update

Crystal Palace 3-0 Southampton

Crystal Palace manager Alan Pardew: "It's hard to push your players and keep them in the right frame of mind after last week's result (a 5-4 defeat at Swansea).

"But the one benefit from this team is we'll always score and now we have got the clean sheet off back hopefully this will be a turning point.

"It wasn't our most fluid performance but we worked hard. Christian Benteke and Andros Townsend played well but the plaudits have to go to our back four. 

"I thought we had the right balance between being cautious and also showing some flair."

'We could have scored more'

Sunderland 2-1 Leicester City

Sunderland striker Jermain Defoe on Final Score: "Leicester are a great side, the champions, but our energy levels once again were good, setting the standard from the first minute. From the goalkeeper all the way through the side, everyone played their parts and did well, and it's three points.

"You're now seeing what our new lads and our manager can do. We're improving so much and it's exactly what the manager wants. 

"We could have scored more, but at 2-1 we'll take that win against a good side."

Post update

West Brom 3-1 Watford

West Brom goalscorer Matt Phillips speaking to BBC Sport: "Confidence is running through the side at the moment and we played some good football.

"We work very hard on set-pieces. Our job is to get the ball into the box and we know we have got players who can score."

'The first step in the right direction'

Crystal Palace 3-0 Southampton

More from Crystal Palace defender Damien Delaney: "We've not been great as a group of late. We're the first to admit that, and though today is the first step in the right direction there's still a long way to go. 

"The aim is always to keep a clean sheet, but we haven't been getting them. So we'll enjoy ourselves tonight."

Think Lee Bowyer and Kieron Dyer. Or, if you're a bit older, Graeme Le Saux and David Batty.

Now add Jermaine Beckford and Eoin Doyle to the list. The Preston forwards have a real ding-dong in the latter stages of their team's 2-1 defeat at Sheffield Wednesday - and are both sent off!

One to keep an eye on...

Elsewhere, Fulham and Norwich both earn thumping 5-0 wins against Reading and Brentford.

Fourth-placed Birmingham were beaten 3-0 at home by Barnsley, meaning Leeds United can move above them if they beat Aston Villa in the match which is just about to kick-off at Elland Road.

JH: Leicester's focus is on the Champions League and who can blame them. 

Craig Stuart: Bob Bradley to Swansea already looking like one of the worst managerial appointments in Premier League history.