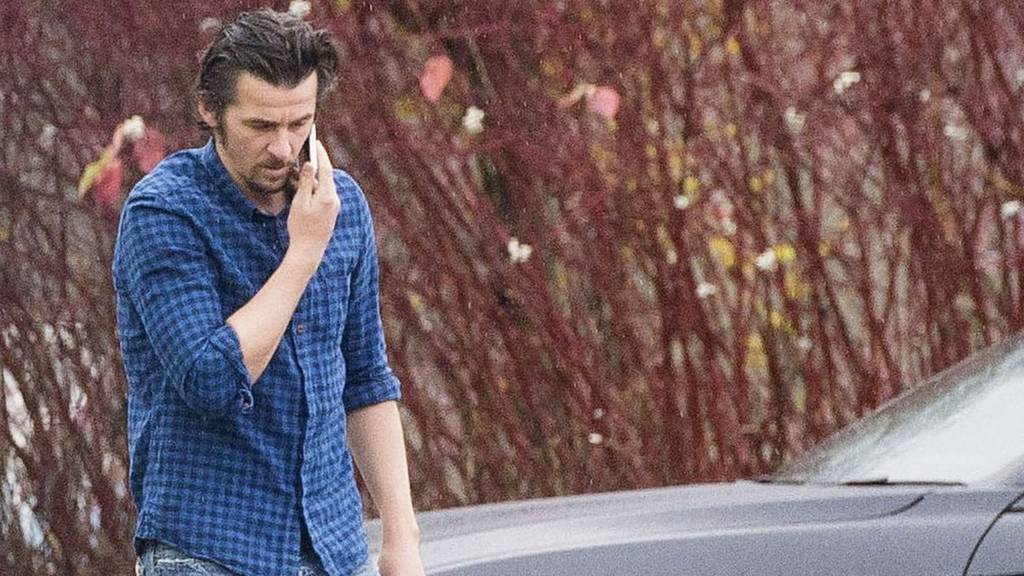 Scottish football news as it happened
Summary
Joey Barton pictured at Rangers' training centre
Scotland players to wear poppies on armbands at Wembley
Scottish FA will defend its stance should Fifa impose a sanction
Dropped points at Inverness "rankles" Rodgers
That's all for today. Please join us again tomorrow morning for more live Scottish football news.

Scobbie back for Saints but Davidson out

Hearts v St Johnstone (Sat)

Defender Tam Scobbie is back in St Johnstone's squad ahead of Saturday's trip to face Hearts, following almost three months out with a knee injury.

However, midfielder Murray Davidson will be out for up to six weeks with a fractured ankle - an injury sustained in the warm-up that preceded last week's draw with Rangers.

"Tom got injured against Hearts [in August] and had his operation and got back in good time, the time we expected him to be back in," said Saints manager Tommy Wright.

"Murray has seen a specialist and there is no need for an operation. The good thing about Murray is that he seems to recover quickly and is a good healer so hopefully that is the case and it will be a shorter period."

Image caption: Scobbie (far left) and Davidson (far right) in action against Motherwell last season

Dyche not drawn on Barton situation

Burnley manager Sean Dyche has been asked about former Turf Moor midfielder Joey Barton, who faces an uncertain future at Rangers.

"It's definitely nothing to do with me, I've made that clear any time I've been asked about Joey Barton," said Dyche, who worked with Barton last season as the Clarets won the Championship in England.

"He was terrific for me, he's gone up there and whatever's happened up there is for them to sort out and deal with. It looks like there is a bit of forward thinking from all parties, from what I read in the papers."

Taylor may return for Dons at Firhill

Partick Thistle v Aberdeen (Fri, 19:45)

Aberdeen will give defender Ash Taylor every chance to be fit for Friday's meeting with hosts Partick Thistle, who are without five players.

Image caption: Taylor has missed Aberdeen's last three matches

You can follow Partick Thistle v Aberdeen on BBC Radio Scotland 810MW/DAB and on the BBC Sport website

Cadden extends stay at Fir Park

Motherwell confirm that midfielder Chris Cadden, 20, has signed a new deal with the club.

Thommo's Premiership predictions

It should have been 10 wins in a row - Rodgers

Richard Wilson

BBC Scotland at Lennoxtown

Brendan Rodgers admits it still "rankles" that Celtic dropped their only two points of the season against Inverness in September, to deny his side a 100% record.

A last-minute Alex Fisher goal secured a 2-2 draw for Richie Foran's side at the Caledonian Stadium, and Rodgers believes it is a game his team should have won.

"We should have 10 [wins] out of 10," the Celtic manager said, as his team prepares to face Inverness again on Saturday. "We conceded late on, on the back end of the Barcelona trip.

"We put in a good performance that day, we just didn't take our chances and, of course, when you don't take the opportunities something like that can happen.

"Inverness didn't start so well in the season, their football was a little but nervous and they played more direct then, but I saw on the day that they had some good players with good quality.

"Their last results have shown they're starting to play more football now, passing the ball, they scored some good goals against Hearts last week, but will be disappointed with the goals that they conceded.

"Inverness got the result in the end, but I'm really happy with how the players are improving. For this game, the last one before the international break, we want to ensure there are no slip-ups."

Image caption: Celtic and Caley Thistle shared four goals in the Premiership in September

Caley Thistle plan to 'have a go' at Celtic

Martin Dowden

BBC Sport Scotland

Inverness Caledonian Thistle manager Richie Foran has been looking ahead to his team's visit to Celtic Park on Saturday.

"There used to be a fear factor years ago going to Parkhead and Ibrox. You'd be saying to your team, 'just keep the score down'.

"The mentality has changed a wee bit. Teams will go and have a go. We'll be no different. They're very strong this year. I don't think the gap is as big as what people are saying.

"They've probably got that extra bit of firepower. Mistakes you make against them, they're going to punish you.

"Go embrace it, take the ball, have a go. You don't want to go in there and sit in and be scared or worried. You've got to be clever. You don't want to get slaughtered.

"We'll probably play a wee bit different. We're on fine form. We've taken points off Celtic already.

"We pushed Rangers, drew at Aberdeen, we drew with Hearts. We've shown we can put in good performances against these top sides."

Carl Tremarco and Aaron Doran miss out with short-term injuries, Fon Williams, Billy King and Larnell Cole are available.

Image caption: Richie Foran scored for Inverness in a 2-2 draw with Celtic in Glasgow in August 2013

Image caption: Having become a dad again, playing well for his club and named in the Scotland squad for the match against England at Wembley next Friday after ending his international retirement, Scott Brown evidently is feeling insulated from the first winds of winter at Lennoxtown, unlike his Australian team-mate Tom Rogic who has had to dig out his gloves

Brown 'bossed' Old Firm game

Neilson on the pressures affecting players

Brian McLauchlin

BBC Sport Scotland

Hearts head coach Robbie Neilson says the pressure put on players in football in the modern day game can lead to depression. Neilson says there are occasions when too much is asked of young players but there are other times during players' careers when they can encounter problems.

"There are different aspects of it," explained Neilson.

"There is the young player coming through who is trying to break into a team and has that pressure of performing. You have players who through their career pick up injuries, you have players who are coming to the end of their careers and think, 'what is the next chapter going to be?' 

"Football is a fantastic career to be in because you get to do something that you love but it can be a very difficult career as well. You have the unknown. Players will sign six-month contracts so think where will they be in six months' time. You don't know. What if you get an injury? If you are coming to the end of your career what are you going to be? It can be a difficult time and that's why my role and all the coaches here at Hearts along with the PFA and the SFA try and help young players."

Hearts have a system in place to try to watch out for players who may be suffering from depression, and are working with the football authorities on the subject.

Neilson added: "We have Dr Carrie McCrea spearheading a pilot scheme through the SFA and Uefa working with us to try and help the players. It's the same in every walk of life. It gets accentuated in football because the spotlight is on players and it's something we need to try and help them with."

Fifa wrong over poppies, says Wenger

England v Scotland (11 Nov)

Fifa is wrong to ban poppies on shirts for the World Cup qualifier between England and Scotland on Remembrance Day, says Arsenal boss Arsene Wenger.

SFA ready to defend stance over poppies

The Scottish Football Association is prepared to challenge any Fifa sanction imposed for Scotland players wearing poppies on armbands at Wembley, its chief executive has told BBC Scotland.

The SFA and the FA are likely to fall foul of Fifa rules when the players display poppies at the England-Scotland match next Friday - Armistice Day.

"We think that Fifa is misinterpreting the rules and we would be prepared to challenge that," said Stewart Regan.

On the back pages

Thursday's Scottish gossip

Midfielder Joey Barton has been "banished to train with Rangers' kids" and will never again play for the first team (Sun)

Scotland boss Gordon Strachan thinks Scott Brown's loyalty means more to him than any of his greatest trophy triumphs. (Daily Record)
With his team fourth in the Scottish Premiership, and facing a trip to Partick Thistle on Friday evening, Aberdeen manager Derek McInnes describes the Dons' opening quarter of the league campaign as "decent". (Herald)

Tonight on Sportsound

18:30 GMT, BBC Radio Scotland 810MW/DAB/online

More from Mills on the podcast

To hear more of Sportsound's interview with Danny Mills, you can listen to the BBC's Scottish football podcast by clicking the audio icon above.

Mills hopes England 'thrash' Scotland - if they don't 'freeze'

England v Scotland (11 November)

Former England defender Danny Mills also gave his views on next Friday's England v Scotland game.

"I'm going to say Scotland have got no chance," he told Sportsound.

"That's in my heart. Sadly, in my head, these games are always close. We saw the way Celtic raised their game to play against Manchester City. There's every chance that Scotland will do that against England and that worries me slightly. 

"In these sort of games, Scotland are undoubtedly the underdogs. I've seen it with Scotland, with Northern Ireland, with Wales – they relish this opportunity to play against England. It's bragging rights for however long.

"England are expected to win. England players of late have been going into their shell and freezing on the big occasions and if they're to do that and Scotland perform 10-15% above their normal, it's going to be a very, very close game.

"I'd love to say England are going to thrash them."

Mills expects 'difficult' road for Barton

Joey Barton's former Manchester City teammate Danny Mills expects life to be "very, very difficult" for the midfielder unless or until he gets a move from Ibrox.

Mills expects Barton to be training away from the Rangers first team and told BBC Radio Scotland's Sportsound: "I think training with the kids will frustrate Joey."

Another day, another Joey Barton story

Today's Scottish football news begins with Joey Barton's return to Rangers' training centre at Auchenhowie.

The club announced on Wednesday that disciplinary proceedings against the player had been concluded and he was to "return to full-time training".

This morning, the 34-year-old was pictured holding a pair of football boots in the training centre car park.