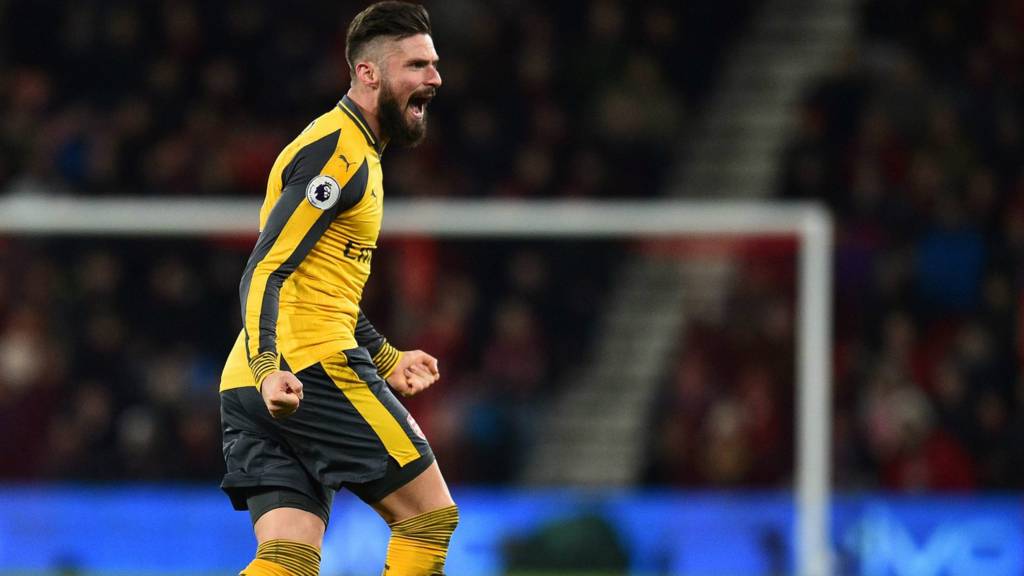 Stunning Arsenal comeback, Phelan leaves Hull, Swansea beat Palace
Summary
Result: Bournemouth 3-3 Arsenal
Arsenal come from 3-0 down to earn a point
Gunners score three times in final 20 minutes
Bournemouth's Francis sent off late on
Result: Palace 1-2 Swansea - Rangel scores late winner
Result: Stoke 2-0 Watford - Shawcross & Crouch
And that is that from us for another action-packed evening.

See you tomorrow for Spurs v Chelsea? Go on then. 

Big Sam will be hitting the phones tomorrow, looking for a flat south of the river and two wingers.

Sam Allardyce also says it is critical that his club get into the transfer market as he is losing Wilfried Zaha and Bakary Sako to the Africa Cup of Nations. 

'You can see it with your own eyes'

Crystal Palace 1-2 Swansea

Crystal Palace manager Sam Allardyce: "It's easily identified, the lack of energy the players had showed massively. We struggled to keep up with Swansea, we hadn't recovered properly.

"I should have made more changes bu I still don't know the squad too well.

"The second half was ours, we saw a wonder goal from Wilfried Zaha that should have got us at least a point. But we switched off and it's massively disappointing.

"You can see it with your own eyes, you don't need to be a football manager. Some people say it's rubbish but it's not, the players were trying 100% but they were not physically able to reach their usual levels. They are shattered.

"It's beyond our control, certain elements. But we can defend better for the two goals and our first-half performance was nothing like I expect to see from my team."

Difference of opinions...

Crystal Palace 1-2 Swansea

Crystal Palace defender Damien Delaney is told that Sam Allardyce blamed the defeat on the fact Swansea had an extra day's recovery:

"It's possible but as a player at this level you should be fit enough."

'It is not a positive period'

Stoke 2-0 Watford

Watford head coach Walter Mazzarri: "We played well, but two episodes, two mistakes, and they managed to score goals. We could have scored before them and we didn't do it, but we demonstrated we can play against a difficult team like Stoke.

"We have to keep going and give everything for the next match. Nothing is going our way, so it is just a period we are not lucky but we need to change this.

"We have many injuries, so it is not a positive period."

'We surprised people'

Crystal Palace 1-2 Swansea

Swansea first-team coach Alan Curtis, who picked the team that beat Crystal Palace 2-1, said: "It is a terrific result for us and a huge three points. The first half performance, we were excellent and we could have gone in with more than the one goal.

"We have been accused of lacking character but we came back and won it and I thought we deserved it. In training you can see the players have the ability, it is just the confidence that has been lacking. We deserved some luck today.

"Any team under Sam Allardyce will come on strongly, they have some terrific players. We had 24 hours more rest compared to them and that may have made a difference."  

On the club's new manager Paul Clement, who joined Curtis in the technical area later in the match, Curtis added: "He came down for some moral support, he made his presence felt at half-time, but there was not too much to say. We would have surprised a lot of people with our performance today."

'It wasn't an even playing field'

Crystal Palace 1-2 Swansea

Crystal Palace manager Sam Allardyce: "What went wrong? Not enough recovery time, no doubt about that. the energy of the players just couldn't get us in the faces of Swansea, they had an extra day and that told. You could see that.

"Our lads put so much in against Arsenal and you saw the effects of that. It wasn't an even playing field. 

"It's difficult to take. We have all the science we have, we know the fatigue levels and the high intensity runs the players make and we knew they wouldn't be able to make them tonight. And they couldn't. Perhaps I picked the wrong side, I should have changed four or five.

"Whether you're tired or not you have to play and I told them that at half time. I was baffled with our first-half display, we were lumping the ball to Christian Benteke and who told them to do that? They were confused.

"It was a blatant penalty on Christian Benteke, outrageous that it wasn't given. That would have been a great lift."

Crouch 'playing as well as ever'

Stoke 2-0 Watford

Stoke City manager Mark Hughes: "We have played better and been beaten in recent weeks, we got goals at good times and then saw the game out quite comfortably.

"We didn't really have to deal with too many moments of anxiety. It's good to get a clean sheet, because we have shipped some poor goals in recent weeks." 

On Peter Crouch being offered a new deal: "Peter has been playing really well and if you put balls in the right areas you know he is going to get on the end of things. 

"He's done very well and has good support. I am sure we will get something done - he is playing as well as he ever has done." 

Jon Evans: Gary Rowett shouldn't rush into a job. No way Hull is the best career move for him.

Meurig Jones: Given that Chelsea have only lost 8 points so far this season, this game has finished Arsenal. Only Liverpool can catch them.

Antonio: We have the Wenger trifecta:

Showed resilience
Lack of time between matches
Unlucky (!!) with ref decisions

Post update

Crystal Palace 1-2 Swansea

Swansea caretaker manager/coach Alan Curtis has nearly lost his voice but he says his side deserved the win tonight.

Full reaction to come. 

It's been a good few weeks for Chelsea hasn't it?

'It is not a penalty'

Bournemouth 3-3 Arsenal

Arsenal manager Arsene Wenger, speaking to the BBC: "At the start we suffered from the quality of Bournemouth. One team had over three days to recover and on top of that we suffered at the back. It was a physical test but we came back into the game and mentally it was a test and we showed we are mentally strong. I am happy to play every day but only if our opponent has done the same.

"We want to win the game and we wanted three points but on the other hand some big teams have dropped points here and when you're 3-0 down you have to acknowledge the qualify of the response of your team. I have mixed feelings but I must recognise my team has shown great mental strength."

On refereeing decisions (Arsenal conceded a penalty for a foul by Granit Xhaka, while Ryan Fraser's goal came after he appeared to push Hector Bellerin): "It is no penalty, or if it is then it's a foul [on Bellerin]. The push from Xhaka was much less strong than the push for the goal."

What a difference three points make. Swansea are on the move. 

'An absolute disgrace' says a Hull fan on 5 live reacting to the sacking of Mike Phelan.

It looks very harsh from the outside doesn't it? Although it is a results business. 

Bournemouth reaction

Bournemouth 3-3 Arsenal

Bournemouth manager Eddie Howe: "Fate conspired against us in several ways. I didn't think it was a sending off. I thought that was harsh but in the end the quality of their players showed.

"The emotion is one of disappointment but we can't forget what the players did in the first half of that game.

"Sometimes you get lost because you're working every day but we have to remember how far we've come and what we're doing and at what level. But we're here to win which is why this hurts so much."

Jon Batham: Sacking of Mike Phelan by Hull City a farce. Given resources he's done well to keep in contact. What did Hull owners expect?

Craig Reeves: Can't help but wonder what #HullCity expected of Mike Phelan, as they approach a League Cup semi-final with Man U next week.

Jack: What a improved performance from the Swans. Desire, effort and resilience. Was Bob the problem? Come on the Swans!!!! 

Ope Mosuro: Chelsea must be loving these new year fixtures, first Liverpool and now Arsenal dropped points in winnable games

Paul Murphy: Get promoted. Don't spend money on quality players. Sack manager. Yep, I can see your logic @HullCity

Vincent Wood: Some people will tell you, "you cannot love & hate the same thing at the same time." Those people have never supported Arsenal

'We refused to lose'

Bournemouth 3-3 Arsenal

Arsenal manager Arsene Wenger: "They started much faster and with 20 minutes to go we were 3-0 down so that's a mental test. We refused to lose the game.

"Bournemouth deserve a lot of credit but the disadvantage is too big to play against a team with three and a half days recovery. That's too big a handicap. But they are a good team with quality and they played with pace.

"We had some players at half time who had problems. I changed it early in the second half and I believe we refused to lose. There's a great resilience in the team and we saw that today.

"We dropped two points but we have to do better in the other games and hope other teams will drop points.

"It was not a result we wanted before the game but at 3-0 down we'd have signed for 3-3.  We were unlucky in some decisions tonight."