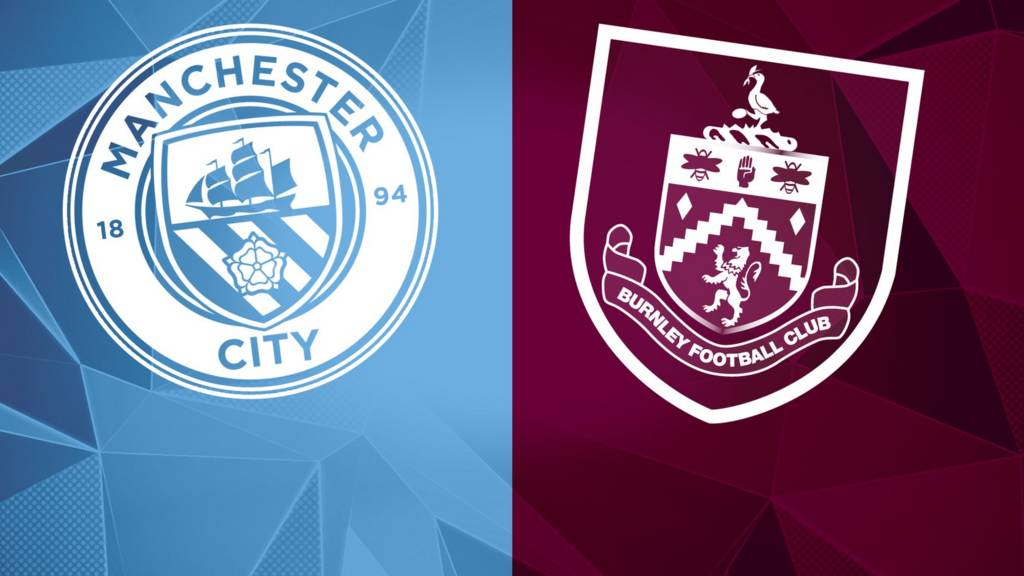 Summary
Mee reduced arrears against former club
Aguero - brought on at half-time - scored from a tight angle
Clichy netted with low, right-foot shot from edge of area
City skipper Fernandinho sent off for two-footed challenge
FULL-TIME

Man City 2-1 Burnley

CLOSE!

Man City 2-1 Burnley

Claudio Bravo goes full stretch to tip over Michael Keane's bouncing volleyed effort.

That very nearly sneaked up, over and in...

INJURY TIME

Man City 2-1 Burnley

A minimum of five minutes extra to be added at the end of normal time.

CLOSE!

Man City 2-1 Burnley

Was that the chance?

Andre Gray shanks a volley wide from 15 yards as City's defence creaks under pressure.

John Stones is on in place of Raheem Sterling for the hosts.

SUBSTITUTION

Man City 2-1 Burnley

Sean Dyche puffs his cheeks as Sergio Aguero goes on a solo run and cracks an ambitious effort over the top from distance.

The Burnley boss's men have four minutes to get something out of the game.

Scott Arfield is being replaced by Patrick Bamford.

Post update

Man City 2-1 Burnley

Stephen Ward has been 'robust' all afternoon and that is another tackle that did not beat around the bush.

David Silva is flattened down by the byeline.

No foul says Lee Mason to a chorus of jeers.

Silva is walking gingerly around the pitch perimeter. City briefly down to nine.

Post update

Man City 2-1 Burnley

Some of the dark arts from Manchester City as Kevin De Bruyne goes all mannequin challenge as he takes a corner.

A few more seconds nibbled off the clock.

Post update

Man City 2-1 Burnley

Sam Vokes flexes the neck muscles as he gets in front of Nicolas Otamendi, but his glancing header bounces just wide of the far post.

It was pretty much the same spot from where he scored for Wales against Belgium in the Euros and a decent chance.

Post update

Man City 2-1 Burnley

Burnley have sniffed blood.

Sam Vokes, off the bench in place of Ashley Barnes, gets a flick-on and Andre Gray is almost onto it.

At the other end though, Matthew Lowton manages to get a block on Sergio Aguero's shot as the Argentine pulls the trigger from 15 yards.

A grandstand finish in store.

YELLOW CARD

Man City 2-1 Burnley

City defender Bacary Sagna goes into the book for his protests following the goal.

GOAL Man City 2-1 Burnley

Ben Mee (70 mins)

This is right old mess. But the one thing we do know is that Burnley are back in the game.

Claudio Bravo starts a game of volleyball in the City box as he comes and fails to claim a corner, Ben Mee smashes the ball back goalwards, off the underside of the crossbar and - the video replay reveals - in.

City are arguing that Andre Gray headed the ball out of Bravo's hands, but that was after the ball had already crossed the line.

Goal stands.

Post update

Man City 2-0 Burnley

A two-goal cushion is a comfy perch for City.

Burnley have to come and press for a way back into the game and with the pace of Raheem Sterling, Kevin De Bruyne and Sergio Aguero going the other way, they are open to more counter-attacks.

GOAL - Man City 2-0 Burnley

Sergio Aguero (62 mins)

That is the quality that just won't be confined to the bench.

Raheem Sterling, reveling in the space as Burnley chase the game, goes in on goal, but the chance seems to have gone as he stumbles in front of a sprawling Tom Heaton and the ball heads towards the byeline.

But Sergio Aguero is not giving up on the chance.

The Argentine chases the ball down and from a vice-tight angle, threads a shot past Michael Keane and Matthew Lowton on the line, clipping the near post on the way to the back of the net.

GOAL - Man City 1-0 Burnley

Gael Clichy (58 mins)

It has come from an unlikely source, but City will take the breakthrough however it comes.

Gael Clichy chances his weaker right peg as he cuts in off the left flank and what his shot lacks in power it makes up for in accuracy.

A diving Tom Heaton cannot get to the ball as it worms its way into the far corner.

That is only Clichy's third goal for City.

Post update

Man City 0-0 Burnley

A massive chance for Sergio Aguero, but the City striker is a beat off the pace and Stephen Ward swoops in to deny him.

The ball had dropped to Aguero eight yards out, but instead of a first-time instinctive finish he takes a touch to allow the Burnley defender to dive in and clear.

Post update

Man City 0-0 Burnley

Scott Arfield slashes at an inviting loose ball from all of 35 yards, but sends the ball sailing high into the stand behind Claudio Bravo's goal.

Post update

Man City 0-0 Burnley

Scott Arfield slides in to get a toe to a bouncing ball ahead of Kevin De Bruyne, catching the Belgian in his follow-through.

It is right in front of the City dug-out and Pep Guardiola bounces up and down like a toddler denied ice cream.

It was a fair challenge though and Mason stays strong and waves away the hosts' protests.

Post update

Man City 0-0 Burnley

The arrival of  Sergio Aguero and David Silva seems to have put a tiger in City's tank.

A little more zip in attack, a little more urgency on the ball and a whole lot better than the end of the first half so far.

KICK-OFF

Man City 0-0 Burnley

Pep Guardiola motions to the crowd for more noise as he heads to the dug-out.

He looks distinctly peeved at either his team's first-half performance or the library-like atmosphere at the start of the second half. Or perhaps both.

Post update

Man City 0-0 Burnley

Here come the cavalry.

Sergio Aguero and David Silva have been ushered into the action.

Jesus Navas and Kelechi Iheanacho are the men to make way.

That has gone down well with the home fans.