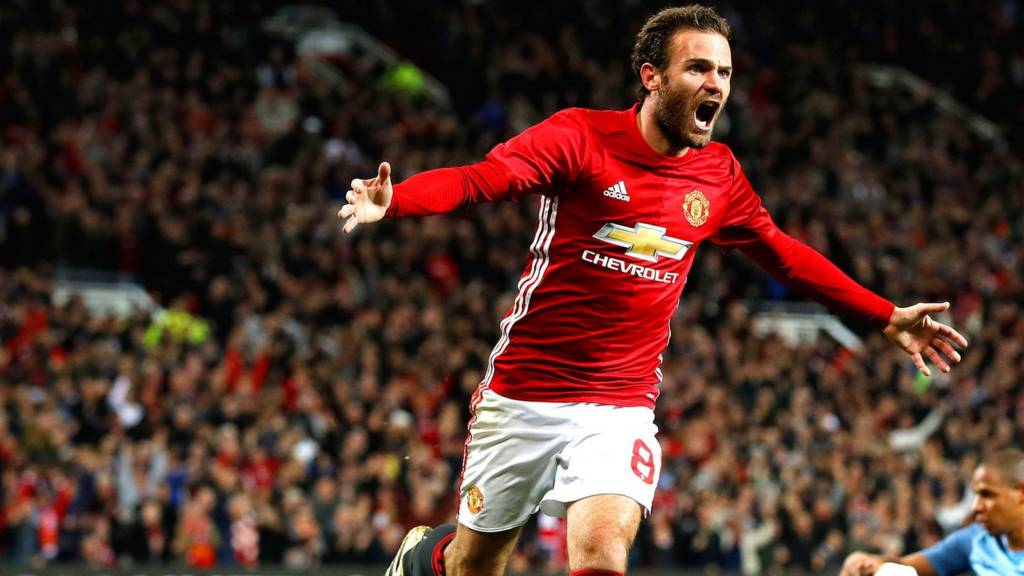 EFL Cup reaction and quarter-final draw
Summary
Result: Man Utd 1-0 Man City (Mata)
Result: West Ham 2-1 Chelsea
Seats and bottles thrown at London Stadium
Result: Southampton 1-0 Sunderland (Boufal)
Quarter-final draw: Man Utd v West Ham, Liverpool v Leeds, Hull v Newcastle, Arsenal v Southampton
And that is that from us tonight.

For the latest on all the night's stories check out the football page here.

EFL Cup quarter final

Hull v Newcastle

'West Ham deserved win'

West Ham 2-1 Chelsea

West Ham manager Slaven Bilic: "I think it was a good game of football, it deserves to be talked about. 

"I noticed it [the trouble] but I wasn't watching it so I really don't know what happened. The game was on. Whatever happened it's a shame and as a club and a team we are totally against it of course.

"I can't say we were perfect but we had a plan and the guys executed it in a great way. We were good in defending as a unit. We were really good in keeping the ball and stretching them and playing wide. In the first half it was great and I think we deserved to be more than one up."

'It was blatant'

Southampton 1-0 Sunderland

Sunderland manager David Moyes, who was dismissed after a penalty was not given late on: "I couldn't believe the referee didn't see. It for me was blatant, we didn't deserve to lose the game and we lost it to a special goal. 

"We had great chances to get through. It will change."

Chelsea result influenced Mourinho selection

Manchester United 1-0 Manchester City

Manchester United manager Jose Mourinho: "The players did everything and deserved to win. We are happy.

"In the last week everything went against us but we are professionals. The fans felt deeply such a negative result and today was a good chance to clear that feeling because a derby knockout and to win gives everyone a better feeling."

Asked if he played a stronger team than planned because of Sunday's 4-0 defeat by Chelsea: "Yes. We were on a good run of results but it was a big defeat - numbers that the history of this club doesn't deserve and when I'm in a club my heart belongs to the fans and I felt deeply for them. The reality is that I never had people like these ones. We lost 4-0 and they were supportive. Today the stadium was full of real support and it looks like the love people have for the club is bigger than bad results, bigger than three bad seasons. We must give something back. The players gave everything but even if we'd lost the feeling was fantastic because the players showed they really care and they fought for the fans."

Post update

West Ham 2-1 Chelsea

A fan at the West Ham game tells 5 live it "was an absolute nightmare" tonight and says "if they don't close that stadium someone will get killed there."

Wow. 

Home draws for the three 'biggest' teams left in the hat. 

Manchester United v West Ham

Post update

Southampton 1-0 Sunderland

David Moyes started his post-match interview with an extended, exasperated sigh. A really drawn out ahhhhhhhhhhhhhhhhhhhhhhh.

That doesn't sound great does it for Vincent Kompany? He hasn't played 90 minutes for six months.

'Vincent could not play any more'

Manchester United 1-0 Manchester City

Manchester City boss Pep Guardiola: "I'm proud of the young players and how they played. At that level you need to be more clinical with the last pass but it's difficult against United. We are happy. I want to try to win but now we'll focus on the next competitions."

Asked why Vincent Kompany came off at half-time: "Vincent told me he could not play any more."

Badger Cooper in London: Welcome to a properly competitive league Pep! It may not be the best but this is what it's like when anyone can beat anyoneDavid Berwick: Keep the faith Pep will guide us to the promised land

James Hardy: Great win tonight. City all over the place again, surely a crisis?  

'It was quickly dispersed'

West Ham 2-1 Chelsea

David Pleat

Former Tottenham boss on 5 live Sport

It was an exciting game in a great atmosphere, West Ham were excellent and Chelsea were good too. The game was first class.

In my opinion we have over egged this a bit. There was a hint of confrontation, arm waving gestures, and some hint of the usual rubbish.

You didn't see any real fighting as such and it was quickly dispersed. 

The draw for the quarter finals is coming up.

'A tough job for Pep'

Manchester United 1-0 Manchester City

Chris Waddle

Former England winger at Old Trafford for 5 live Sport

I think it will be a tough job for Guardiola to get his players to play like he wants in the Premier League, it will be very hard. 

I don't think he can get it out of this set of players.