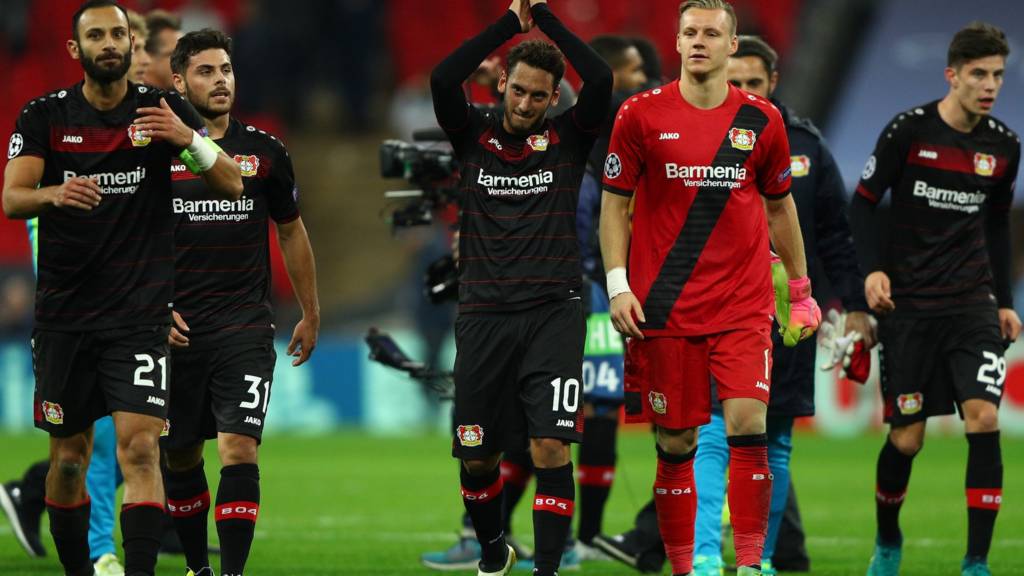 Champions League: Spurs lose, Leicester held
And that, ladies and gentlemen, is that.

See you all back here for the Europa League? 

Deal. 

'A draw is OK'

Copenhagen 0-0 Leicester

Leicester manager Claudio Ranieri speaking to BT Sport: "I am happy. The first 20 minutes was not so good but the second half was much better. 

"Kasper Schmeichel is a great keeper and we are very, very, happy. I was expecting this kind of match. I wanted to do more on the counter attack. We had a chance to score but a draw is OK.

"it is our first time in the Champions League, we want to be very, very attentive until the end."

Borussia Dortmund left out star man Pierre-Emerick Aubameyang tonight, with reports in the German media that he had been suspended by the club.

Manager Thomas Tuchel has been speaking, can he clear it up?

"It was an internal measure that was necessary from our point of view."

Right. 

Tomorrow sees the Europa League back in town of course, with Manchester United facing Fenerbahce and Southampton hosting Inter Milan. 

Post update

Tottenham 0-1 Bayer Leverkusen

'Wembley not an excuse'

Tottenham 0-1 Bayer Leverkusen

Tottenham manager Mauricio Pochettino: "We were poor. I have nothing to say about Wembley, we were poor.

"If we analyse the game we created the same number of chances and have more possession but the feeling was always that is was difficult to score.

"We don't have the freedom to play and show real quality. After two games at Wembley, both have been poor. It is not an excuse, it is the truth. 

"Mousa Dembele is an important player for us but it (his first-half injury) is not an excuse. He twisted his ankle and cannot continue in the game. 

"We need to improve and change some things. We are in a bad moment. After Manchester City we don't win and we need to be critical and find answers."

So, to clarify, here's which teams have made the last 16:

Arsenal

Paris St-Germain

Atletico Madrid

Bayern Munich

Borussia Dortmund

Dimitar Berbatov says that 'age is just a number' and he references Francesco Totti playing until he is 40. Can we see him back in the Premier League? He's touting himself around...

Leicester maintained their unbeaten run in Champions League Group G but will have to wait to seal their place in the last 16 after drawing with FC Copenhagen. Club Brugge cannot now reach the knockout phase after defeat to Porto. Porto remain second, whilst Leicester stay top.

Finally in Group H, a draw against Lyon was not enough to cement Juventus' place in the knockout stage and leaves them second in the group. Sevilla beat Dinamo Zagreb 4-0 to go top of the group and send the Croatian side out after the group. 

And breathe..

Post update

Tottenham 0-1 Bayer Leverkusen

So to recap, this is where we stand after tonight's Champions League action... 

In Group E, Monaco have stayed top after tonight's 3-0 win over CSKA Moscow. Another defeat at Wembley means Tottenham drop to third, whilst Bayer Leverkusen move up to second with two group games remaining. Moscow remain rooted to the bottom with two points from four matches.

In Group F, Borussia Dortmund have guaranteed their place in the last 16 with a 1-0 win over Sporting Lisbon. Real Madrid were unable to break the deadlock against Legia Warsaw in a six-goal thriller behind closed doors so are yet to secure their place in the knockout phase. Sporting Lisbon remain third, whilst Legia Warsaw will not progress despite tonight's valiant effort as a draw was only enough to keep them in the chase if Dortmund lost.

Put your questions to Dimitar Berbatov

'We are playing well'

Tottenham 0-1 Bayer Leverkusen

Tottenham midfielder Dele Alli: "I don't think anyone can work out what is wrong. We are playing well but we have got to finish our chances and have got to keep going.

"Tottenham is a club looking to move forward. We have confidence in our ability. It is a matter of finishing off games and getting results. We are a young team but we expect ourselves to perform against anyone."

Tray Brown: 2016 Spurs minus Kane and Alderweireld equal 2014-15 Man City minus Agüero and Kompany. Unrecognizable teams without the two

Grumpy Expat: Daniel Levy didn't call up the Arsenal asking for advice did he? Different Wembley, same problems.... Not all about the £££ 

Lee Hounslow: Wembley stage fright, opposition raising their game on big stage, there's no place like the Lane! 

But it's all looking rosy for Leicester. Unbeaten? They haven't even conceded a goal yet.

One point from their final two games will seal a place in the last 16, and a draw against Porto would guarantee top spot to boot. 

Spurs have to play Monaco away and CSKA Moscow at home. Well, at Wembley.

Win them both and it's 10 points. Will that be enough? Is that doable? 

'It leaves us in a difficult position'

Tottenham 0-1 Bayer Leverkusen

Tottenham's Eric Dier who hit the bar in the second half: "It was very disappointing that we couldn't score, not just me. We are all very disappointed and it leaves us in a difficult position now.

"We have to get back to work tomorrow and go again. If you want to be a big team you have to bounce back straight away so we have got to do that." 

Post update

Tottenham 0-1 Bayer Leverkusen

Tottenham haven't won since bossing Manchester City at the start of October - next up is the big one, Arsenal away. 

Berbatov back in the Premier League?

Former Tottenham, Bayer Leverkusen and Manchester United striker Dimitar Berbatov will be taking your questions live on the Match of the Day Facebook page shortly. 

The free agent has already told BBC Radio 5 live he wants a Premier League return. Do you want him at your club? Does he see Spurs winning the Champions League and what does he think of Jose Mourinho at Manchester United?

The floor is yours. We'll post the link as soon as we are live but send your questions via #bbcfootball in the meantime.