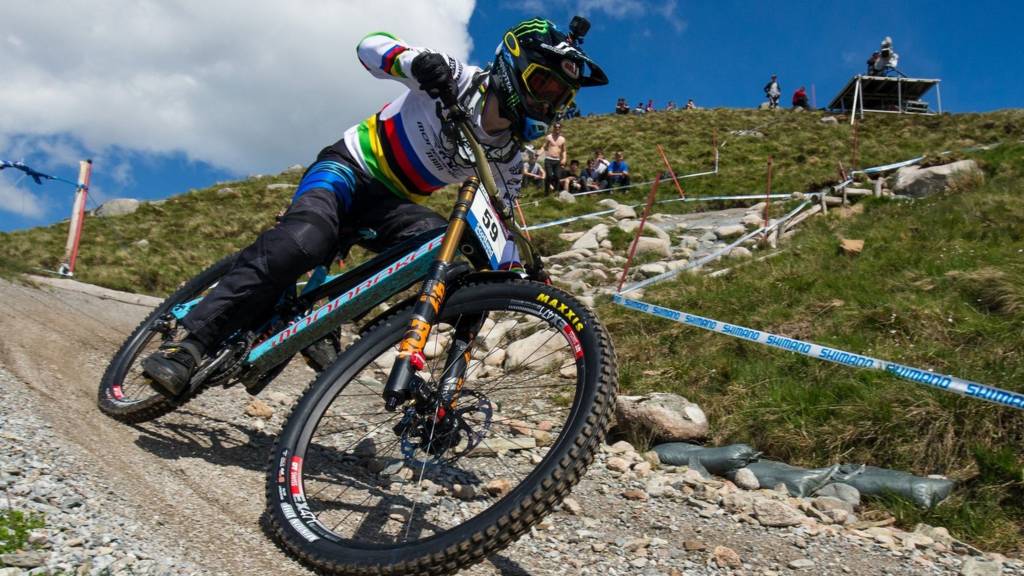 Watch: Mountain Bike World Championships - GB's Wilson wins men's downhill
What is it and who should I look out for?

The UCI Mountain Bike World Championships are a five-day event in Leogang, Austria.

The Championships are being held in the middle of the rescheduled 2020 mountain bike season, hosting cross-country, downhill and E-mountain bike events.

Today sees the final of the men's and women's downhill events, with the cross country events taking place yesterday.

One of the most exciting aspects of the UCI Mountain Bike World Championships is that you don't know the winners till the last minute, and sometimes the last split-second.

In the women's downhill event, Myriam Nicole took the gold medal at the 2019 World Championships.

Loic Bruni, who was victorious in the men's event, has won the Championship four times.

Who is in the Great Britain squad for the Mountain Bike World Championships?

Great Britain have named eight male and nine female riders across the two respective events, with a total of 12 British riders competing in the downhill events.

Among those competing in the women's cross country is Annie Last, who won the silver medal at the 2017 World Championships before going on to win a gold medal in the same event at the 2018 Commonwealth Games.

Five-time downhill world champion Rachel Atherton, who has not competed in more than a year after snapping her Achilles tendon, had planned to use the event to make her comeback.

However, she decided to withdraw following medical advice that her injury was not ready for competition. Annie Last also had to withdraw late due to injury.

Danny Hart has won the downhill race twice, in 2011 and 2016.

Women's cross country: Annie Last, Evie Richards and Isla Short.

Men's cross country: Frazer Clacherty.

Women's downhill: Rachel Atherton, Maya Atkinson, Stacey Fisher, Mikayla Parton and Tahnee Seagrave.

Men's downhill: Danny Hart, Laurie Greenland, Charlie Hatton, Bernard Kerr, Matt Walker, Greg Williamson and Reece Wilson. Subs: Joe Breeden and Michael Jones.

How can I watch the Mountain Bike World Championships?

You can watch live coverage of the men's and women's Mountain Bike World Championship events on the BBC Sport website & app and BBC iPlayer.

Sunday 11 October

11:40–13:05 BST – Women's downhill - BBC Sport website & app and BBC iPlayer

13:45–15:00 BST – Men's downhill - BBC Sport website & app and BBC iPlayer

How to get involved with cycling

Just hop on a bike and you're good to go. British Cycling, Scottish Cycling, Welsh Cycling and Cycle NI have information about clubs and racing tracks, and the Breeze programme for women cyclists offers a range of safe and sociable cycle routes for all abilities. If you don't have access to a bike there are hundreds of bike rental facilities across the UK.

Road cycling, the most common form of cycling, is simply riding a bike outside for exercise, sport or to get from A to B. Track cycling adds a competitive element and sees riders race around a specialist track at high speeds.

From young children on stabilisers, through to adults going for long countryside rides, cycling is for everyone. Sick of being stuck in traffic? Cycling to work is also one of the easiest ways to fit exercise into your daily routine. There are also a number of cycling clubs around the UK, where coffee and cake stops are as important as the route you ride!

Find out more about getting into cycling here.