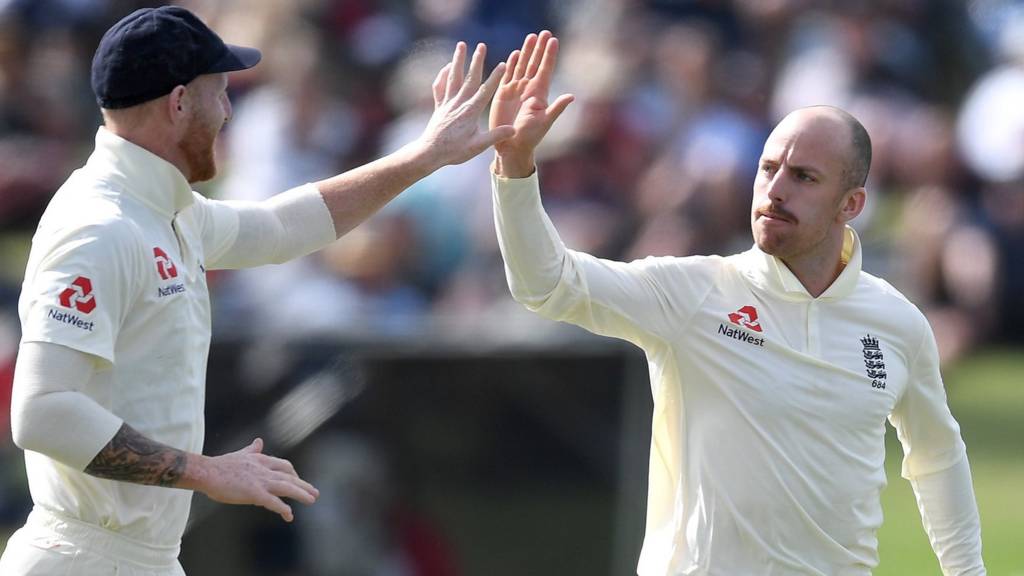 BBC Radio 5 Live Sports Extra

Australia are in complete control against Pakistan at the Gabba and they are about to pass Pakistan's total of 240.

Although they have finally lost their first wicket as Joe Burns has just been bowled by Yasir Shah.

You can listen to that one over here.

Stuart Broad: 0-20 off 10 overs

Jofra Archer: 0-40 off 14 overs

Sam Curran: 2-28 off 10 overs

Jack Leach: 1-29 off 12 overs

Ben Stokes: 1-16 off four overs

Joe Root: 0-2 off one over

More from England's Jack Leach: "There hasn't been much spin yet. That could change, it's sunny and warm and the wicket is starting to get dry so hopefully come day four or five there may be more spin.

"I'm trying to do a job first innings, contain them and let the pace lads do the work but I'm trying to build pressure and take wickets as well.

"We'll be looking to get a lead. It's a big first hour, if we can get a couple of early wickets we might be able to get a lead of 100 or 150."

Henry Nicholls and BJ Watling saw New Zealand to close at 144-4 - 209 runs behind.

There was still time for Nicholls to be hit on the helmet by a well-directed Jofra Archer bouncer.

Sam Curran got the prize scalp of Kane Williamson with a brilliant rising delivery that went off the New Zealand captain's glove to Ben Stokes at first slip.

Jeet Raval and Ross Taylor both fell to poor strokes off Jack Leach and Ben Stokes respectively as England chipped away and started to earn control.

Sam Curran came on first change and struck in his first over as he Tom Latham lbw for eight. Latham should have reviewed however, as he got a thin inside edge but despite a brief consultation with Jeet Raval the opener walked.

Stuart Broad then fell quickly as England were bowled out for 353.

It was a total they would have been disappointed with having 202-3 and then 277-4 but on a pitch that's starting to look two-paced it may yet be a good total.

Jos Buttler and Jack Leach then shared 52 for the ninth wicket as they hauled England towards 350.

Jos Buttler was eventually caught on the deep point fence in slightly bizarre circumstances as Mitchell Santner jumped back over the advertising boards after signing some autographs as Neil Wagner was running in.

That started a collapse of 4-18 in 21 balls as Ollie Pope was caught behind playing a loose drive, Sam Curran was trapped lbw first ball and Jofra Archer was caught in the slips.

Ben Stokes and Ollie Pope resumed with England on 241-4. They added 36 in the first 10 overs of the day's play before a spectacular catch at first slip from Ross Taylor saw the end of Stokes.

Right, let's have a recap of the day's action.

England's Jack Leach: "It was a good day. We would have liked an extra wicket at the end. If we can get a couple early, we'll be right on top.

"The ball from Sam Curran to get Kane Williamson misbehaved and that's a good sign when you've got runs on the board.

"We would have liked to have got more runs, we were aiming for at least 400. We wanted that big score and we wanted a century in there and that's something we're working hard to do. Hopefully that'll come in the second innings."

New Zealand's Tim Southee: "It would have been nice to be three down tonight but we've still got batting to come. We just need some partnerships and eke out some more runs.

"I thought we bowled well yesterday and we got our rewards for that today. We would have taken 6-112 at the start of the day.

"Test cricket challenges you physically as well as mentally. You've got to take 20 wickets to win Tests, you've just got to keep coming as a bowler.

"We'll turn up tomorrow, approach the first session and then reassess where we are at lunch and then the same at tea."

Jonathan Agnew

BBC cricket correspondent

A compelling day really. It's been a hard-fought battle out there. When you see the sort of ball that dismissed Kane Williamson, England's 353 might not be that bad. England will be happier at the end of the day than they were halfway through it.

And BJ Watling gets in behind to defend.

That's it for day two of the first Test at Mount Mauganui.

New Zealand walk off on 144-4, trailing England by 209 runs.

Henry Nicholls returns the favour, tickling it round the corner for one.

BJ Watling to face the final ball of the day...

BJ Watling taps a single.

Henry Nicholls had to face that brutal Jofra Archer over and now has to see out the rest of this over.

Cheers, mate.

England captain Joe Root is bringing himself on for the final over of the day.