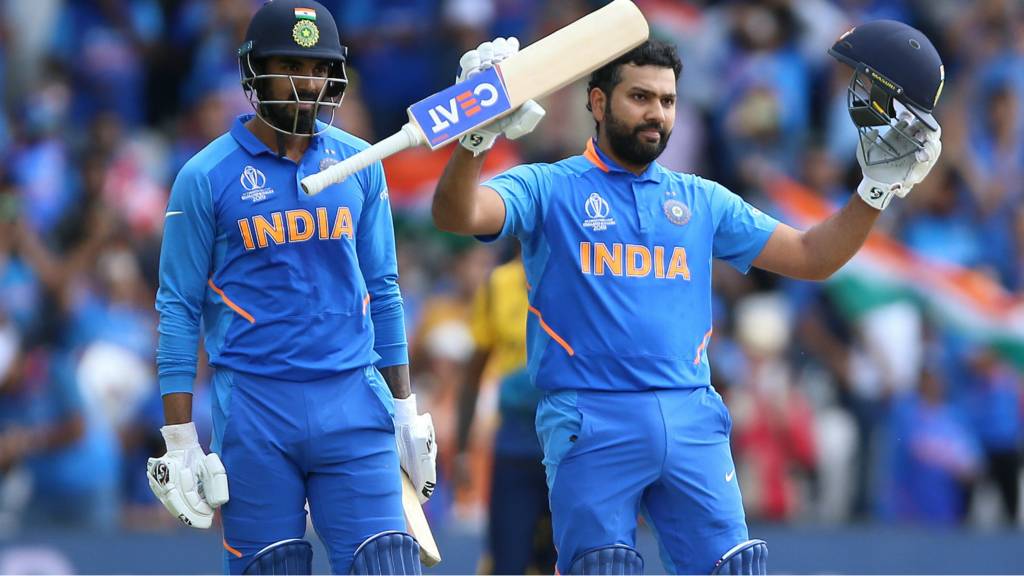 Live Reporting
Send a text to

81111 (charged at your standard message rate)

Twitter:

Use the hashtag

#bbccricket

Facebook:

BBC Sport
That's all for now - be sure to follow the conclusion of Australia v South Africa here.

Cheers!

India wrap up the win then with ease - here are some of the best highlights from their commanding victory.

Video content

Video content

Video content

Video content

SMS Message: Lasith Malinga has been an inspirational bowler. Cricket World Cup would not be the same without him. Thank you Lasith Malinga for all the entertainment you have provided over the years. You have been a champion. from Pallav Shah, Cambridge

Er, India captain Virat Kohli appears to have interviewed Rohit Sharma on the pitch at Headingley after the match.

Fancy sending us the quotes, Virat?

Video content

Sri Lanka captain Dimuth Karunaratne: "We were 50-4, after that getting a good partnership with Angelo (Mathews) and Lahiru Thirimanne. They batted well. We ended up with 260 and it is a good score. After 50-4 we had to rebuild the innings that's why we ended with 260. It was a good wicket and Rohit and Rahul batted really well.

"After this World Cup we have to go have a think about what we have to do and what we got wrong. We will talk to the selectors and find some new talent. Four years is a long period. We will find guys who can play a good role for Sri Lanka. We will search for some talents."

On Lasith Malinga: "Sri Lanka cricket will miss him. He has done a lot of things for Sri Lanka. A wonderful effort. He was the man behind the World Cups. We will miss him but everyone has to end their chapter. Now is his time. We have to find a new guy who can get wickets. We lack bowlers to get wickets in middle part. That is what we have to search for."

'We don't mind who we play next'

Video content

India captain Virat Kohli: "We wanted to play good cricket but we didn't expect to do this well heading in to the semis. That's what hard work gets you. I am really proud of this team as a captain, they are amazing people.

"More or less everything is set for the semis but we don't want to be one-dimensional. We need balance in the side. We are very happy.

"England or New Zealand next? The opposition has never mattered, we don't focus on what they bring to the table. If we play well we can beat anyone, if we don't play well anyone can beat us. Regardless of who we play we want to get the result our way.

"Hardik Pandya has been outstanding. He is really motivated, thinking like a batsman which helps."

Video content

India batsman Rohit Sharma: "I am just trying to go out there and do my job, I'm not thinking of milestones. If I play well these things will happen on the way.

"I have learned from my mistakes in the past. I don't go in to a match thinking of hundreds. Every day is a new day.

"Lasith Malinga is a champion. Personally for me I have enjoyed playing with him, he is a match-winner and he has shown it over the years. The team relies on him. The world of cricket will miss him.

"As a team we are not thinking about the semi-finals. We will celebrate this victory and not worry about what is out of our control."

Rich Kisbee: Some player that lad Malinga...

It will be England v Australia in the semis - unless Australia win at Old Trafford today.

They are 29-1 chasing 326. Follow it here...

It's all change at the top of the table...

Jeremy Coney

Ex-New Zealand captain on BBC Test Match Special

I thought it would be tighter than it was but once Rohit Sharma and KL Rahul got going, Sri Lanka tried things but they couldn't break through the opening partnership.

Box before wicket - Pant suffers an embarrassing dismissal

Video content

Lasith Malinga signs the TV camera, Andy Murray style, as he says goodbye to the World Cup.

Breaking

India win by seven wickets

Ind 265-3

All over, with 39 balls left.

Kohli tickles a single. Scores level...

Rahul gloves Malinga behind

Video content

What a brililant bouncer this is.

A yorker down the leg side. Not now Lasith. Malinga has 56 World Cup wickets now by the way, third best of all time. A long way behind Glenn McGrath though.

Malinga tries another yorker and Pandya clips him for four. Beauty!

India on the brink.